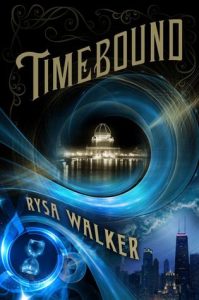 Title: Timebound (The Chronos Files)
Author: Rysa Walker
Genre: Science Fiction
Length: 374 pages
Read: April 14-18, 2015
Summary: Highly recommended
I found Timebound while searching for best sellers to use as advertising targets for my own time travel novel Untimed (I've been experimenting with Amazon's new do-it-yourself ads).
I'm glad I found the Chronos Files.
At a certain level Timebound shares common DNA with Untimed. They both feature teen protagonists who discover they are time travelers and get dragged into a complex temporal war. There are other time traveling relatives and both mythologies even have "books" that to some extent chronicle/reveal/inform. But most of these similarities fall naturally out of the basic "teen discovers they're a time traveler" idea. I will note that Untimed was published a year earlier, but even if Rysa Walker happened to read it, she has her own tale to tell.
I should note that I half read half listened this this book, utilizing Amazon's awesome Whispersync. The narrator is phenomenal too.
Kate's first person narrative is extremely compelling. She speaks in typical past tense in this first outing, but switches into a lightweight present tense in the second book. The voice is light on description, sticking mostly to people, clothing, time travel equipment, and necessary details. It's longer on Kate's internal processing, but uses this to deftly bring our plucky protagonist to life. While she superficially resembles many modern YA heroines, being smart, pretty, courageous, resourceful, and the like, Kate manages to maintain a unique personal feel. Namely, she feels real and essentially human. She acts consistently, and has her own constantly evolving opinion and a strong moral compass.
The balance in this first book favors characterization and "world building" over action and even historical exploration. The opening stresses the family dynamics almost more than the time travel revelations. The inciting event (act 1/2 break) is a 1-2 punch as much about meeting her Grandmother and discovering she's dying as the temporal shift that deletes Kate's reality and parents (shades of Untimed as well!). There is a well handled but highly deliberate love triangle involving present day boyfriend and a time traveling past boyfriend who remembers her from another timeline. This is actually one of the better love triangles I've seen, because it feels both natural and has a natural pathos that flows out of the timeline shift. Book 1 concentrates on present boyfriend — and on the present itself as well as time travel mythos and mechanics. We don't actually travel anywhere substantial until about the 75% mark. The romantic elements feel slightly injected at times, but are natural enough and not in the least melodramatic.
This is not really an action book, although it is fast paced and tense. There is a lot of talking and planning and perhaps 75% of the novel occurs inside Kate's house! The narrative and characters are compelling enough to overcome that locational limitation.
Both boyfriends are well developed, although past boyfriend is mostly a child in this first book (sounds more twisted than it is). The parents, aunt, etc are well characterized. The villains are not as strong as the positive supporting characters. We have the time wrecking mastermind grandfather (barely seen but much heard), medium-bad prophetess aunt, the smirking thug Simon, bitchy Eve, and the creepy and effective 1893 serial killer Holmes (my favorite, as I love a good creep).
The past, when Kate gets around to visiting it, is confined to Chicago's 1893 World's Columbia Exposition. The overall focus is more personal, involving the survival of Kate's grandmother and the interaction of the time travelers, than largely historical. Untimed explores the role of the individual in big historical techno-socio-political currents, Timebound focuses on the relationships and cat and mouse between the travelers. Walker did a good job with her period research. Her 1893 feels like late 19th century America. It's not highly descriptive, but the behavior of the people and general attitudes seem appropriate. It even smacks slightly of Bioshock Infinite, without all the steampunk and weirdness (although I loved that too). I'll contrast this with a book like Clockwork Angel (gag me with a spoon) where everyone acts like a 21st century snarky teen in Victorian clothes (except the outfit on the cover is more Edwardian — sorry Cliff). As I mentioned before, I like the addition of the authentically creepy real-history serial killer. But part of my point here is that the "scope" of historical interaction isn't huge in this first book, but it is a decently different era. This is no Tempest where all the time travel is within 15 years. It's clear Walker loves history, but she concentrates her efforts more on the characters, time travel mechanics, and meta plots.
Which brings us to bad grandpapy Saul and his evil Cyrist church takeover. Liked it. This was both a sensible take on world domination, a clever way to utilize the abilities of a time traveler for "gain," and a felt creepy and realistic. Somehow, the Cyrists seem very American and perhaps makes me wonder if Walker is an apostate member of The Church of Jesus Christ of Latter-day Saints. Or maybe she just really enjoyed The Book of Mormon (the musical).
What follows now is a fairly technical discussion of time travel mechanics:
Walker's time travel mechanic is very different than in Untimed, and simultaneously easier to write and more complicated. It would never work, and doesn't really make total sense (more on this in a second), but it serves up compelling time travel fiction. It falls into the un-predetermined category like Untimed (Time Traveler's Wife featuring the predetermined type with a single complex timeline). She does support an endless changing "leading edge" or five dimensional meta-timeline like Untimed, but it's probably closer in spirit to Back to the Future's system. Causality loops back endlessly in a way that would be very difficult for the Universe to actually compute. Essentially, changes are percolated forward, recomputing everything that is not protected by a technological field (maintained by the Chronos Medallions). This recompilation is apparently instantaneous and continuous as things leaving the field will "correct" (disappearing photos or people and the like) and that new computation will percolate forward. Where it breaks down is that there is no clear elucidation of the relationship between 5th dimensional time in normal 4th dimensional advancement. Let me (partially) explain.
If Kate were to change something in the past, then hop forward to her home time. Another traveler uptime of the change, say Pru, protected by her Chronos field, would notice. Kate and Pru are both free to react to this change and proceed with their next meta-temporal move. But who gets to go first? Well in this case, whoever the author feels like it. Say this attempted change is far back in the past. All (or many) uptime versions of the effected individual would have the opportunity to notice the changed timeline and decide to take action. But which one does? Is it 1:28pm Kate or 2:05pm Kate who takes action? Clearly they all can't. In practice, while writing the book, there is a "current" narrative version who reacts. But the time travel mechanic doesn't appear to actually narrow this down. This is why Untimed's system allows only one actual version of a time traveler in the timeline at any given 5th dimensional meta-moment.
Timebound also allows loopbacks, self changes, dual memory headaches and the like which don't make total computational sense. How does the Universe even keep track of all that? Does it have unique IDs for every molecule? Some kind of object tracking system? Computing the loops is a form of the Halting Problem and has been proven (by genius Alan Turing) to be unsolvable in the general case. But none of these technical problem really matter in a work of fiction. From a storytelling point of view Timebound offers a very compelling time travel system with lots of interesting characteristics, limitations, and powers. Book 2 explores it more fully too.
There is also a fairly consistent but loosey goosey treatment of the "butterfly effect." In this book, things tend to mostly play out the same way if the people basically do the same thing. There doesn't seem to be a huge sensitivity to minute changes. I.e. slightly altering the timing and whereabouts of the young Katherine in 1893 doesn't seem to drastically alter her later life and its relationship to the time modifications. People also tend to mostly be preserved, with their circumstances changing around them. This is people centric and I did basically the same thing in Untimed when repurposing the same people in Philadelphia 1.0 and 2.0 (British America 2012). It makes for better storytelling.
All in all, a great novel, and a fabulous addition to the time travel genre (which clearly I have a positive bias toward). I jumped right into book 2, read that, and am sad I have to wait six months for book 3.
Check out my own time travel novel or