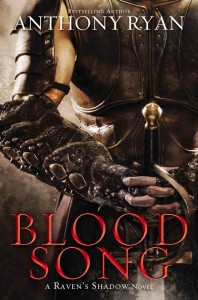 Title: Blood Song

Author: Anthony Ryan
Genre: Epic Fantasy
Length: 591 pages
Read: July 23-August 24, 2013
Summary: Excellent, but flawed
Structurally, this book borrows heavily from The Name of The Wind. It opens with a box story about a famous military man and then slowly dolls out the (first) chapters of his long career, beginning with his schooling. Blood Song is well written, with solid practical prose that doesn't get in the way. There is none of the elegant and overwrought voice of the aforementioned Rothfus, or the descriptive nuance of Martin, but it's well written.
Even though the scope is big, this is a more focused story than A Song of Ice and Fire or A Wheel of Time. We follow our single hero fairly tightly (even if his life meanders). Except for the occasional return to the frame story there are no other points of view. Al Sorna, our protagonist, rises within a kind of military-religious brotherhood perhaps most akin to the Knights Templar. The world building is very solid and the author clearly knows something about the late medieval period. There are several religions and nations and they clash in a fairly realistic way.
The overall effect is one I'm still processing. I liked the book. A lot. It's one of the better epic fantasies I've read lately (and that is my favorite genre). The first third is great, during the youth and training of our hero. Some of the characters are excellent. My biggest problem is from about the 50-94% point. Here Al Sorna is commander of a big military expedition and the narrative became a little harder to follow. It's not that I couldn't tell what was going on from scene to scene, but they didn't fit together seamlessly. Unlike the earlier sequences, they also didn't seem to have the weight that I think the author was intending. There is similar stuff in The Name of The Wind (not so military), but it resonates much more emotionally in that novel.
I'll explain what I mean. Al Sorna has this "unrequited love of his life" (just like Kvothe and Denna in TNOTW), but their interactions, while fine, lack the heavy sense of tragedy of Rothfus' superior novel. It's not bad, but it just comes off a little weak.
The  end of the book is good. There are two big "fights." But the sequencing felt a bit disconnected. And that's basically the thing with this novel. It needs editing. The parts are good, but the sum doesn't reach greatness.
For more book reviews, click here.
As an after-note, I'm a little mystified as to how this book has such incredible ratings on Amazon. At this writing: 1003 total, 863 5-star, 108 4-star, 22 3-star, 7 2-star, and 3 1-star. This is very very slanted toward 4-5 star. Now, it's got enough good stuff going for it to be a 4 star novel, and epic fantasy unfortunately is full of some serious duds. But an average of 4.8? This is higher than A Game of Thrones which is the best series start in the last 20 years. I can't help but wonder what weird factor is going on here.
sharethis_button(); ?>