What Can I Win?
Each winner (more on becoming one below) will receive one of the following or similar. All items can be signed.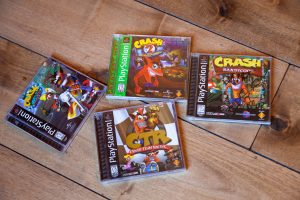 1. A signed copy of one of: Crash Bandicoot, Crash Bandicoot 2: Cortex Strikes Back, Crash Bandicoot: Warped!, Crash Team Racing, Jak & Daxter: The Precursor Legacy, Jak II, or Jak 3. But just one game per winner.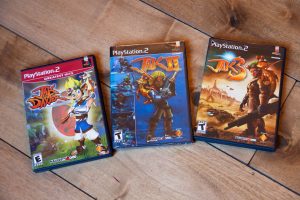 2. A signed paper copy of my novels, The Darkening Dream or Untimed. Could be Trade Paperback, Hardcover, or an ARC.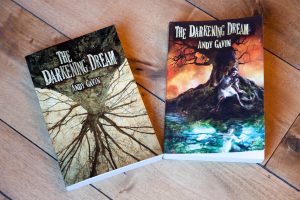 3. A new, in the package, Crash Bandicoot series action figure, signed on the package.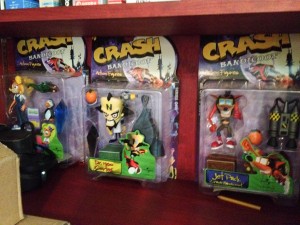 4. Some other interesting bit of Andy Gavin memorabilia.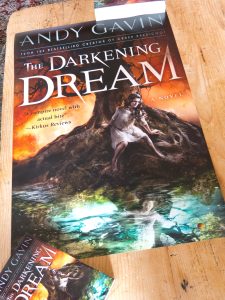 5. Limited edition posters from the book, signed of course.
After I notify winners, they may indicate their preferences with regard to prize and I will do my best to accommodate. But the final choice is mine (based on availability, not whim). I will mail you the prize free of charge.
How Do I Win?
You win by entering tickets in a periodic virtual hat. I will explain below how you get tickets, but each time the giveaway closes, I will select randomly one ticket  from the "hat" (pile of all tickets that have been assigned during the period). That ticket will be the winner, who I will notify by email. You can have more than one ticket in the hat. Contestants are identified by email address.
There is also a way to overachieve and earn a prize without any random factor, see below under special prize.
The second round giveaway, currently open, will continue until approximately 100 tickets have been entered. This means that each ticket will have approximately a 1% chance of winning, which is a hell of a lot better than a lottery! The status of the current period will be available in the contest widget that lives in the sidebar. It will be updated whenever I feel like it 🙂 I reserve the right to change the size/duration of giveaway period between periods. For example, if the first giveaway sells out really fast, I might increase the number of tickets required to close the next one.
How do I get Tickets?
There are multiple ways to get tickets. All involve you to do something before emailing me, so read below. All submissions should be made to contest (at) all-things-andy-gavin (dot) com with a title of "NDC Ticket". The email address you send from will be your "identification" for the purpose of the contest. You can submit multiple tickets in one email, but you better make sure you are clear that you are doing so and list each action you have done. I will do my best to parse your emails, but try to make them short and clear.
Each of the following things will earn one ticket. But it is possible that above and beyond the call of duty efforts may earn you bonus tickets. I'll try to respond to valid emails with a one line "2 tickets granted" type email.
1. Buying any copy of The Darkening Dream and/or Untimed is worth one ticket! E-Book versions are just $2.99-$5.99. Forward your online vendor (i.e. Amazon) receipt as part of your submission to the contest email address. You may snip out private data if you wish, but leave the email address, the order date, and Order #. Any given order number may be submitted only once. But you may buy as many copies as you like for extra tickets. You may convince friends to buy copies and send their receipts (as long as they allow this and do not also submit them). Please do not try to game this. The book is very cheap. I am an uber-programmer and hacker. I will know. I will disqualify you. I will think badly of you. I am the sole judge of the validity of submitted tickets. I will, however, be very fair, and very pleased with your legitimate attempts to purchase as many copies as possible 🙂 As I note in my reasons to buy post, you do not need any device to read a Kindle book. You can read it in the browser or on any computer or Android/IOS device.
2. Reviewing the book on Amazon and including in your email a link to said review will earn an extra ticket. You don't even have to like the book, but you must write a reasonable, normal, and legitimate review. "It sux" or even "It rockz" do not count.
3. Signing up your email address to the blog (in the sidebar) is worth an extra ticket if you have also bought the book.
4. If you have a book blog/site and you review the book and post it, then email me a link to the contest address, I'll give you two tickets. If you have such a site you can even get the book for free (see here), but then you'd lose out on that extra purchase ticket. If your site has very high traffic, I'll award bonus tickets.
5. If you have a lot of Facebook (>500) or Twitter followers (>1000) and you spam them about the book every day for a week I'll give you a ticket.
6. If you have a site with a decent amount of traffic and you link or advertise my book I'll award at least one ticket (more if it's a powerful link). You can email the contest email if you have questions and send your site link and stats. If you have good traffic and are particularly ambitious, see #7.
7. And if you really want lots of tickets and have good promotional skills/placement there is the "affiliate program." Buy a copy of the book and get that ticket (just to let me know you are serious) and mention you are interested in the affiliate program and where you might "advertise" the book in your email. I'll make you a special Amazon link that has traffic and conversion tracking, just for you. Then you can promote this link as you like. You can advertise it however you like (social network, site, etc.) For every copy of the book your tracking ID sells, I'll give you a ticket. And bonus tickets if you sell a bunch. These tickets will continue to earn across giveaway periods, so if you keep selling you may get entered into multiple hats.
8. Special prize. For each 25 tickets you personally accrue you will receive a gift automatically, taking the lottery out of it! However, 15 or more of these tickets must be for Amazon Kindle sales, either by direct receipt or by the affiliate program. But for those of you who are overachievers and don't like randomness, this is a way to get a signed prize in a deterministic way. You can even do this multiple times and I will separately accumulate these tickets across giveaway periods. When someone earns a special prize, it will even help everyone else because I will still count those tickets toward the period, but will remove them from the period hat (hence increasing the odds for everyone else). It's a separate prize(s).
Consolation Prizes
The cool The Darkening Dream (shown below) or Untimed bookmarks can be yours just for entering. If you live in the United States, submit three or more valid tickets, and email the contest address requesting some bookmarks, I will mail you a couple at no charge. If you live outside of the US, I will still do it, but your tickets must include two or more book purchases (foreign postage is expensive). Easy steps are below, but you can pursue any more complex method of getting tickets if you wish:
1. If you live in the US, buy the book, subscribe to the blog, review it on Amazon.
2. Or if still in the US, but are lazy review wise, buy the book twice, subscribe to the blog.
3. Or if you live abroad, buy it twice, subscribe to the blog.
4. After you do that, send all your receipts, what you did, and your address to the contest email.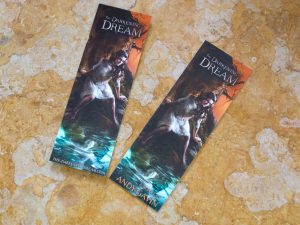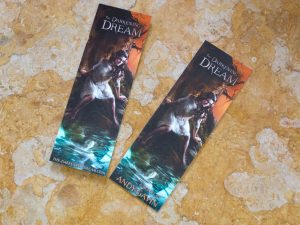 The Purpose of the Contest
Have no illusion, the main purpose of this contest is to promote The Darkening Dream and Untimed, help it go viral, and sell lots of copies. I love and respect my fans, so I won't BS you. That being said, I like to think the book is very good, and I'm selling it very inexpensively (TDD is usually $2.99, Untimed slightly more). I'm also excited to send some of you guys cool schwag. A set of four signed Crash Bandicoot games even sold on Ebay recently for $453! So it's sort of valuable stuff in its own way — particularly to fans.
Current Status
The number of tickets issued in the current giveaway period should generally be visible underneath the contest logo in the sidebar. In addition, all news and posts about the contest can be found here.
NOTES:
1. All terms and conditions of this contest are subject to change and I am the final arbiter. However, I will endeavor to be fair — generous even 🙂
2. No complaining please.
3. And no cheating! (like trying to reuse receipts, etc.) I will know!
4. You may register tickets in multiple giveaway periods. You are even allowed to win multiple times.
5. If you bought a book before the giveaway period, but have not submitted it for a ticket, you may. Each purchase can only be submitted once, but you do not have to line up the timing, and if you bought a copy before the contest started, you can still get a ticket.
6. Free downloads, such as during an Amazon KDP Select "free" day DO NOT count as legitimate book buy tickets.
7. There is no limit to the number of tickets you may accrue, however, all must be earned legitimately and in the spirit of fair play. If by some miracle you earn so many tickets that it busts the giveaway period limit, I will roll some of them over into the next period.
8. Once a drawing has occurred, and the results announced, all tickets from that period are null and void. You must earn new tickets for further periods.
9. If you are going nuts trying to buy Kindle versions in order to become a special winner, the best way seems to be to go to your "Manage my Kindle" page and delete the book, then Amazon will allow you to buy another version, rinse and repeat.
10. If you are using Amazon's Kindle Gifting system to buy copies and give them to different accounts. Please note that Amazon does not credit me for the sale until the recipient has converted the book and downloaded it to their device/app. So his is not a preferred method of getting tickets for the contest. If you do go this way, please make sure the conversion has happened, and ideally get an email from the recipient to that effect to forward to me. Please don't expect to qualify for the special winner award this way unless you get the gifts converted (which can involve harassing your friends).
11. Anyone, anywhere in the world may enter.
12. The burden is on you to inform me (via the email) of your ticket worthy actions. I will not comb the web to try and discover them myself. This includes telling me you subscribed to the blog, bought the book, posted a review, etc.
13. All results are final and at my discretion. I will try to be totally fair.
Two separate, unreleated giveaways: