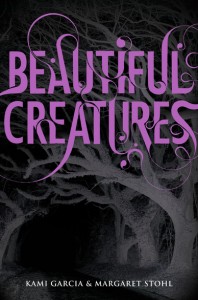 Title: Beautiful Creatures
Author: Kami Garcia & Margaret Stohl
Genre: YA supernatural
Length: 592 pages, 147,000 words
Read: Nov 6-20, 2011
Summary: Fun read
This is a pleasant YA supernatural romance. At a certain structural level it's a blend of reverse Twilight (boy is normal, girl is supernatural), Carrie, and modern Southern Gothic. The opening third or so gets off to a strong start. The male first person past POV is engaging, and the character likable, although nicer and far less lusty than any sixteen year-old boy I remember (my own interior monologue was decidedly raunchy). The prose is workmanlike. It isn't pretty, but it doesn't get in your face. There's a touch of overwriting, the occasional sentence that rephrases what the previous did. I never do that myself. I don't. Nope. Positively not.
As the first act breaks into the second, the supernatural lore structure is revealed to us. There are a lot of name changes here which seems fresh but slightly forced. Wizards or witches are called "casters," which shades of World of Warcraft, makes me wonder if they're ranged dps or healers? Both actually. The different schools or talents of magic have names like thaumaturge which are probably novel to many younger readers. Me, having read  7,000 fantasy books, can't help but think of Master of Five Magics, which is a great book, uses that word, and has no resemblance to Beautiful Creatures :-). In any case, the magical world building in Beautiful Creatures is about 3/5. There's some interesting stuff going on, but the depth is only hinted at, and it is not heavily based on either some other existing fictional school of magic or traditional occult.
The book is quite long, particularly for a YA. How this got past the editorial zeal and lust for brevity of today's publishing world is a slight mystery. And I don't mean this as a bad thing. The trend toward cutting every unnecessary word, sentence, paragraph, and scene has made for a lot of choppy books. The space allows Beautiful Creatures to feel a little less rushed, and develop a bit of relationship and a broader cast of family members. The second act is certainly slower than the first and third, and there are scenes that could've been cut, but their presence does help bolster the authentic relationship between the two leads. It's not a super deep relationship, but since when is teenage love the Mariana Trench? I definitely enjoyed the back and forth between Eathan and Lena. Less so with the high school social conflicts in the middle. There are perhaps a few too many elements mixed into the pot: The romance, the school drama, a best friend, family dynamics (for two families), the magic system, telepathy, preternatural dreams, and a vague Civil War ghost story. It's this last that feels the least integrated as even by the end the parallelism isn't made totally clear. I can certainly forgive this debut-author-style zeal. It's just a desire to put in too much cool stuff. I did it myself in The Darkening Dream. Then my editor made me chop half of it out. There's still at least as much as in this book.
The final quarter of Beautiful Creatures, which is basically one evening, races to a conclusion at breakneck pace. A midnight deadline adds a sense of urgency. The obligatory party scene had me cringing (although no more than the weekly Vampire Dairies party or Buffy's obligatory visit to the Bronze) but then we get on to the actual supernatural resolution. I had slightly mixed feelings , as some of the conversation with the older casters reminded me of Scooby Doo, but the action part was fine. The brief POV reversal though… hmmm. This, I think, was trying to get around the first person narrator limitation, but there might've been a more elegant solution. After 570 pages with "I" being Ethan I just couldn't switch my brain over to Lena for 5-10 pages.
But all those nitpicks aside, I very much enjoyed the book, which is what matters. I suspect that mostly had to do with the the core romance (I would've enjoyed more R — or X) and the fairly novel mythos. There are worse foundations to build a book on.