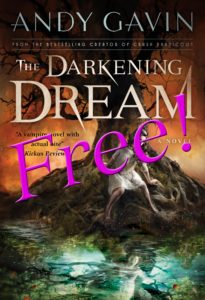 The title pretty much says it all. The Darkening Dream, my dark fantasy novel, is free on Amazon for the Kindle for just 48 hours — all of February 7 and 8, 2012.
This is a special two day only promotion via Kindle KDP Select. Make sure to grab it while you can, tell your friends about it, and promote everywhere. At the end of Wednesday at midnight it will go back to its normal price. If it does well during the promotion Amazon will bump it up in their internal ranking and it should get a lot of regular sales afterward. That's the theory at least.
A few words about the book:
As the Nineteenth Century gives way to the Twentieth, modern science and steel girders leave little room for the supernatural. But in dark corners the old forces still gather. God, demon, and sorcerer alike plot to regain what was theirs in Andy Gavin's chilling debut, The Darkening Dream.

1913, Salem, Massachusetts – Sarah Engelmann's life is full of friends, books, and avoiding the pressure to choose a husband, until an ominous vision and the haunting call of an otherworldly trumpet shake her. When she stumbles across a gruesome corpse, she fears that her vision was more of a premonition. And when she sees the murdered boy moving through the crowd at an amusement park, Sarah is thrust into a dark battle she does not understand.

With the help of Alex, a Greek immigrant who knows a startling amount about the undead, Sarah sets out to uncover the truth. Their quest takes them to Salem's brutal factory workrooms, on a clandestine maritime mission, and down into their foe's nightmarish crypt. But they aren't prepared for the terrifying backlash that brings the fight back to their own homes and families. Can Alex's elderly, vampire-hunting grandfather and Sarah's own rabbi father help protect them? And what do Sarah's darkening visions reveal?

No less than the Archangel Gabriel's Horn, destined to announce the End of Days, is at stake, and the forces banded to recover it include a 900 year-old vampire, a trio of disgruntled Egyptian gods, and a demon-loving Puritan minister. At the center of this swirling conflict is Sarah, who must fight a millennia-old battle against unspeakable forces, knowing the ultimate prize might be herself.
NOTE: Free downloads do not count toward tickets for the Naughty Dark Contest.
sharethis_button(); ?>