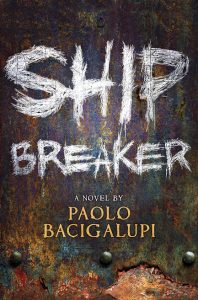 Title: Ship Breaker
Author: Paolo Baciqalupi
Genre: YA Sci-Fi
Read: July 9-11, 2012
Summary: Great voice, great characters, great world
Hugo and Nebula wining author of the Sci-Fi novel, The Windup Girl, brings his unique vision of the future to YA. The conventions of this younger demographic solves my biggest problem with Windup, which featured way too many characters and way too byzantine a plot. Ship Breaker has a single narrator and a straightforward enough story. The setting is the American Gulf coast some hundred years in the future after the collapse of our oil dependent technology. This could be the same world as Windup, or is perhaps merely similar. It doesn't matter, it's fascinating.
The first 50-60% of the book is absolutely first rate, fantastic. Baciqalupi has a great voice: third person, yet personal, detailed, yet fast paced. I loved the introduction to the world of the ship-breaking yards (see below for more on their real-life inspiration). The protagonist is very likable and the secondary characters mostly well developed. I loved the introduction of "Lucky Girl" (his love interest) and their time together (approximately 30% – 60%, the second act).
However, the third act involves her near complete disappearance from the book. Nailer, our protag, goes after her, but this section felt weaker and more disconnected. Even at the end, she's only around for about two lines of dialogue. Additionally, this part of the book features more traditional "big action" and this doesn't seem to be Baciqalupi's strong point. The early parts of the novel contained a great deal of physical tension and that was handled flawlessly, but I didn't totally buy some of the final scenes. And the resolution with the primary villain felt slightly off.
I'll have to go with perhaps 8 out of 10 on this book. Very very good, with a lot going for it, but not a total stunner. Still,absolutely worth reading.
It's worth a moment's discussion on real Ship Breaking, a strange and dangerous global market niche which is almost entirely done in Bangladesh, at the famous ship-breaking yards. In these real life places, old tankers and the like are driven aground on the beach and then swarms of Bangladeshi workers tear them apart for raw materials. Many are children and working conditions make 19th Century Cotton Mills look pleasant. Check out these amazing photos here. Old ships contain a wealth of valuable materials, but there is no environmentally sound or automated way to scrap them. The current practice takes advantage of the extremely poor to do it "cheaply." The cost, of course, is more human.