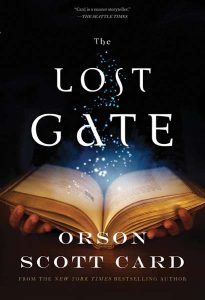 Title: The Lost Gate
Author: Orson Scott Card
Genre: Paranormal / Fantasy
Length: 385 pages
Read: March 17-20, 2012
Summary: Fun read!
It's been awhile since I read a book by Card, although in eons past I read dozens and he was one of my favorite authors. He's certainly lost none of his talent or voice. This young adult adventure hooks immediately with its fairytale-like narrative tone and engaging magic system. Danny belongs to the North (read Norse) family of degenerate mages. Their talents and legacy effectively covers a large swath of myth and superstition including the powers and belief in historic pagan deities. In fact, his relatives include Odid, Loki, and the like. Nor to say that they are degenerate deities ala American Gods or The Darkening Dream, but just that ancestors with similar powers were taken as such.
We learn about this stuff from the inside, with Danny already steeped in the knowledge of his clan. But soon enough he's on the run in the normal world and his antics — fueled by powerful magics — are equally engaging. Woven in with this is a more mythic type tale set on the world of the Mithermages origin. The relevance of this eventually comes clear, but for a while it feels quite separate, and as we learn in the afterward it had its roots as a separate and older short story. The writing is snappy and the characters likable. If there is any problem during this stage, it's that there isn't really that much conflict. Danny's powers are so strong that we don't really worry too much.
The story races along until the 80% point when both threads come together. This last bit feels over rushed and over narrated. And the coda afterward even more hurried. I really enjoyed most of the novel, but this hyper-fast and hyper-forced end bugged me. It's a common problem. Still, I'll read the sequel.
For more book reviews, click here.