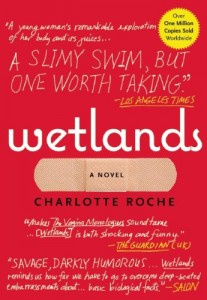 Title: Wetlands
Author: Charlotte Roche
Genre: WTF NSFW
Length: 241 pages
Read: December 30, 2014
Summary: Fascinating… oddly
I stumbled across this short oddball novel last night, grew curious, given that it sold a million copies in Germany, and was made into a film — so read it today in an hour and a half. It's not very long. I'm not even sure it's very good, but it was very quick. The film version recently toured Sundance, so you can get a glimmer via the preview.
Wetlands is a sort of literary equivalent of Human Centipede. In some ways, it's so perverse you just can't help reading/watching. There are two things going on in this tight little first person tale. First is Helen's "unusual" (many would say grotesque) point of view and its inherent fascination — and I have to admit, it's perversely fascinating. Second there's an attempt to make the delivery of said POV actually have a meaning.
The first works. The second doesn't (for me).
Helen is a girl who likes sex, avocados, and bodily fluids. She has a particular fondness for anything "dirty." She spends the entire novel in the hospital reminiscing. She's there for a shaving cut gone particularly bad, in a place where the sun don't shine. And she falls in love with her male nurse for no particular reason. During her mental wanderings she explores all aspects of her particular "tastes" for what one might consider the gross. No body fetish is left untouched. No fluid unspilled. No orifice is safe. She likes it all. Wallows in it really. Roche has a knack for this — and we have to wonder about the warm wet corners of her own mind — but it's quite effective. Probably shocking for many. Really. I'm not easily shocked, but I was impressed by the lengths to which she went (as an author). I'm not sure I've ever read anything short of a twisted internet story quite so NSFW.
I'm fairly convinced the above ick factor was the major driving force behind the book. And the resultant buzz behinds sales. That and it being Germany. Not that any of this offended me — I can not be offended by such things — but the author tried to give meaning to this poor disturbed teen's emotional state by interjecting a "plot" involving her divorced parents, her one sided attraction to her nurse, and her need for attention. In general, the dialog is impoverished and no one other than the narrator/protagonist has any development. So when what seems to be a totally one sided affair reverses on the penultimate page, it felt entirely forced and hollow.
So in terms of the book's conventional character arc the novel fails miserably. But it does succeed at painting this oddball, fascinating, rather perverse character portrait. And I "enjoyed" my 90 minutes.