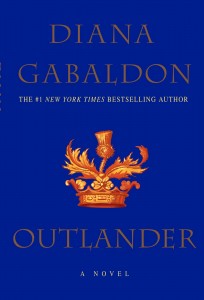 Title: Outlander

Author: Diana Gabaldon
Genre: Time Travel Romance
Length: 642 pages
Read: October 3-13, 2014
Summary: long but good
I've been meaning to read Outlander for years. Part time travel, part historical fiction, big best seller… it's also fundamentally a Romance (cough). This last gave me pause, but finally, after checking out the show (to be reviewed later) I bit the bullet.
It's funny how bestselling series drive against the current of writing "shoulds." This book is long. It's detailed. The protagonist is often adrift without clear "motivation" or "agency." The prose can be highly redundant. There are countless scenes that don't serve the spine of the plot.
But these "problems" also help make for a good read, and a good read it is. Fundamentally this is a novel about interesting, and well developed (if sometimes problematic) characters, caught in an unusual and fascinating blend of setting and situation.
Setup: It's 1945 and Claire Randall is a happily married nurse. On holiday in Scotland  with her husband, a circle of ancient stones mysteriously teleports her to 1743. Stuck there, she meets and falls in love with sexy highlander Jaime Fraser against the backdrop of the coming Jacobite rising.
This sounds fairly trite, and it is, but the historical detailing of 18th century Scotland is very well done. The author clearly did her research, and she builds a cast of interesting characters and a rather fascinating world on the edge of war. There is an intrinsic tension between Claire's two lives. Her modern husband isn't a bad guy at all, even if he lacks Jaime's manly-man energy. But she finds herself in this new place and in love — so what does she do? This dilemma provides for most of the conflict during the first two thirds of the novel.
Let's back up and discuss prose and voice. Gabaldon is a good writer. Her prose is energetic and descriptive, often erudite. The voice is completely first person from Claire's POV. She has an engaging, if a bit overly clinical viewpoint. I had small problems with repetition. Gabaldon often repeats words a sentence later without reason of parallelism and has a tendency to elaborate on a point more than necessary. This is a book where a great deal of the subtext is in the text. Claire spells it out. Sometimes twice. Sometimes thrice. This, by the way, is another of those writing "shoulds." You're not supposed to "tell," but "show" (imply). That's "better writing." But as far as I can tell, bestsellers don't tend to be subtle.
There is a lot of Scottish accented dialog in this book, and it's very well handled.
Claire's POV is generally excellent, but it does result in a few issues. Occasionally (particularly in the later part of the novel) some events occur "off screen" (when she isn't there). Gabaldon then results to gratuitous retellings where other characters relate the event to her in unlikely detail. Occasionally, a briefer recounting leads to some reader confusion. Claire is also hyper aware and overly clinical. As the author likes to handhold us through her thought process, it sometimes feels like exactly this, author handholding rather than genuine cognition. This leads to one of my bigger "motivational gripes" with this generally excellent novel, that Claire often feels fairly selfish and overly analytic. Particularly in the middle of the novel, Claire is nominally still plotting to head back to the future, but this tell feels incongruous with the emotions the author  has her "show" toward Jaime.
As I mentioned, the historical details are good. The attitudes of the 18th century men and women are well handled and relatively free of anachronism. Things are properly grungy, sexist, and occasionally brutish. It is occasionally a little odd that Claire herself is not terribly discomforted by this. She points out plenty of good stuff, particularly having to do with justice, medicine, and punishment, but she doesn't really seem to miss toilets, showers, medical care, comfortable clothes, or well preserved food. Perhaps her life as a nurse during WWII was grungy enough to prepare her. She occasionally mentions discomforts flipply, but less than I'd imagine. She never really complains (or seems to suffer) with regard to food, sleeping in haystacks, or walking barefoot across the chilly Scottish moors.
The time travel element is very light SciFi/Fantasy in this first novel at least, but is used to good effect. There is no mumbo-jumbo explanation to gum things up.
Being a romance, and a fairly erotic one, this is also a novel full of sex. Jaime and Claire go at it like rabbits — and things are often fairly explicit, at least in a literary way. I have no problem with most of this, as it's actually pretty hot, and I imagine that for many women it's insanely hot (see, word repeated deliberately for effect!). But there are aspects to the sexuality in this novel that are weird. Two huge ones (spoiler alert):
1) In the middle, after Claire disobeys him, Jaime "punishes" her by strapping her bare ass (to put it bluntly). To tell the truth, his reasoning is perfectly typical by 18th century standards, but comes off as a bit twisted by ours. And some readers will be bothered by the otherwise very spunky Claire's fairly rapid absolution of her wife-beating lover. In fact, it's clear that Gabaldon has a bit of a "thing" for corporal punishment as it's a constant theme in the book. Jaime goes way overboard to emphasize how much hiding her turned him on.
2) More disturbingly, Gabaldon probably isn't the biggest fan of Homosexuality. The novel's villain (Black Jack) is not only gay, but she goes to great lengths to integrate his evil tendencies and his sexual proclivities. Otherwise, he's actually a rather excellent villain, but she goes big time overboard in Jaime's recounting of the intensely odd and twisted "final hours" between Jaime and the menacing Black Jack. It's pretty darn nasty and twisted. This, along with a retelling of an older encounter between Jaime and a gay Duke feels like an overzealous attempt to demonize… to quote the novel: "poofters."
Overall, this is an excellent novel. None are perfect, and it's engaging throughout. The place/time is vividly depicted, and the characters are boldly executed. Both stay with you — which is no small feat for any author.