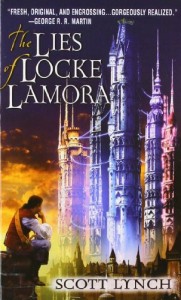 Title: The Lies of Locke Lamora

Author: Scott Lynch
Genre: Epic Fantasy
Length: 752 pages
Read: October 15-25, 2013
Summary: Best fantasy I've read in a while
The simplest pitch for The Lies of Locke Lamora would be Thieves World Venice. Fantasy often borrows heavily from history, and LLL is no exception. I'd place the  era as roughly 17th century. The book is set entirely in the fictional city of Camorr. It's got canals, bridges, Italian names, a Duke (Doge), nobles, masks, and pretty much all the trappings of the real Venince. It's also got sorcerers, alchemy, and giant towers built of indestructible Elderglass.
Like the brilliant Perdido Street Station, LLL features the city as character. This outing isn't quite as purely imaginative, but also isn't nearly as weird, and  far more approachable. I'm a big Venice fan anyway, and so I very much enjoyed the feel. There is a nice balance struck here between atmosphere and pacing. LLL is a fast book with a lot of flavor. The underworld and the city proper are both excellently realized. I particularly enjoyed the glimpses into a  well developed religion. Camorr is a city of 13 gods, and as such borrows more religious spirit from antiquity, but at the same time Lynch colors it with an extremely Renaissance/Baroque feel.
The novel is fairly focused. No Game of Thrones, LLL concentrates on a single hero and a few of his friends. It's written in a slightly bizarre third person omniscient, without a heavy distinct narrator, but feels free to flit around between time and characters (even if it hovers 90% on our protagonist, Locke). Interludes discussing historical aspects of the city or flashing back to (mostly) relevant childhood events in the lives of our heroes are frequent. While these stray from the spine of the story, they are entertaining and add depth. There is some slight of hand played with the chronology. Occasionally some action is undercut with the preparations for the same action in a way which is a little confusing.
At the prose level, Lynch is a good writer, with some style and flair. He does a nice job dotting the text with certain archaic words that lend flavor, but all the while keeping the text modern and lively. And he has a knack for deft and humorous descriptions. At the same time, there is a hint of anachronism. LLL isn't a Jonathan Strange & Mr. Norrell with pitch perfect historical tone — but it is also much faster paced and transparent to the reader.
The action of LLL is part heist, part swashbuckling adventure, part orphan tale. Like a Venitian Ocean's Eleven, Pirates of the Caribbean, and Oliver Twist all rolled into one. The tone is quippy and cavalier, but also contains a dose of nastiness and torture (night that I mind). The dialog is full of zingers — many hit, some miss. And often it sounds oddly modern. The plot is easy enough to follow but has a certain byzantine quality — and more than its share of deus ex machina — but essentially it all works. The action is fast, furious, and easy to follow. A dizzying mix, but one that works well.
I pounded through the second half (at 752 pages, hardly a novella) in one sitting. Flaws aside, it's fun and ambitious without being overwrought in scope. All in all, The Lies of Locke Lamora was no chore, instead a genuine pleasure, and certainly the best fantasy I've read this year!
For more book reviews, click here.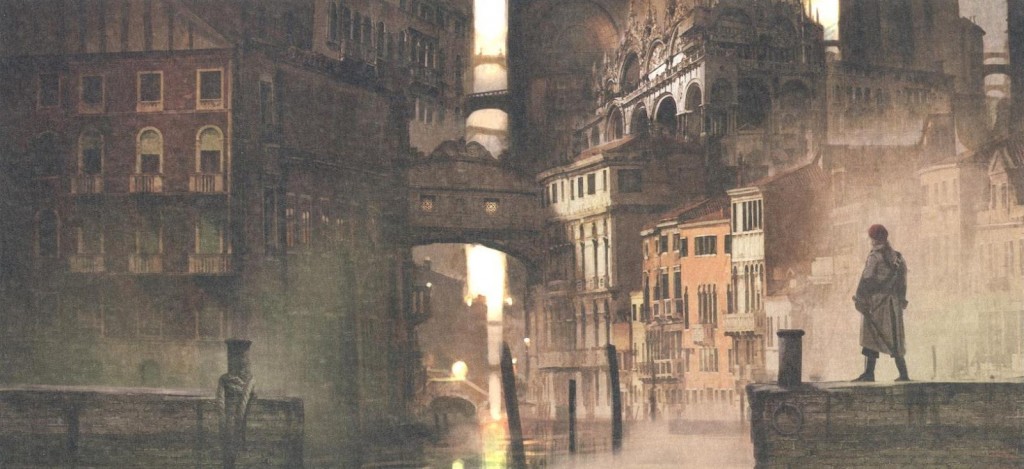 sharethis_button(); ?>