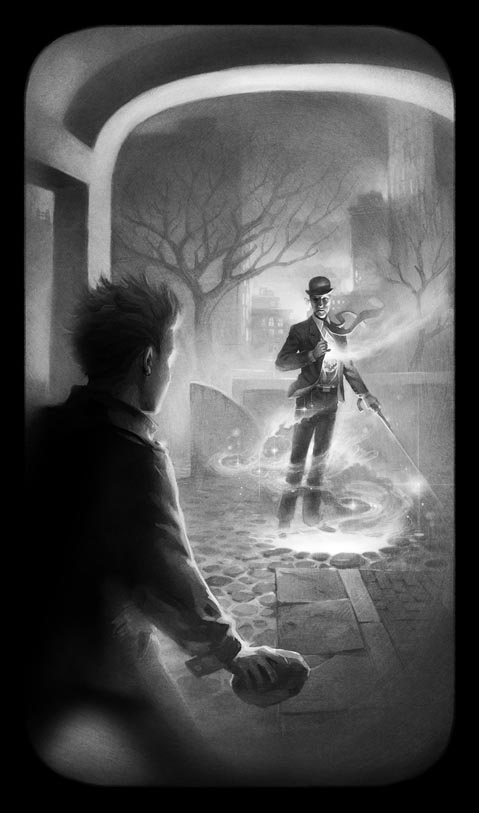 I finished the line editing on my second novel, Untimed, last December, but that doesn't mean the work is really over. On one front, it's out to various agents and editors, but on the other I'm working on spit and polish.
I had it professionally proofread and just finished going over all those little fixes. This is just an extra step to make sure it's as free of errors as possible and that the comma, hyphen, and spelling niceties are as consistent as possible. And apparently I don't like commas half as well as I should.
But far more exciting is that I'm having the book illustrated! I know it's relatively rare to illustrate novels, but I love art and believe — well done — that it really adds to the overall experience. Working with the agent who represented the awesome cover artist for The Darkening Dream, I found a talented illustrator named Dave Phillips (his website is here and some portfolio samples here). He has a real knack for character (see this for example) and knows how to capture lifelike personality in his figures. Over the last few weeks we've been developing character designs and now the first (more or less) finished image.
To the right, our hero Charlie (in front), confronts the mysterious Tick-Tock, a rapier-wielding clockwork man who serves as the only link to Charlie's missing father.
But Tick-Tocks are full of surprises, including the ability to punch holes in time!
Two free Naughty Dark tickets to the first reader who guesses the exact physical location of the scene (reply in comments here). You must not be one of my beta readers or one of their relatives. Hint: "Ghost H…"
sharethis_button(); ?>