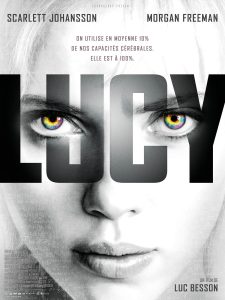 Title: Lucy
Cast: Scarlett Johansson (Actor), Morgan Freeman (Actor), Luc Besson (Director)
Genre: Science Fiction
Watched: January 7, 2015
Summary: Dumb ^ 3
I loved The Fifth Element and The Professional (flaws and all), so if you add Scarlett Johansson into the mix, you'd hardly think things could go too wrong. But they do, they really do.
Lucy is just a stunningly dumb film trying to "act" like a smart one. Now, it's not unwatchable (unless there is stock footage, a CGI australopithecine, or Morgan Freeman on screen), but it makes absolutely no sense.
The meta-premise of a woman undergoing a sort of personal Singularity could be decent, but this is combined with a watered down splash of crime thriller. Maybe Besson lost Gary Oldman's phone number? Even this mundane part is lame with absolutely no character or character development. There is no personality to the  mumbling Chinese gangster heavy. No real threat as we know Lucy could just wave him into a coma.
Back to the premise. One of my biggest problems is the regurgitation of that lame-ass idea that "we only use 10% of our brain." Ok. Lets even pretend this is true (it really isn't) and that a bag of leaking untested drugs in your stomach can wake up the remaining 90%. How on earth would this give you magic powers over gravity, other people, the ability to see things around the world, alter matter, defy the laws of conservation of mass and energy and all that? Wouldn't you just get smarter? Or more neurotic?
Combine this idiocy with an unexplained desire to film Morgan Freeman spouting nonsense about the same subject while intercut with cheesy nature footage and you have a recipe for serious cheese. French cheese I guess, like old Livarot. Stinky, but without the yummy creamy center.
There are so many stupid things about the "plotting" of this film. To get started:
Who shoots Richard (in broad daylight)?
Why is the bad guy killing some guys for the hell of it in his suite?
Why are they going global with this new drug before even testing it locally? (as they apparently have no idea what it does)
Why do they have to call someone who speaks English?
Why do they put the drug mule in a room for a couple of hours before sending her to the plane and why do they then kick her in the stomach?
How the hell is some of that first extra 10% of her brain she regains include martial arts and weapons training?
Why does she keep killing strangers and expecting us to think it's okay?
If she can put people to sleep with the wave of an arm, why does she bother fighting them?
If she is willing to shoot half a dozen random strangers on her way to the hospital, why doesn't she kill the bad guy when she has a chance? Reason: Besson wanted him to come back for a gratuitous and useless shootout that served no dramatic function.
What the hell was that particle system half-dissolution that happened on the plane and how did she "snap out" of it.
What's up with Scarlett playing these "emotionless" SciFi characters? This is like the same roll as Under the Skin, just with less nudity and more guns.
And most importantly, why do we need Morgan Freeman at all? He's a great actor, sure, but totally annoying as a lecture box.
And that's only the first 20 minutes off the top of my head. It keeps on going.
Now, if you really wanted to make a movie about someone escalating in intelligence and reaching their own personal Singularity, that would be fine. It would be much better to put that in the context of a self-rewriting AI or someone under the influence/intervention of nano machines designed for that purpose. Possibly Alien nano machines? Combine with Prometheus! Why use this dump brain percentage bit? Why include all the impossible magic powers?
If you've got some total nonsense that requires the willing suspension of disbelief, also fine, but don't rub our faces in it by continually lecturing on the subject!
Plus, when a character almost instantly becomes so powerful, you give up all the drama. Remember, drama is when you care for a character and so empathize with the tension between what they want and what the plot gives them. Emotionless protagonists with infinite powers hardly fit that bill.
Lucy was clearly written to require that shutting off 90% of our brains to watch it.