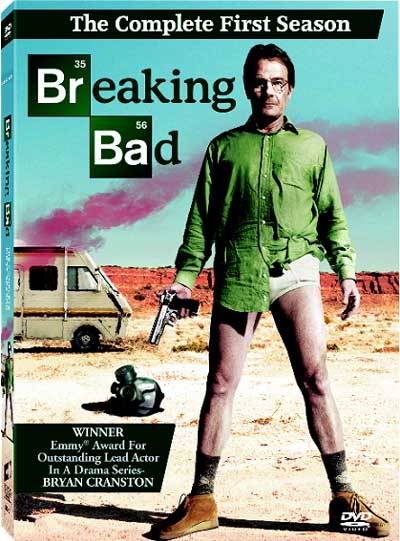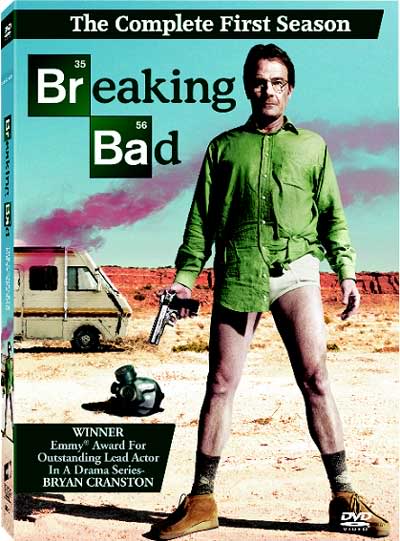 Title: Breaking Bad
Genre: Contemporary Dramedy
Watched: Season 1, November 1-9, 2011
Summary: Darkly engaging
Friends kept recommending this show and — even better — it's "free" (included) in my Netflix streaming subscription. The pilot opens with a serious bang, starting with the episode's chaotic conclusion then flipping back to the turn of events that brought us there.
It's an interesting premise: what happens when a nebbishy High School science teacher, dying of cancer, tries to take care of his family by becoming a Meth producer. At some level the concept isn't far off from Weeds (another dark and delicious snack — at least for 3-4 seasons) but Breaking Bad is considerably bleaker and more realistic. Things devolve rapidly into the grim reality of crime and murder. No sexy latino dealers here.
The characters are well drawn and feel fairly real, despite the somewhat over-the-top scenario. And as usual, that's what really matters in drawing in the viewers. The first season kept me fully engaged. It'll be interesting to see where this goes.
Breaking Bad is typical (and yet not) of recent well executed serial television in that it doesn't follow a neat and clean three-act structure or episodic loop (like say Terra Nova, which is a bit of a throwback). In some ways these newer shows have more in common with long novel series or old school Dickens-type serial pulp writing — just without as much cheese. Really, we're about 10+ years into a golden age of long form visual drama. And I'm loving it.