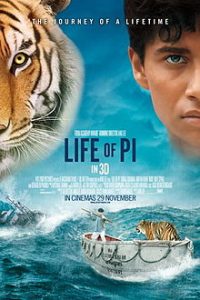 Title: Life of Pi

Cast: Irrfan Khan (Actor), Ang Lee (Director)
Genre: Magical Realism
Watched:  January 5, 2013
Summary: Luminous
Ang Lee is pretty damn amazing. Here is a Chinese filmaker with an ouvre that includes such varied work as Brokeback Mountain, Hulk, Crouching Tiger, Hidden Dragon, Eat Drink, Man Woman, Lust, Caution, and now Life of Pi (all except for Hulk pretty brilliant). That one man can capture both the unique Chinese flavor of Crouching Tiger and the Western American rhythm of Brokeback. Amazing.
Now we have this film, which resists all categorization. At one level, it's an eminently watchable survival adventure and pure visual treat. I haven't read the book yet (I will now), but I have to asume it has a fable-like quality, and so does the film. The color alone is surreal and intense. The cinematography is gorgeous. Some of the shots… woah. There is some odd unreal nighttime lighting here too — although it works. There is very heavy use of shallow depth of field to good effect.
It's worth noting that I saw the film in 3D, which has clearly graduated from three years ago when it was only for the likes of Alice in Wonderland (hiss) and How to Train Your Dragon. Now we have it in high budget literary adventure religious allegory. Interestingly, I'm pretty convinced that 3D has the effect of decreasing realism. It makes everything look like CGI, heightened, super-real, like an HDR photograph.
The acting is also superb. The casting of Pi at various ages is dead on. All three are highly emotive. And the tiger — who is presumably 90% CGI — he's the stuff of legend. There is one damn cool animal. The soggy cat hanging off the side of the boat is just so sad, lest us forget that the Bengal Tiger is the world's most dangerous land animal. Tiger's are fast, deadly, climb, swim, and can bat your head off with one paw. Imagine sharing a lifeboat with one! There's a 19th century tiger known to have killed over 430 men.
The film is to beautiful, that the ocean itself, and its bevy of sea life, becomes a character. As desperate as Pi (and Richard Parker the Tiger) are, they can't help but marvel at the little seen wonders that present, and us with them.
Thematically, I'm not yet sure how to digest Life of Pi. It's a pretty deeply emotional movie, and at some level plays to the film medium's visual strengths. The picture hints at deeper philosophical notes, but doesn't really illuminate. I sense extreme abbreviation. After all, 450 pages of novel would result in perhaps six hours of film.
NOTE: two weeks later I read the book. My thoughts here.
For more Film reviews, click here.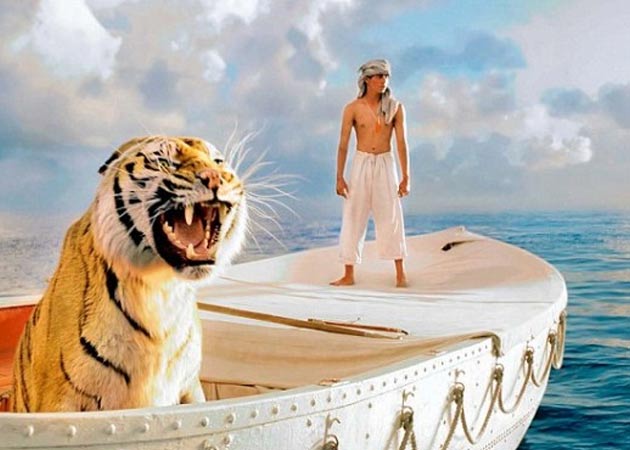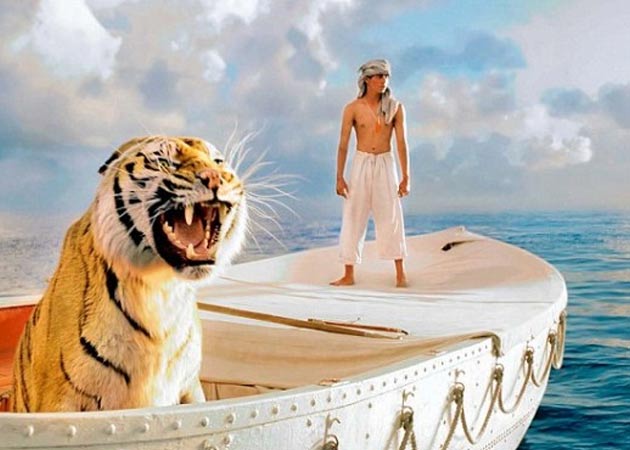 And I have to wonder, how did Pi keep the boat so clean? Did he train the tiger to poop over the side?
sharethis_button(); ?>