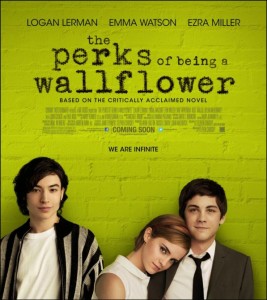 Title: The Perks of Being a Wallflower

Cast: Emma Watson (Actor), Logan Lerman (Actor)
Genre: Coming of Age
Watched:  February, 2013
Summary: Good, serious, teen film
This film adaption is very faithful. Perhaps not so surprising because the author wrote and directed it! This is tremendously rare. It's unusual enough for an author to write his own adaption (I'm doing it for Untimed, but I'll dance the Snoopy dance if I can even get it produced, and set off fireworks if I land any kind of production roll. Actually directing it? That's a serious wet dream.)
As a stand alone film, this is an excellent contribution to the teen angst drama. It's also funny at times. Not so much as the amazing Adventureland, but more serious and just different. Way better than the putrescent likes of Nick & Norah's Infinite Playlist.
The acting is excellent. It's been obvious since Prisoner of Azkaban that Emma Watson would end up a serious babe. She's got looks, spunk, smarts, and charisma all locked down. Ezra Miller is also a standout as Patrick. The two of them have so much life in them that they overshadow Charlie — he is, after all, a wallflower. Nina Dobrev (also a favorite of mine, but not as good an actress as Emma) has a small role as Charlie's sister. The part has a different feel than in the novel, nicer for the most part. Paul Rudd is good (albeit the part is a bit forced) as the teacher.
[youtube http://www.youtube.com/watch?v=n5rh7O4IDc0]
(NOTE: film is much better than the trailer)
The film doesn't go out of its way to reveal the time and place. As I saw it cold, not knowing anything about the story, I had to come to the gradual conclusion (based on music, costumes, lack of computers, etc) that this was the late 80s or early 90s. It was the presence of certain Nirvana songs that cinched the early 90s vibe.
The film strips out a lot of little details about Charlie's family. This is to be expected, as in adaption, even of a short novel like this, something has to go. These changes thin out the parents and sister to cut outs. Sad, but there really isn't much else Chbosky could have done. He also stripped out most of the sexuality. A producer generated change? Probably, but the I liked the sudden dashes of it in the novel. A few of those tidbits stuck with me. But most importantly, the de-sexualization washed out the "twist." It was so subtly handled in the film for fear of offending that I half-missed it, only fully realizing after the credits.
There are also subtle character shifts. Charlie is a little more passive and trending toward schizophrenic in the novel. Sam a little more broken in the film. The sister is meaner in the book (although she comes around). It's hard to say how much of this is in the writing and how much is what the actors bring to bear. Some characters, like Patrick (who really is a great character), come through 110%.
Overall, if you like teen films (and I do), see this one. It's several standard deviations above the mean.
My review of the novel is here, or