Restaurant: CR8 by Roberto Cortez [1, 2, 3, 4]
Location: Seattle
Date: February 25, 2015
Cuisine: Modern Art
Rating: Absolutely Amazing
Roberto Cortez's CR8 is one of the most stunning dining experiences I've been too, and so when he invited me to a new one this year some friends and I flew up to Seattle just for this dinner!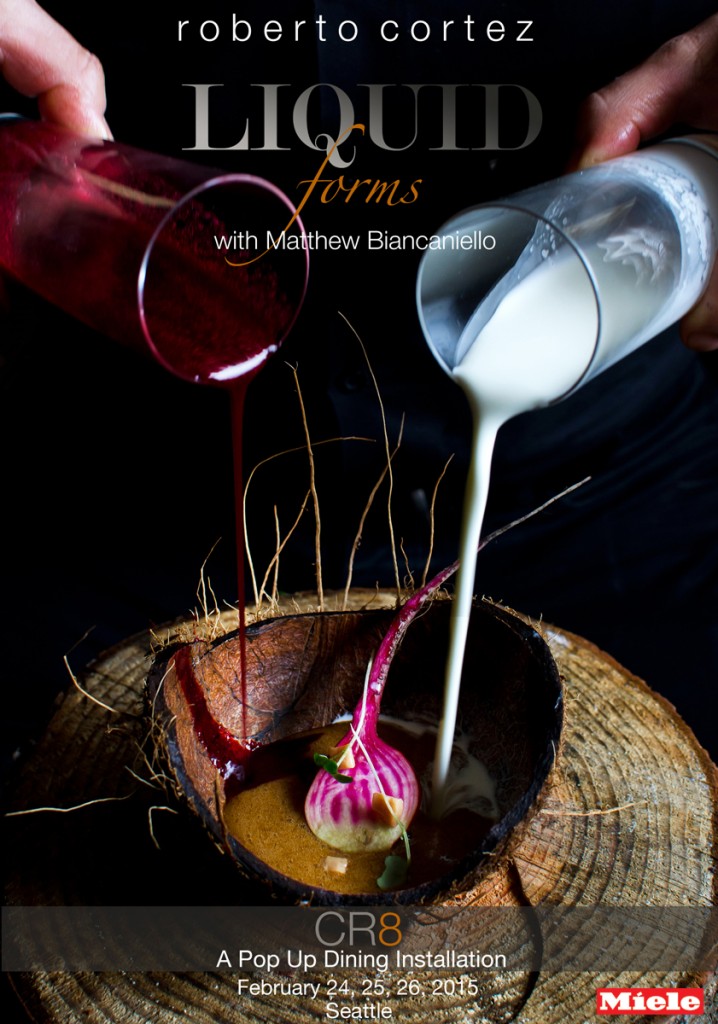 "When it comes to taste, liquid acts differently on the palate than solid food. Chewing food becomes a process by which flavors are expelled and discovered in stages as they ar2e released by the teeth. Liquids immediately cover the entire tongue, which in turn activates all taste buds and it's crevices giving instantaneous flavor delivery. This seems to be a more powerful way to taste as it requires less use of facial muscles, And with this, additional brain activity which stays in a state of "waiting" to see what the food tastes like. This also brings in a subconscious element of expectation and wonder, which deters from the purity of taste and experiencing flavor".
Roberto Cortez
Roberto is certainly the most creative and artistic chef I've ever had cook for me, which alone would be stunning, but after attending four of his events his food continues to be stunning. Dishes impress for both artistry, complexity, and flavor.
For his latest CR8, Roberto Cortez (left) has teamed up with Matthew Biancaniello (right), a master mixologist, to add a set of elaborate cocktail pairings to Roberto's stunning cooking.
Opening cocktail. Stinging nettle and Cuban oregano infused gin with satsuma and dill.
agavin: this starter had 2 ounces of gin, but you couldn't taste it at all! The dominant flavor was satsuma (a form of citrus).

For his events, Roberto always creates a unique dining space. This one was located in a 100+ year old Seattle warehouse.

The table itself was "dangerously" elevated. It was on a platform!

And there was even this cool homemade cloud created by artist Yuri Kinoshita. You can see some of her other woven works of luminosity on her website.
At Roberto's previous dinners I always brought the wine and that was more or less the only drinks, so I didn't fully understand in advance that Matthew Biancaniello was going to be creating this incredible cocktail pairing. So I brought the wine anyway. Therefore, we only went through three bottles at the table. The wines paired well with the food, but the incredible herbal complexities of the cocktails knocked out the fruit part of my palette, rendering them more acidic.
From my cellar: 2000 Prager Riesling Smaragd Dürnsteiner Hollerin. 91 points. Massive reductive funk on first opening. Blew off in a matter of a few minutes. Mature riesling nose of apricot, salt, slight petrol. Rich, heavy mid palate. Loads of heavy extract on the finish.
Roberto has thematic ideas for each dish which flow from the liquid forms concept, so I'm going to include them here to introduce the dish, then follow with my comments.
Mellifluous. Having a smooth rich flow, filled with something that sweetens This word is incredible because it particularly describes the viscosity of a liquid that has been thickened with a sweeteners. I want to pay homage to the Tree and its natural sweeteners from sap and rare honey.
Sapling. Steelhead Caviar, PX sherry hen egg sabayon, black oak maple, pecan oil, tangerine lace crumbled hen yolk.
agavin: This dish had a goopy texture interwoven with the popper-like caviar. The flavor was predominantly sweet with bursts of savory/salty. None of that explains how incredibly successful it was. Like most Roberto dishes it just really worked.
Gin, cucumber, beet and horseradish.
agavin: It was also noticeable how this "oddball" cocktail with its Passover horseradish vibe cut the sweetness of the dish and really took both to the next level. Incredibly refreshing.

Pellucid. Translucently Clear. Elaborating on and expressing the concept of Clear and Transparent in liquid form. I want to use the elements of the corn for this dish in unorthodox ways. I chewed on popcorn recently for a while and discovered the flavors of charcoal, truffle, and lavender. I want to stress the clarity and transparency of the definition.
Maize. Black truffle tamal, charcoal, Incan corn mole, canela Red strawberry popcorn Red amaranth.
agavin: At its core a fabulous tamale. The other elements didn't compete at all with the warm comforting quality of the tamale itself.
Wild juniper infused Mezcal, Krogstad Aquavit, fresh kiwi and wild mustard flowers.

This was a virgin version whipped up specially.

Vaporious. A substance in the gaseous state as distinguished from the liquid or solid state.
Vaporious. Ember beets, wild juniper, foie gras, sunchoke cream, akamiso, blood orange, scallions, pomegranate, Micro chive.
agavin: I love a good foie "mouse" and that was taken up a notch by the beets and the like.
Bergamot and Yuzu infused tequila, guava infused tequila , bergamot juice and dehydrated bergamot peel with home made caramel on top.
agavin: the caramel coated bergamot slice on top was incredible! Also impressive was listening to Matt and how he started infusing all these things months ago just for this dinner.

From my cellar: 1993 Robert Ampeau & Fils Meursault 1er Cru Les Perrières. Burghound 92. A fully mature and expressive nose of elegant secondary fruit and floral aromas introduces intensely mineral-driven, pure and beautifully well-detailed middle weight flavors that possess excellent depth and fine length. This is drinking perfectly now and should continue to do so without effort for at least another decade. Tasted only once recently.

Liquescent. Origins in 18th century Latin. Becoming liquid Monsoon. This dish is the ultimate expression of becoming liquid. I am starting to collect rain water in a special glass vessel so that the water never touches the ground. I will then filter it to become a pristine base of this dish. I was inspired by two things; the Monsoon's of Asia to bring focus to the rain water and by one of my favorite artists, Shinichi Maruyama, a Liquid artist.
The broth was poured in.
Monsoon. Crab Tonkotsu (poured tableside). Poached crab roots, soft tofu, liquid nahm prik pao curry cucumber noodles hibiscus daikon, black sesame Hearts on Fire Radish flowers Cucumber flowers.
agavin: Hard to explain all the good stuff going on here. There was a bit of heat in the broth, slightly akin to one of those Thai coconut soups. But there was also this serious Tonkotsu pork broth vibe. Plus all the textures and the wonderfully soft crab. Even the smear of black sesame complimented fully.

This is the vegetarian version.
Sage and Surinam cherry infused gin, wild horehound infused maraschino liqueur, lemon and green chartreuse with dehydrated banana flowers on top.

Melting. To become liquefied by warmth or heat.
Terre Fondu. Yeast fermented rice Coffee pork jowl butter date consomee in poultry broth Kishibori shoyu, Nordi beer pickled shallot.

With this dish we got little pistol lighters and had the opportunity to melt the butter on that fig bit into the dish. Interactive cuisine! Essentially though this was like a risotto soup combo and was really quite spectacular and rich.
Gin, 25 year old balsamic, strawberries with a bergamot and Tahitian vanilla infused saint Germain foam.

From my cellar: 1993 Louis Jadot Chambertin-Clos de Bèze. Burghound 92. In stark contrast to the Chambertin, this is wonderfully expressive and complex with abundant earth and spice notes followed by big, structured, still sappy if slightly austere flavors that offer excellent density and plenty of character. Impressively scaled and finishes with striking length. A clear step up from the Chambertin.

Succulent. Full of juice, juicy, rich in desirable qualities. The word succulent is incredibly descriptive of what is to come.
Texas Brisket Float. Brisket syrup Smoked cream, chile salt preserved smoked tomato bbq vinegar caramelized brussel sprouts broth, grain mustard coriander seeds,dill seed oil arugula blossoms.
agavin: Brisket float? Who would have thought that would work. Well it does. The man that brought us soup masquerading as beer can also imbue a beverage with the qualities of a heavy BBQ dish. Yeah, it totally worked.

The vegetarian version. No brisket. Sorry.
Wild toyon berry infused Pisco, kaffir lime, egg whites with rosemary flowers on top.
Brisket part deux:
Forest Brisket. Elderberry glazed brisket, parsnip, douglas fir, yogurt, pumpkin greens.
agavin: There was some real chew to the meat, and it was fabulous. As usual, all the elements totally sung together in harmony too.

The vegetarian version was a kind of BBQ parsnip!
Wild white fir infused tequila, pine sap infused saint Germain, cinnamon infused wild flower honey, fresh turmeric and persimmon juice.
agavin: This was consumed in one quick jolt.

Crystalline. Having the structure and form of a crystal. I was inspired by two things for this concept. I recently cut some limes and smelled so many layers of other scents that I want to express it. Using kaffir is an amazing extension of that.
Frost Bite. Brazil nut panna cotta disk coconut mousse kaffir leaves frozen sour apple frozen cinnamon toast crepe frozen.
agavin: hard to describe how good this dessert was. I love coconut. And I love coconut and citrus even more. But the creamy panna cotta was totally to die for.
Benedictine, roasted almond oil, lemon and cacao nibs.
agavin: the pairing was amazing

Imbue. To saturate or impregnate with moisture, color, feelings, etc. To permeate, infuse, or soak.
Cacao Imbue. Amedei Blanco de Criollo 70% Chocolate, red plums & beets licorice and dandelion root, wild cherry bark Duchilly hazelnut oil raspberry powder, micro mint licorice.
agavin: One of the world's most exclusive chocolates blended together with hazelnut and other goodness? What's not to love? This was incredibly creamy.
Cynar, cassis, espresso with a blood orange air.
agavin: This cocktail rolled up together a complement, a third dessert, and the post dinner expresso. It really worked.

Again Roberto shows off his unique mastery of the culinary arts. His number one strength (and he has many) is his uncanny sense of food harmony. This isn't laser focused ingredient expression style food like Saison, it's symphony of flavors. I'd liken it to Mozart too, as it has that rococo lightness, where the complex elements blend together into a lovely whole. This is not easy. Other hyper-intellectual chefs often have discordant notes, like at Maude or Twist. Nothing stands out of place with Roberto's cooking. The flavors and textures blend seamlessly.
Matthew Biancaniello's beverage pairings really notched it up too. The man is like Roberto's liquid twin stylistically. As my wife put it, "I never imagined drinks could be so creative." They also showed uncanny synergy with the food, particularly impressive for having mostly been worked out over the phone and email! (Matt lives in LA, and Roberto is currently in Seattle).
Plus, for a four person event (Roberto, Matt, and two servers) they really manage to put on a great show with ambiance, music, food, drink, etc.
I should also note that because of the cocktails my wine pairing efforts were less successful than at Roberto's previous meals (Dark Illuminated Forest, Purotekuta, and Savage Romanticism). The strong herbal, alcoholic, and citrus notes in Matt's drinks, while lovely and evocative themselves, knocked out the fruit sensitivity on my palette. This had the effect of suppressing the sweetness or fruit from the wines and rendering them overly acidic. I don't think you can easily mix these two beverage profiles at the same time.
Overall, I really adore this sophisticated cooking as its a synergy of the creative, intellectual, and hedonistic!
Check out more of my grand Foodie Club meals.
sharethis_button(); ?>