Restaurant: CR8 by Roberto Cortez [1, 2, 3, 4]
Location: LA
Date: October 24, 2012
Cuisine: Modern Art
Rating: Absolutely Amazing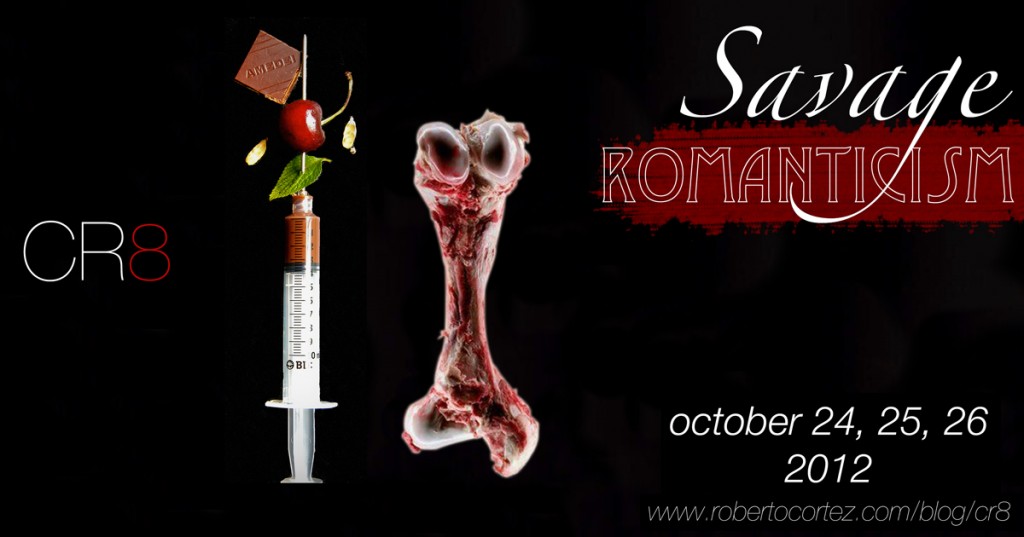 When I received a last minute invite to the latest Roberto Cortez dinner, I immediately jumped on it. I won't miss one of these unless I'm dying or otherwise seriously incapacitated. I even went to one ten days after breaking my arm in seven places! For those of you who don't know, Roberto is a world class modernist chef and overall artist of many things.

Roberto disdains the idea of opening a restaurant and cooking the same thing everyday, so his food is performed (and that is the right word) at randomly located three day installations. In this case, as with last July, it was at the Redd Collection, a wine store and bar that I separately frequent. Redd has a really great space in Culver city, simultaneously cool and comfortable.

Some prep.

The drinks begin with a bit of Roederer Estate in the big bottle. It's worth a few words about the format (and specifically the wine format) of these dinners. Twelve people attend, in small groups of friends. Everyone eats together at one table. Technically, everyone is just supposed to bring wine and figure it out. Pot luck wine can have mixed results. It works out fine at my Hedonist dinners as there is a high bar (maintained by the organizers) plus some recommendation and coordination of the types. Overall timing and pairing, even then, is a little off, but the stellar quality of the wine makes up for it.
So instead of bringing 2 bottles like a normal person, I brought 7, and I chose them ahead of time with the ingredients (supplied by Roberto) in mind. Michael Carpenter, one of the owners of Redd, helped fill in the gaps, then I organized these plus a couple of the random (but good) stuff brought by others into proper flights. I had correctly guessed that people would bring big reds so I made mine the more unusual pairings that Roberto's cuisine really deserves. I'll comments on the success (and minor mismatches) below. As a sommelier, wine nut, frequent organizer, and devotee of Dionysus, I take this stuff very seriously. I take a rather paternalistic "hard line" as well. It doesn't bother me to leave someone's wine under the table unopened if it doesn't match or is subpar and I hate to waste good wine. I think that the net enjoyment of everyone  at the table is enhanced by some organization and discipline, and that while most diners don't necessarily know enough wines to pair them, appreciate it when the effort is made.

After the sparkling, we enjoyed this special rum cocktail made by Roberto. It was fruity with a bit of spicy heat. I unfortunately was too busy organizing my wine to get the details. One server was out sick and this time around, I ended up opening the bottles and pouring myself. I don't mind, actually, as I'm a control freak :-).

Roberto and crew always create an interesting space. Here is the single table. They enclosed a smaller area in the middle of the warehouse-like zone to make a more intimate "room."
"Ceremonial: A consume of five mushrooms, maple, lovage, sherry vinegar and wine, farro, garlic." The spoon is hollow and serves as the bowl. The dish showed off nice earthy notes and more than a little acidic tang.
Below (as with all the courses) you can hear Roberto discuss them in his own words. This first one is a little hard to hear, but the others are better.

Roussane is a white Rhone grape and this new world example was very much in that mode. This bottle came from Michael, one of the Redd owners.

"Chanterrelles, egg, raspberries, leeks, forest." Sort of like fancy scrambled eggs, but much better. Light and fluffy with interesting forest notes. There is enough richness to the eggs that the meaty (for a white) Roussane paired perfectly.

Forest oil, homemade by Roberto. You were supposed to drizzle this on the dish of the person to your left as an aromatic.

From my cellar: Parker 90, "2009 Sancerre Cuvee GM (don't ask me why he doesn't simply write out its name) offers cooling, soothing honeydew melon and mint with hints of sage, chalk, lime zest, and white pepper. Vintage-typical in its lushness, it nevertheless doesn't stint on minerality or refreshment, and is blessedly free of the alcoholic heat, roughness, or ungainliness that plagues many wines of its appellation in this warm and hail-challenged vintage. Impressively persistent and practically sumptuous rendition of Sancerre."

"Diver's Scallop tartar, dill oil, frozen avocado, sudachi, pomegranate, coconut butter, quinoa." Scrumptious dish, but I adore raw scallop. As usual with Roberto, the seemingly chaotic ingredients gelled perfectly. Cool textures too, literally so with the frozen avocado!
Based on the ingredient guesswork (Roberto improvises so heavily that pairing from his notes takes some interpretation), I paired the above Sancerre with the scallops. Michael, who is after all a wine pro, was initially a skeptic, as he thought the dish would be too rich. In the end, I think it was a (lucky but) sensational pairing. The scallops came off much like scallop sashimi and as such, the bright citrus notes from the wine did what I hoped, add the same zing that yuzu does on the best Japanese preparations.

From my cellar: Parker 96, "After a performance like this for a Spatlese, the warning was hardly necessary! Donnhoff's 2009 Niederhauser Hermannshohle Riesling Spatlese offers a riot of herbal aromas reminiscent of but far more intense and diverse than that of the corresponding Grosses Gewachs, and here, too, accompanied by grapefruit and passion fruit in a manner that calls to mind Sauvignon. Horehound, licorice, sage, mint, black tea, nut oils, candied grapefruit rind, and crushed stone inform a silken-textured palate. As with the corresponding Brucke, there is a remarkable interactivity on display, and a depth of mineral and animal savor that goes beyond crustacean shell reduction or veal demi-glace, leaving me salivating helplessly. This should be worth following for 20-25 years."

"Romance X: Whisked ham, Honey caramelized pineapple, curry, horseradish, fried leeks, shaved ham." Awesome, awesome dish. Intensely hammy and light (surprising when a whipped white ham product is involved).
The Riesling Spatlese made for a stunning pairing, but not for the reason I chose. First of all, it is a great wine, a really great wine. Second the sweetness and pineapple notes matched the real fruit and just perfectly counterpointed the salty ham vibe. I'd actually chosen the wine because of the curry. That ingredient (if it was even still there after Roberto's beta modifications) was muted to the point of nothing, but the pairing worked out anyway.

From my cellar: 1990 Robert Ampeau & Fils Volnay 1er Cru Santenots. Variously 90-95 points. Started off with a bit of funky nose but quickly blew off and opened up gorgeously. This was one of those burgundies that makes you want to come back for more; cork was in good shape; a nose of cherries mushrooms and earth; fruit on the palate that softened with time; long finish that changed in a positive way with each sip.

"Forbidden: foie gras, maple, chive, ginger, mushroom rye, PX sour, coriander, rose, green apple tonka bean, corn cinnamon." Very interesting  dish. You pour the below "secret sauce" on top and then eat like a salad.

Corn cinnamon "secret #13 sauce" to add on top. Lovely sauce. The whole thing was great. Another example of Roberto's savant-like ability to combine seemingly random flavors into a uniform whole.
The Burgundy was great by itself, and paired fine with the dish. Because of the foie, one could have gone sweet, but the whole salad like vibe (not that I knew about that from the notes) wasn't traditional.

From my cellar: Parker 94, "I under-rated this medium-to-dark ruby/purple-colored wine (91-93 in Issue #111). This wine's lively nose presents candied orange peels, black cherries, and Asian spices. It is powerful, layered, intensely complex, full-bodied, and ripe. Densely packed blackberries, cherries, and cassis are intertwined with minerals and hints of earth in this highly-impressive offering. As is spelled out in the margin of my notebook, Super! Bravo!"

"kabocha nimono: Red kabocha, caramelized shallot, parmesan sabayon, gelle of smoked dashi."

With a puree of the squash poured in. Very lovely dish, appropriate for the season too. The smoked dashi cubes were hands down amazing.
Pairing-wise, this dish was my biggest failure. The wine was great, and not a mismatch or anything, but heck if I know what would be perfect here. I'd give the wine 95/100 and the pairing 60/100. Maybe something spicier. Looking it up, I even find "squash soup" listed under "impossible food wine pairings!" People generally go with an Alsatian wine like a Pinot Gris, which would certainly work. I was trying to get some more reds in because most diners don't like a pairing dominated by whites.

From my cellar: Parker 92, "The 2003 Boca Il Rosso delle Donne shimmers on the palate with layers of fruit, mineral, and herbs. This fresh, vibrant and impeccably pure wine is a jewel."

Parker 93, "An impressive performance by Lagrange, the 2000 possesses a saturated ruby/purple color with obvious notes of melted licorice, creme de cassis, and toasty new oak. This ripe, dense, full-bodied St.-Julien is chewy, thick, high in tannin, large-bodied, and impressively long and dense. As always, it is less expressive than some of its peers, but it is loaded as well as reasonably priced."
For this next dish we each had to blindfold ourselves and then pick an "ingredient" by shaking two containers. No senses other than sound and weight were allowed. Listen to Roberto introduce this concept:

"Carnaoli Risotto with custard of black truffle, syrah reduction with honey and coffee, fig, plus special ingredient." Wow, wow! Similar to a risotto he made for me at Dark Illuminated Forest, this is just so sumptuous.
The pair of above wines both paired very nicely as they offered up mushroom, forest, and cherry (the Boca) and earth tones (the Bordeaux).

Parker 90, "Performing better than it did eight years ago, the 2001 Opus One reveals a classic, French-like style with notes of cedar wood, melted licorice, black currants, roasted herbs and tobacco leaf. While not one of the stars of the vintage, it is a medium to full-bodied, outstanding effort that has reached full maturity. It should continue to drink well for another decade or more. This was a reassuring showing, although vintages over the last five years have been stronger and more powerful, with greater aging potential than the 2001."

Parker 90, "The 2003 Cabernet Sauvignon is uncommonly approachable. Its dark ruby color is accompanied by sweet aromas of plums, black cherries, and currants. With soft, silky tannin, medium body, and a Bordeaux-like weight, this Cabernet was clearly inspired by Bordeaux clarets."

"Wagyu brisket sous vide cooked for eight hours. Glaze of fermented black bean and thyme. Pear and kale chip with smoked bone marrow." Fantastic piece of meat. Soft, with a marinated tone not unlike North Carolina BBQ.
Smoked alder-wood butter brioche is added to the plate.
The above "beefy" wines had enough grape to them to match very well.

From my cellar: Parker 96, "A totally compelling Climens and to my mind, every bit as good as the 1988, the 1986 is probably the best Climens made since their spectacular 1971. It is still light gold in color, with an expansive bouquet of new oak, oranges, pineapples, and other tropical fruits. In the mouth, the great richness seems all the more impressive because of the wine's remarkable clarity and definition. There is as much botrytis in the 1986 as in the 1988. Despite the intensity and extract levels, this sweet wine comes across as crisp and relatively light. The 1986 is a stunning example of Climens at its very best."
Really great Sauterne and at its peak maturity. Like rich honeyed nectar.

"Chocolate Drug: Armedei Chuao chocolate in the syringe, single original coffee gelee, Ethiopian cappuccino gel, tarragon hoja santa absinthe, caramelized brioche and creme whipped with salted butter and caramelized blood orange peel."

After I pumped out the chocolate. Yummy stuff. A little bit of licorice flavor to it made the sauce one of those addictive ones. Great chocolate. Just so good.

Main line this puppy!

Our host and chef, the incomparable Roberto Cortez.
Overall, this was a spectacular dining experience, as good as my first Roberto meal, Dark Illuminated Forest. Sometimes there is a "chasing the dragon" effect to repeated events, but on all levels tonight was truly outstanding. The most similar (non-Roberto) meal I've had was this one at 2-star Calima in Spain — but this overall experience took everything to the next level. I think my wine-Nazism payed off to good effect too, helping elevate the whole sensory experience.
Roberto is like a Toscanini of food. It's mind-boggling. Every single dish worked. Some were a bit better of course, but all were great. They show technical virtuosity, but more importantly, they show his incredible talent for predicting the nature of sensory experience. Like a Mozart symphony, the notes were all harmonious. Really, Food as Art.
A write up of this event can be found on Roberto's own blog here.
Check out more of my grand Foodie Club meals.
sharethis_button(); ?>