Restaurant: CR8 by Roberto Cortez [1, 2, 3, 4]
Location: LA
Date: April 25, 2012
Cuisine: Modern Art
Rating: Storybook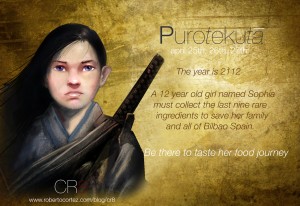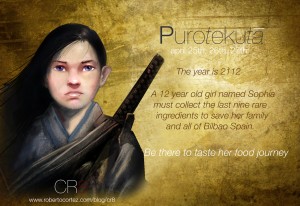 About a year ago I came across online a chef named Roberto Cortez who hosts periodic themed modernist dinners. Looking at Roberto's work (visible on his blog) it was instantly obvious that his visual style and presentation were out of this world. They exhibit a standout playfulness and creativity well in advance of even top restaurants. On March 5 I went to his Dark Illuminated Forest and experienced one of the best meals I've ever had.
So I was extremely excited to find another invite to a new concept in my inbox this April. The current event/meal is called Purotekuta and you can see the thematic poster to the right.
This time, all the founding Foodie Club partners were available and we set off in mass for the event.
As a prelude, Roberto sent us the above gorgeous East/West fusion "story" in the mail. This contains a bit of Sci-Fi Manga style story set in future Spain. We will see later how this unfolds into a meal.
We gather in the outdoor space to enjoy a homemade cocktail.
Roberto whips them up. Below he explains the ingredients, be sure to listen in order to appreciate all the elements that go into this.
He calls this the kama sutra. At the core it's mango (like a mango lassi).
The finished product has a delicious mouthfeel.
Above are the ingredients for tonight's menu along with some of my wine notes.
And Roberto whips it all up in this tiny kitchen.
Roberto did me the favor of sending me the list of rough ingredients for each dish in tonight's meal so that I could do a proper wine pairing. This is something I rarely have the opportunity to do because it requires a pretty big table. Tonight is elven people and so I figured we could handle almost one bottle per course. I doubled up the wine on one of the nine and settled on eight bottles. The two dessert wines are half bottles. This left three whites, three reds, and two dessert wines. Many drinkers prefer reds but Roberto uses a lot of complex and Asian flavors in his cooking that favored whites and reds with more finesse. I tried to mirror the dishes spiritually by choosing unusual varietals with local and offbeat qualities, avoiding anything international in style (although all are European).
We then move into the interior of the gallery and our dinner space. It's been completely custom decorated for the event including two mural-sized paintings illustrating the dinner story.
Above Roberto explains the unique story concept for tonight's dinner. Each course has a story card we must read. I apologize for the terrible video quality of this and later explanations by Roberto. The room was nearly lightless. In any case, it's the audio that matters.
The first card.
And the first wine. All wines were selected by me from my cellar to match individual dishes.
"The king of Sancerres: a gorgeously, complete triumph from Jean-Max's oldest vines. These deep roots provide concentration, structure and power. A combination of stainless steel and aging in large oak barrels combines vim with elegance. The VV is round and full-bodied with hints of crystalline honey and fresh mint."
Roberto explains the first dish.
"Enchanted Paella. Saffron Bomba rice cream, dehydrated tomato confit, red pepper pudding, pea puree-shoots, crunchy chorizo, fire roasted shrimp/mussel consomee, soccarat crisp."
Roberto loves to play with traditional dishes, mixing them up into entirely new forms and textures. This did in fact taste like a shrimp paella. Texturally, the saffron cream in the consomee was reminiscent of  the garlic aioli often served with boulibase.
A semi-close up of one of the wall murals.
The second story card.
And second wine:
Robert Parker 95. "The 2007 Chateauneuf du Pape blanc is even better. Meriting the same rating as I gave it last year, it is a delicious, beautifully textured, light gold-colored white revealing plenty of white peach, apricot, nectarine, and honeysuckle notes as well as a distinctive florality and minerality. More honeyed and fuller-bodied than its 2008 counterpart, it should drink beautifully for 7-8 years, then go into an oxidative state. It is somewhat of a gamble as to what will happen thereafter. Beaucastel's limited production luxury cuvee first produced in 1986 is their 100% Roussanne Vieilles Vignes offering. Fifty percent is barrel-fermented in one-year-old barrels, but no new oak is utilized."
"Emperior's Uni. Avocado tartare, uni sabayon, frozen jalapeno, shinseiki pear gelee, Blis sake cure steelhead caviar, pickled grapes, lime leaf, chive oil."
You wouldn't think all those things would go together, but they do!
The third card.
Because of the white asparagus I chose this gorgeous Mosel valley riesling, located just an hour or two from the heart of white asparagus country. Wine often has an affinity to the nearby agricultural products.
"The Weins-Prum 2009 Wehlener Sonnenuhr Riesling Auslese smells of dried apples and white raisin accompanied by wafting honeysuckle and heliotrope perfume; comes to the palate creamy and with remarkable lift, delicacy, and purity; and finishes with an unctuous sense of botrytis ennoblement allied to a remarkable degree of residual refreshment and even an uncanny hint of Mosel-typical wet stone. As Bert Selbach points out, in the 1990s, he would have bottled material of this sort as a gold capsule Auslese. He picked this beauty in the last week of October, about which decision he notes "here we had probably barely 20% botrytis. I'm not a fan of letting the grapes hang too long and letting too much botrytis develop. I maintain that an Auslese has to retain Spiel." Try playing around with this one for the next 35 years or so."
"Spring White. White asparagus textures, mint, dungeness crab, grapefruit curd, dill sponge."
Late April and early may is white asparagus season. It's also traditional in Holland and Germany to make them into a soup. The crab provided perfect sweetness and the foam, although texturally odd, paired nicely as well.
The table is actually a giant door and the we have a sword!
The fourth card.
This dish wins in terms of presentation.
"The Seed. 64C egg expression, toasted seed merinque, thai basil velote, buttermilk."
Essentially this is a sous-vide poached egg. The toasted seed merinque was really yummy and could be dipped in the egg.
But key was to pour in this basil puree (basically pesto). I've always liked egg and pesto. At home I often sunnyside up eggs, sprinkle parmesan on them, and add pesto (and Tabasco). I love the mix of Tabasco and pesto.
The fifth card.
I paired this wine because of its foresty mushroom vibe.
"The 2004 Boca Il Rosso delle Donne shimmers on the palate with layers of fruit, mineral, and herbs. Stylistically the 2004 is a much more expansive, generous wine than the 2005, with layers of fruit that radiate with notable energy through to the mineral-laced finish. This fresh, vibrant and impeccably pure wine is a jewel. Anticipated maturity: 2012-2024.
The reds of Northern Piedmont remain insiders' wines, but the finest bottles from these tiny appellations merit considerable attention. I came away very impressed with the wines I tasted from Conti. I also sampled a number of older vintages, the best of which are reviewed here. All of these wines are 70% Nebbiolo, 20% Vespolina and 10% Uva Rara, the traditional blend in these parts."
"Trapped Funghi. Morels, sesame praline, spring alliums, mushroom sabayon, cardamon, homemade coffee oil, ginger." The sabayon was to die for in this dish. We craved bread to mop it up.
The sixth card.
Parker 93. "One of the three batches that will be blended to make up d 'Angerville's 2005 Volnay Champans was still in malo, so I base my assessment on the other two. Scented with cherry and cassis, flowers and fungus, smoke and chalk dust, this displays richness and depth, fine tannins and emerging silkiness, and a youthfully firm but long finish loaded with savory subtleties. Just give it 6-8 years before revisiting. (The outstanding d'Angerville 2004s were also very late to finish malo, and the Champans is especially memorable for its vivid sauteed champignons, alluring ginger spice, marrowy richness, and flattering mouth feel, indeed comparable in quality though lacking the developmental potential of this 2005."
"Glacial Brine. Halibut confit, white miso champagne risotto, fennel, gellied ham." This was a pretty incredible fish dish. The miso was very sweet, almost mango like. Then the ham jelly just added an awesome bit of hamminess to the whole thing.
The seventh card.
Parker 93. "The estate's top of the line 2001 Amarone Classico Riserva Sergio Zenato is superb. A blend of Corvina, Rondinella and Sangiovese, it reveals expressive aromatics followed by a compelling array of raisins, tar, chocolate and sweet fruit. It, too, comes across as powerful and brawny in style, but it is also a much more complete, rich wine than the 2003 Amarone tasted alongside it. This beautiful Amarone offers terrific length and a long, resonating finish. It spent three years in large oak barrels. Anticipated maturity: 2007-2011."
"El Itimo. Black vinegar Iberico Carrilleras, wheatberry, foie gras emulsion, beet puree, brussel sprouts, maple consomee." This was pretty awesome too. The texture was more like beef short ribs than pork.
Roberto filling us in on what's coming.
The eighth card.
Parker 99! "The unreleased 1994 Tokay-Pinot Gris Clos Jebsal (Selection de Grains Nobles) Trie Speciale is the sweetest and densest wine Olivier Humbrecht has ever fashioned. It has 540 grams of residual sugar per liter and 12 grams of acid. As Humbrecht noted, "it makes no noise when poured into a glass, it is completely silent!" He has not yet presented it for certification as an SGN, which is why that moniker is in parentheses. Needless to say, this puree of fruit-flavored syrup sets new standards in power, concentration, and length."
A shotglass of this unctuous nectar.
"Dragon Flower. Lychee tapioca, mascarpone elderflower ice cream, compressed liquid strawberry." This doesn't look like much but it was wonderful. Soft and refreshing with fantastic subtle flavors.
The ninth and final card.
Parker 94. "The 2003 Sagrantino di Montefalco Passito tastes just like the harvested grapes prior to fermentation. Deceptively understated at first glance, the wine offers up a compelling array of dark plums, prunes and spices, with a long, elegant finish and lingering notes of perfumed fruit that reappear on the close. Bea's Sagrantino di Montefalco Passito is one of Italy's great dessert wines, and the 2003 is a splendid vintage. Anticipated maturity: 2009-2019."
"Phantom Porcelana. Amedei Porcelana (55C), banana, herb salad, oak wood ice cream, roasted malt, red wine, olive oil, tonka bean." This is some kind of special uber single vineyard chocolate. It was pretty incredible. I'm not much of a banana fan (bad banana whiskey experiment in college) but even that worked for me. The "wood" ice cream was very subtle but added a nice whipped cream-like thing to the intense chocolate.
Overall, this was a spectacular dining experience. I wasn't quite as wowed as I was during my first Roberto meal, Dark Illuminated Forest, as there is always a novelty factor with first time things. But on all levels the results tonight were truly outstanding. The most similar (non-Roberto) meal I've had was this one at 2-star Calima in Spain — but this overall experience took everything to the next level. This is the most complex and ambitious "meal" I've yet had. It combines location, music, story, food, and even my wine pairings.
The man is like a Toscanini of food. It's mind-boggling. Every single dish worked. Some were a bit better of course, but all were great. They show technical virtuosity, but more importantly, they show his incredible talent for predicting the nature of sensory experience. Like a Mozart symphony, the notes were all harmonious. Really, Food as Art.
Roberto details this meal on his own blog.
Check out more of my grand Foodie Club meals.
sharethis_button(); ?>