Restaurant: Wolfgang Puck's Cut
Location: 9500 Wilshire Blvd. Beverly Hills, California 90212. P: 310-276-8500
Date: April 12, 2012
Cuisine: Steak House
Rating: Great, but I think Mastro's is slightly better at the over the top steak house thing
The Foodie Club rolled out on the town for the first time in a while (I was slowed up by my broken wrist) and it was founding member Simon's birthday and he wanted to go to Cut.

Cut is located inside the Beverly Wilshire Hotel (think Pretty Woman) and is Wolfgang Puck's take on redefining the American Steak House. In this, it succeeds very well. While it adheres to the Steak House basics: slabs of beef served plain on the plate, Cut upgrades things in a number of ways. But we'll get to this in good time.

The modern kitchen turns stuff out in full view.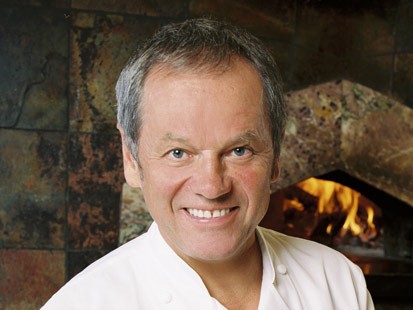 Puck himself was in attendance as well, he came by the table to admire my wines.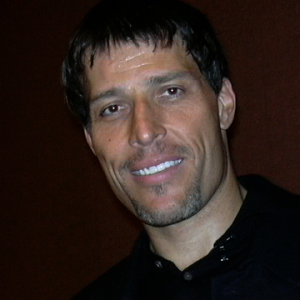 And self-help guru and modern Rasputin Tony Robbins was just a couple of tables over. Cut is definitely a place to be seen, and you can totally tell from the crowd.

Erick brought this Burgundy to start. "Displaying a bright, medium-to-dark ruby color as well as a cherry and ground white pepper-laced nose, this is a refined, thickly-textured, concentrated, and broad wine. It has outstanding depth of sweet cherry fruit, admirable structure, and a long, precise, and satiny finish. This gem has the requisite fruit, backbone, and concentration for extended cellaring. Projected maturity: 2002-2010."

Out come the breadsticks. Given that this is passover, I had to abstain.

Which got even harder when the cheesy balls emerged. Simon and Erick snarfed the whole basket to save me.

Cut isn't in any hurry. After about twenty minutes the menu showed. You can see that the center is a wide variety of "slabs of undercooked beef." Also present are appetizers, sides, sauces and the like.

This is a presentation of some of the special "Kobe style" beef. The black ones are Japanese cattle, bred in America. The white ones are American cattle in a Kobe style. At the top is the American Kobe style filet mignon which Simon will later eat.

More temptation arrives in the form of a very delectable looking bread plate. The guys said it was great.

Then keeping with kosher tradition we have: "Maple Glazed Pork Belly, Asian Spices, Watercress, Persimmon, Sesame–Orange Dressing, Bosc Pear Compote." Pretty fantastic actually. Like bacon in maple syrup.

Then the first in a trio of raw. "Big Eye Tuna Tartare, Wasabi Aioli, Ginger, Togarashi Crisps, Tosa Soy." A nice take on the familiar dish.

As I've mentioned recently, I'm loving the steak tartare. "Prime Sirloin "Steak Tartare", Herb Aioli, Mustard." This was good, with sour dour (I didn't eat it) and horseradish and various aioli on the side.

Plus a quail egg we dumped on top. It had a nice delicate flavor, but wasn't as good as say this one I had in Chianti. Probably because it wasn't from Chiana cattle!

And more raw beef, because I love it so. "Kobe Steak Sashimi, Spicy Radishes." This was a wonderful dish too, although I liked the similar take at A-Frame a little better.

Now we pull out the big guns wine-wise. From my cellar. Parker gives this a 96 and it earned every point. "This fabulous, blockbuster has been totally unevolved since bottling, but at the Jaboulet tasting, it was beginning to reveal some of its formidable potential. A saturated opaque purple color is followed by aromas of cassis, minerals, and hot bricks/wood fire. Super-ripe and full-bodied, with a massive mid-section, teeth-staining extract, and mouth-searing tannin, it is a monster-sized La Chapelle. Anticipated maturity: 2010-2050."

Now, coming to the main course. I'm not really a straight up steak man. I don't enjoy plain beef. It's too simple and I'm a more is more kind of guy. So I went for "Kobe Beef Short Ribs "Indian Spiced", Curried Pumpkin Puree, Garam Masala, Slowly Cooked For Eight Hours." Above is the curry like sauce.

Then they settle the succulent short ribs on top. This is beef my style. Not only is the meat itself rich and flavorful, but the sauce provides an intense medley of Indian spices. Love this.

For those going plain, they provide a bunch of "free" sauces like salt and three kinds of mustard. We also ordered a $2 thing of "Shallot-Red Wine Bordelaise" (not pictured) which was a really incredibly wine reduction sauce.

Simon's "American Wagyu / Angus "Kobe Style" Beef From Snake River Farms, Idaho, Filet Mignon 6 Oz." Looks beefy. You can see it raw above in the raw steak photo.

Erick settled on a classic "U.S.D.A. PRIME, Illinois Corn Fed, Aged 21 Days, Bone In Rib Eye Steak 20 Oz." Now that's a man's piece of meat. I had some. It tasted great, smothered in Bordelaise!

"Roasted Fingerling Potatoes, Smokey Bacon, Pearl Onions." Pretty good, but Cut doesn't have the full array of massively decadent sides like Mastro's.

"Roasted Campania Artichokes, White Asparagus, Guanciale." The white asparagus are a nod to Puck, Austrians love them. But it was the artichokes that dominated this pleasant dish.

"Cavatappi Pasta "Mac & Cheese," Québec Cheddar." This is a little richer, and it was good, but it didn't totally match up to a Mastro's "Gorgonzola mac & cheese!" or "king crab truffle gnocchi."

Out comes the dessert menu.

"Dark Chocolate 'Marquise', Black Cherries, Chocolate Brioche, Red Wine Ice Cream." This was good, rich, but a little chocolatey for my taste. The wine ice cream was very subdued.

"Valrhona Chocolate Soufflé, Whipped Creme Fraiche, Gianduja Chocolate Ice Cream." Excellent classic Soufflé, if not quite as perfect as the one at Maison Giraud (I have photos of it, but haven't written them up yet).

However, it did come with this superlative collection of sauces. Left to right, chocolate hazelnut ice cream (yum!), creme fraiche, and deep Gianduja chocolate sauce. All excellent.

"'Baked Alaska' Meyer Lemon Gelato & Blackberry Sorbet, Toasted Pistachios." This was mine and it was good. Really good. The whole meyer lemon blackberry thing completely and totally worked. It was almost as good — and very similar to — the semifredo at Capo which is one of my all time favorites.

Then to finish, some little lemon and chocolate tarts. Both were excellent.
Overall, Cut is very very good, if a little expensive. It does succeed in taking the Steak House format and shaking it up a bit. Partly by offering unusual cuts of beef, partly by having newer more modern appetizers and sides. Execution is very good. Service is very good. It isn't as over the top as Mastro's. Not being focused on the pure beef, I can't speak to the steak itself (both seem good to me). Mastro's does, however, have a serious decadence factor — not that Cut is light. After coming out of Mastro's my heart is usually palpitating. Perhaps that isn't a good thing.
More Foodie Club extravaganzas here.
For more LA dining reviews click here.
sharethis_button(); ?>