Restaurant: Odys + Penelope
Location:127 S La Brea Ave, Los Angeles, CA 90036. (323) 939-1033
Date: December 8, 2016
Cuisine: churrasco or asador?
Rating: Nice smoky flavors
Odys + Penelope has been on my list for over a year.

Located on La Brea, it's not far from Republique and the like.
The interior has a great build out. Old brick walls, steel, wood, and this huge kitchen structure in the middle.

Odys + Penelope describes itself as a churrasco and grill (which is more or less what churrasco means). It's certainly a grill, but also doesn't really feel that South American to me. Anyway, they have a ton of wood fired stuff.
Here is some of the dancing flame — and a big smoker.

The menu.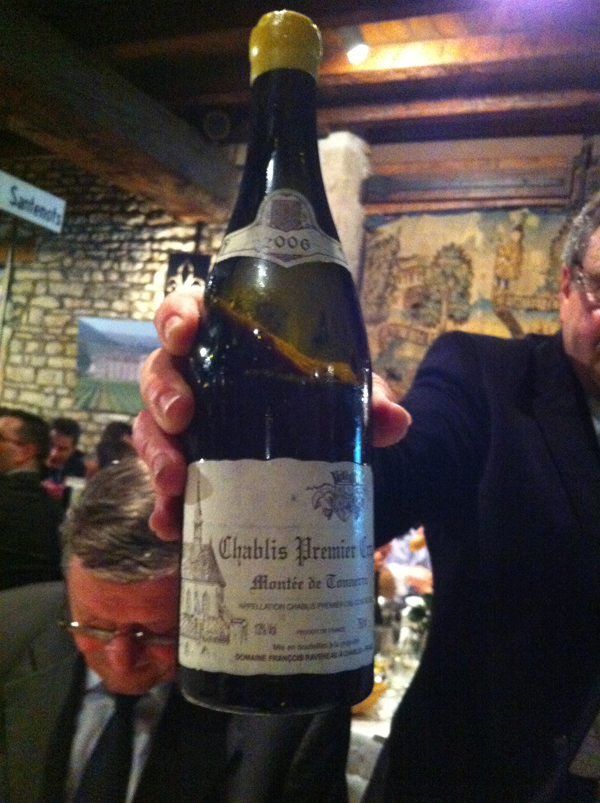 Adam brought: 2006 François Raveneau Chablis 1er Cru Montée de Tonnerre. VM 93+. Bright yellow with a green tinge. Cool aromas of crushed stone, citrus peel and white flowers. Dense, sweet and minerally, but quite youthfully closed and strict today, showing none of the honeyed character of the 2006 vintage. In fact, this broad, rich wine boasts terrific verve and finishes with palate-staining citrus and stone flavors. This is 13% natural alcohol with four grams per liter of acidity. It will be fascinating to compare this and the more austere 2005 a decade or so down the road.

Fried wild mushrooms, Persian garlic sauce. Nice fry.

Smoked lamb lettuce cups, green hummus, pickled onions, yogurt, mint. Savory.

Ginger chicken sausage, fresno chili-apple jam. Very soft, sweet sausage.

Grilled acorn squash salad, creamy parmesan slaw, pepitas. Very light, white and cheesy.

Bacon wrapped chicken thigh, lemon date sauce. This was one of the least successful dishes for me.

Smoked + grilled Mary's chicken. Awesome for BBQ chicken, particularly given that it was minimal on the sauce. Super moist and tons of flavor.

Dry rubbed rotisserie pork, cherry mostarda, fingerling potatoes in grainy mustard butter, apple salad. AKA porcetta. Melt in your mouth perfect smoky pork belly. Wow!

Maple rosemary glazed beef ribs. Dish of the night. The fat was so integrated through the entire body of the meat, like Wagyu or as if they had massaged it — and the smoky deep flavor. This was some serious rib.

Charred broccolini salad, roasted beet hummus, hazelnut dukkah.

Creamy cauliflower + millet, walnut pesto. Another stand out. Hard to believe it was cauliflower. In combination with the beef this was like osso bucco over polenta.

From their list: 2006 Cecile Tremblay Echezeaux. BH 91. The best wine in the range, which is not completely a surprise given how many excellent to genuinely superb examples of Echézeaux were produced in 2006. A pretty red berry fruit that is highly spiced with hints of animale, mocha, plum and warm earth, all of which can be found on the rich, full and dense flavors that display chocolate and dry port nuances while finishing with a mouth coating, powerful and seductively sappy finish. I noted last year that this lacked a bit of freshness but that is not the case from bottle as there is actually good vibrancy present.
agavin: mature for it's age. Very junior producer, but drinking nicely now.

The pastry menu.

Gingerbread copetta, mascarpone mousse, ginger-beer granita, butterscotch ice cream.

Warm caramel cake, poached pear, almond toffee, vanilla-almond ice milk.

Chocolate rye pie, peanut crumble, vanilla malted ice cream.
Overall, this was a great meal at Odys (my one and only so far) and I really enjoyed it for it's unique "grill style". Sort of like a BBQ crossed with a small plates place. Very old school and very modern at the same time. It bills itself as a churrasco, and there are certainly South American flavors here, but they don't predominate. Certainly when I was last in South America (some time ago) the places were much more limited and old fashioned, not so far off from Fogo. Odys reminds me more of a Basque Asador — where all sorts of things are grilled up.
Doesn't really matter because it's good — as long as you like the taste of fire!