This year I'm going to fully document the gluttony that is the Gavin/Flitter Thanksgiving "weekend" (it's really more the better part of a week: Wednesday – Saturday). As a teaser, below I reveal two decades of historical testaments to the gut. Each year, my mother and her sister gather to craft an exquisite and entirely homemade feast. No attention to detail is too small.
The ThanksGavin master index page details all the meals for 2010-2022!
2002 – While the feasting and plates like this go back for decades prior, it was only in 2002 with the purchase of my first DLSR that I started recording the spoils. Notice not only the large number of dishes, where everything is made from scratch (including cranberry sauce, stuffing, etc), but the carefully planed color coordination.
2003 – No two years are the same. Peas make an appearance in the green vegetable category. Dishes do repeats. For example, my mother's incredibly delicious cranberry sauce, which has citrus, ginger, and cayenne added to the cranberries. There is a tongue searing zing to the stuff.
2004 – Asparagus and beets make an appearance.
2005 – A different salad, and the beets become a regular guest.
2006 – The sweet potatoes get an experimental dose of black mustard.
2007 – Brocoli Rabe comes onboard.
2008 – This year was the odd man out, although no less delicious. My son was born just a week before in California, and so we hosted. My aunt wasn't able to make it and so my mother had to shoulder the load alone. No problems with the cooking, and we heard the East Coast feast went on strong too, but it just wasn't the same without the whole gang. However, in honor of sunny California, the salad went frisse and apples. Oh, and my father and I, unaware that my new European gas BBQ had a thermometer labeled in Celsius, cooked a 20 something pound turkey in a record 2 hours.
2009 – The entire gang returned to Philly for the usual reenactment. The fare was as sumptuous as ever!
2010– As good as ever.


The 2011 plate, best yet.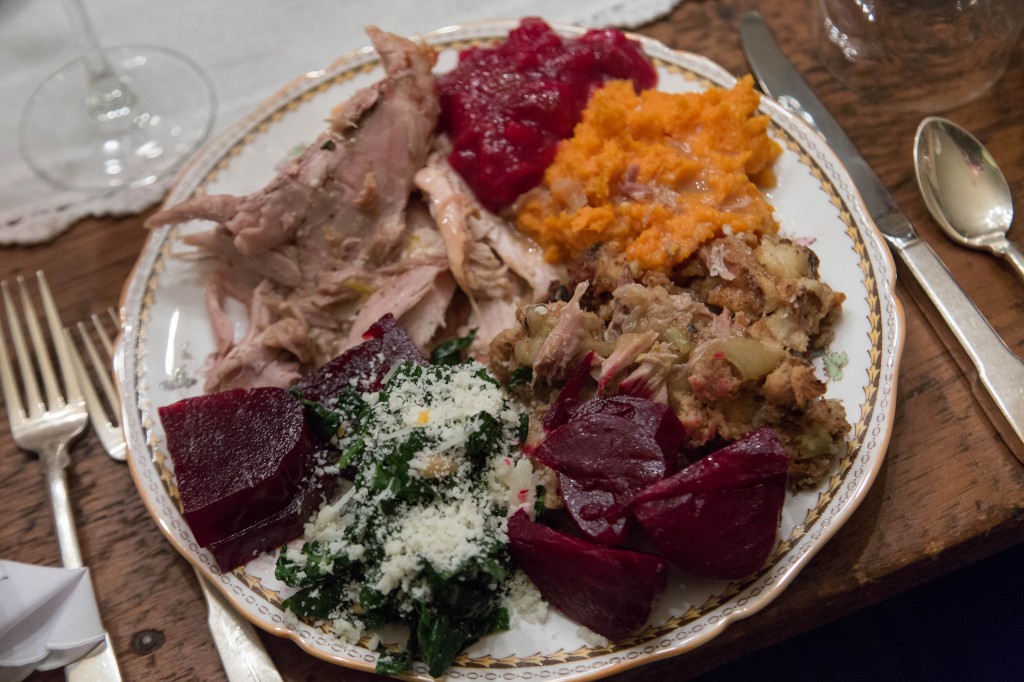 And the 2012 plate!

The 2013 bounty, new additions include the sweet potato (looks like refried beans).

2014 doesn't mix things up too radically, but there are brussels sprouts, a spinach salad, and sweet potato with black mustard.


2015 has some new features. There are green-beans, an artsy carrot dish, and Brussels-sprouts with cheese and bacon. Yes bacon, because sprinkled across the plate certainly makes everything better. Almost without a doubt the food has reached a new local maximum.


And for 2016, the plate returns to California with hybrid Gavin and Perlmutter dishes.


And in 2017 back to Philadelphia but relocated down the block to cousin Matt's house. Best yet!


The 2018 plate at Matt's house. Maybe even better than last year.

The 2019 plate, also at Matt's house. Gorgeous again!

2020 was an odd year, locked in for Coronavirus, I made smoked turkey, stuffing, and gravy for the core family and that was it. They were done obsessively from scratch and turned out great.
Back at it in Philadelphia for 2021 (returning to Matt and Andrea's house) with the most awesome plate yet.

My 2022 Thanksgiving Dinner Plate. This year I was on a serious diet and so avoiding the carbs. I did have to cave in and pile a little bit of stuffing in the middle, but otherwise I avoided all the potatoes, beets, bread, etc and just piled on the meat and veggies. #thanksgiving
Just so you can appreciate what the spread looks like, here is 2009's fare before being plated.
And in case you thought deserts were neglected. Just two of the fabulous array. The "rustic apple tart."

My mom's homemade cranberry tart.

And my mother's incomparable homemade pecan pie.
And last but not least: the Chefs!  My mother on the right, my aunt on the left.