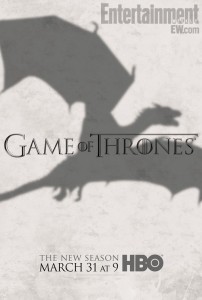 Title: Game of Thrones
Genre: Historical Fantasy
Watched: Episode 22 – April 7, 2013
Title: Dark Wings, Dark Words
Summary: Lots of great scenes
There is a process of narrative separation happening with GOT, inherited from the novels. The first book of the series begins with two story threads and fractures into four. With the second, and increasingly so as the series progresses, the number of plots grows and grows. They interweave, split and merge. For good reasons of pacing and tension, the editors of the series inter-splice these during an episode, but I'm going to put them back together for the purposes of discussion.
Bran – Opens with a dream (he's walking after all), that in several ways harkens back to both his previous three-eyed raven dreams and to the beginning of the first episode of the entire series. Two of the magics of Westeros are introduced and explained in this episode, with a clarity not present in the book. Martin is pretty much the ultimate example of "soft magic" in the fantasy genre, and rarely explains his mystical systems. But, for the sake of the TV audience, they've made it pretty clear here that Bran is both a "Worg" (able to cast his spirit into an animal — Summer) and has "The Sight" (clairvoyance of a classic sort). The dream here foreshadows the eminent arrival of the Reeds — who I actually thought the writers had compressed out of the story.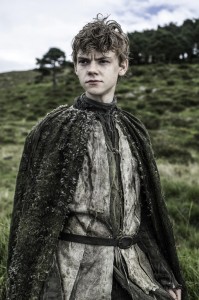 It's also worth noting that several of the kids, most notably Bran, look A LOT older this season. It makes sense, he's hitting puberty, and he's taller, leaner, and his voice (and presumably balls) have dropped. Rickon looks older too.
In the second Bran vignette the Reeds actually show. Both of them. This show is sometimes willing to cast woman that aren't always "cute" in the typical fashion of American productions. Anyway, the male half of the Reed duo (Jojen) serves to explain both mystical systems, hinting into actions of book 5. I also like that the wolves get some real presence, and they look good, and big.
Robb/Cat – The Robb portions always feel anemic because they don't exist in the source material, although technically this merges in chunks of Cat's narrative. We have a little moment with his wife, then Bolton (the usual go to man here) bringing double bad news. That of Winterfell's destruction, and of Cat's father's death. This is a substantial change from the book where we go to Riverrun on several occasions and Cat hangs out with the dying Holster Tully. No more.
The second vignette has them on the move to the funeral and takes an opportunity to remind the audience that Robb's new marriage was politically disastrous. Then a moment with the wife and Cat, which given Cat's hard side in season 2 is uncharacteristic, but perhaps she's shaken up by the loss of her father. It's also a change from the books, where she makes up a complex emotional story about her feelings toward Jon Snow, which in season 1 were pretty cruel. The scene shows to return our sympathy toward her, and I have to say, given how hard she felt, it's probably a welcome change.
It's also worth noting a favorite stylistic technic of the series, in that the last line/thought of one scene sets up the next. So we transition from thoughts of Jon to:
Jon – Sure has gotten in close with Mance quickly, as their marching together across the countryside. We learn a bit about the composition of the Wildlings and then get a sort of show and tell demo of the Worg powers where a guy is remote controlling his hawk. We hear about dead crows and then again to:
Sam – Our viewpoint back with the crow expedition. Not my favorite scene, as Sam isn't looking to good. Although I like how the Commander handles the situation.
Theon – We have two Theon scenes! More and more the show is taking on a life of its own. Theon is basically absent from books 3 and 4. But here he's captive of the Bastard of Bolton (presumably) and subject to some nasty torture. Nail pulling and a some variant of the knee splitter? Yes, I know way too much about medieval torture, as clearly do Martin and the other writers (they did after all, last year, include the Rat Torture, and it's alluded to in this episode). But then at the end, we have a big change: a guy is there "sent by his sister" to rescue him! Does he evade the long skinny shadow of Reek in the show?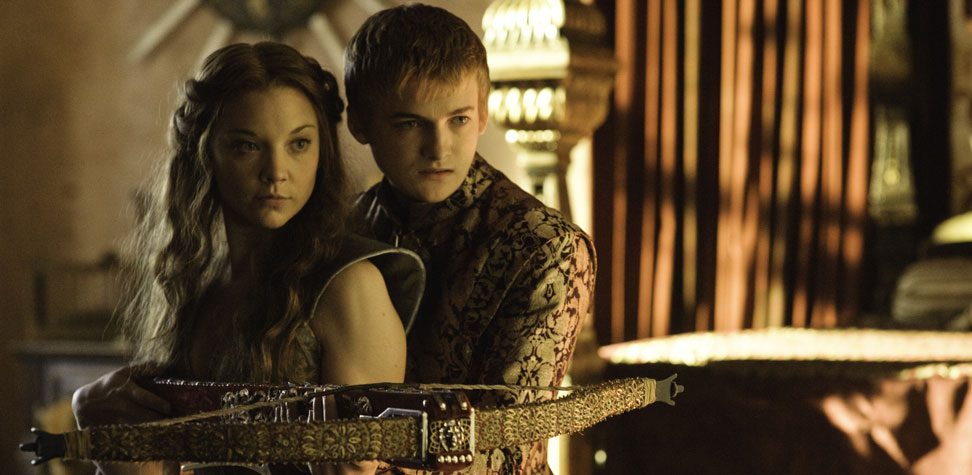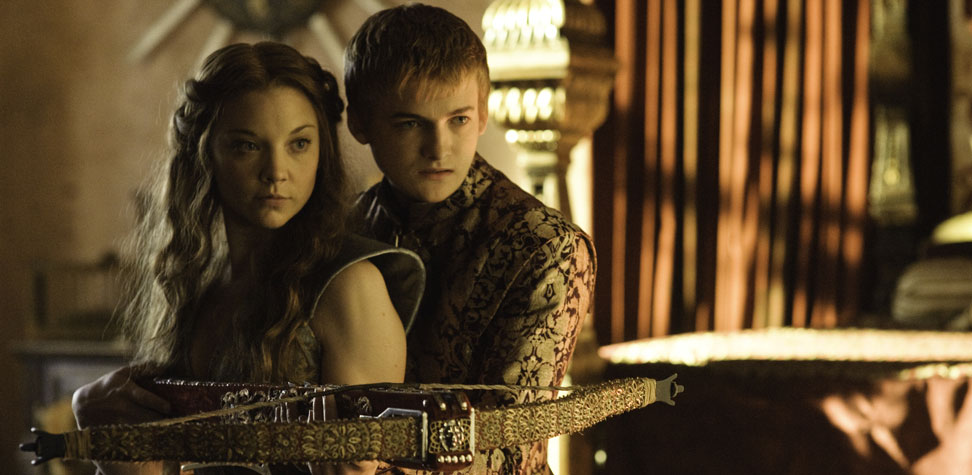 Joff – He's such a shit, but such a delicious shit to watch in action. We get a study of contrasts in terms of the relationships with the two major women in his life. First up is mom, and she ain't doing too well because while this Cersei comes off as considerably smarter and more reasonable (if still a cold bitch) than in the novels, she sure is losing control over her madman of a son.
Second, Marg comes to visit, and even with Joff being not only a shit, but in a shit mood, she manages to wrap him around her little finger. This is one talented handler, as she knows just how to appeal to his vanity and perverse interests. Here we see Joff at his more vulnerable, really a disturbed little boy (and still an unredeemable human being). Also, I have to admit, Marg with the crossbow was kinda hot. There is also, some what oddly, continued and voluminous mention of Renly's sexual orientation. This was only vaguely hinted (obvious, but subtle) in the novel, but is a subject of continuous over the head beating here. I wonder why?
Sansa – She and Shae are talking and Shae is getting protective. She too has taken on a depth and complexity not present in the novels. Loras visits and brings Sansa to have tea with Marg and her Grandmom, Dame Tyrell. Well, the dame is one funny lady, well played, and disarmingly direct. Good fun. Sansa does a deft job handling the crisis, because she's under A LOT of emotional pressure with no outlet, and she can't help but seize one.
Tyrion – Uncharacteristically has only one brief scene in the episode, with Shae, but their back and forth is highly entertaining, and further develops her character — and his.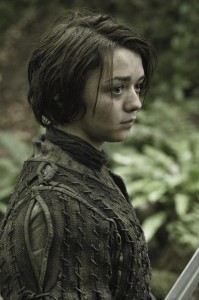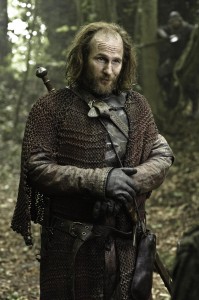 Arya – Finally we return to beloved Arya (my favorite character along with Tyrion), alas, all too briefly. As she, Hotpie, and Gendry march through the forest, Gendry makes obvious what we all felt last season: that Arya chose rather poorly who to have Jaqen kill. Then  they wander right into Thyros of Myr's little party. This is an amusing scene and I'm already liking the lush of a priest (although no mention of his relgio-magical side yet).
Arya has also grown over the year and it's getting harder for her to pass as boyish. Nice longbow also.
In the second segment, Thyros gets into his cups and Arya scenes are great as always. Then some of his men drag in the Hound. I can't remember if this happened so soon in the books, and I don't think in the same way. I'm wondering if the undead Lord Beric Dondarrion will make an appearance.
Jaime – I saved Jaime for last because we end with him, even though he shows twice. He and Brienne make for great fun because she's such a stick in the mud and he's a riot. I particularly like the way in which he's so endearingly baiting, only to occasionally soften with a meaningful and honest line (like the "we  don't choose who we love" from the above clip). Perhaps it's because his style of banter is actually so honest, if deliberately provocative.
His maneuver to trick the sword away from Brienne and the fight that follows is delicious as well. Nikolaj Coster-Waldau really does have a natural charisma. And we end with the usual uh, oh.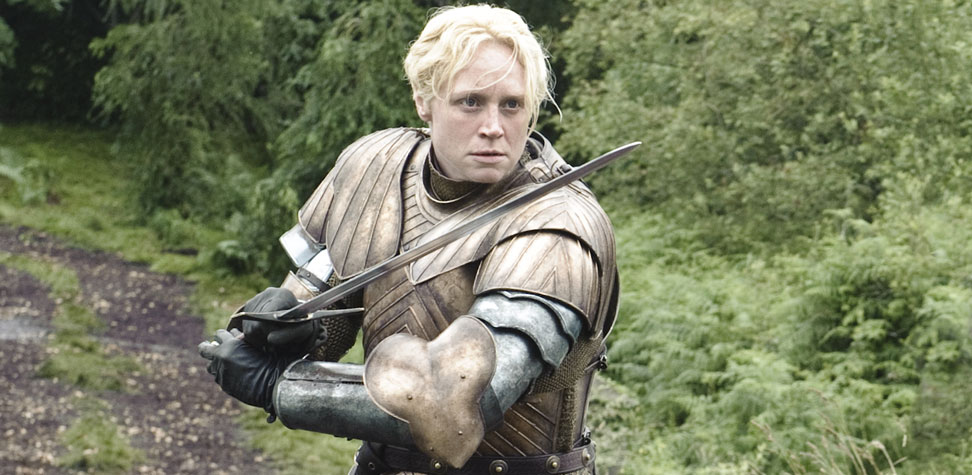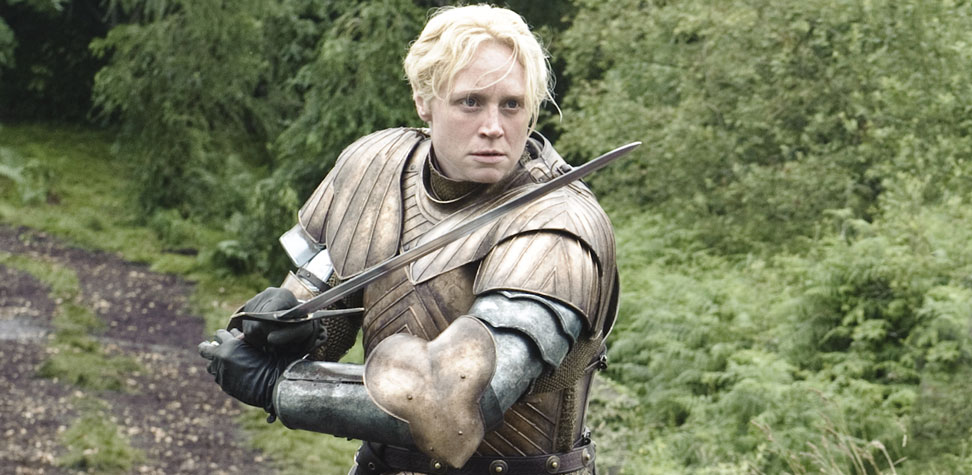 Overall, a fun episode, if not particularly meaty in any one area. Lots of great scenes. Each individual story is but a blip in the bigger picture. When viewed one at a time, they feel a bit fragmented, but from the perspective I've gotten watching seasons 1 and 2 all together on Blu-ray (which looks awesome BTW), I think it will feel coherent as part of the continuous whole.
Another interesting review of this episode.
Or see my review of A Dance With Dragons.
If you liked this post, follow me at:

My novels: The Darkening Dream and Untimed

or all my Game of Thrones posts or episode reviews:

Season 1: [1, 2, 3, 4, 5, 6, 7, 8, 9, 10]

Season 2: [11, 12, 13, 14, 15, 16, 17, 18, 19, 20]

Season 3: [21, 22, 23, 24, 25, 26, 27, 28, 29, 30]

Season 4: [31, 32, 33, 34, 35, 36, 37, 38, 39, 40]

Season 5: [41, 42, 43, 44, 45, 46, 47, 48, 49, 50]
sharethis_button(); ?>