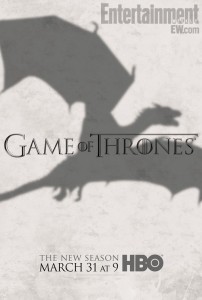 Title: Game of Thrones
Genre: Historical Fantasy
Watched: Episode 24 – April 21, 2013
Title: And Now His Watch Is Ended
Summary: The end brought tears to my eyes
A lot is moving in this episode, so let's leap right into it:
Jaime – We open with the hand — around his neck. This was a particularly gruesome detail from the books I doubted the show might cling too, but it did. Pretty realistic looking hand too. Jaime isn't doing too well, no surprise, but he has a ways yet to fall… into the mud. When he grabs a sword and makes a hopeless gambit, Brienne, tough as ever, tries to protect him,. I really like how their suffering has brought them begrudgingly together. It's a very deftly handled relationship and both the writing and fine acting brings to life Martin's vision here.
In the second segment, they talk and Jaime reminds us that he considers himself to be his sword hand. His ego is invested fully in his fighting skill — and now it's gone. Martin just loves this kind of thing: killing characters, and killing them without killing them. As Brienne and Jaime continue, and she embarrasses him back from his pity party, the show hits on another Martin signature: deep thoughts. And not by Jack Handy. Brienne reminds him that he's getting a taste of the real world, where people have important things taken from them.
Sam – Sam and the Black Watch are still lingering at Craster's — shoveling pig shit. Somewhat out of nowhere, the sullen Rast has suddenly become a master manipulator, brewing discontent with the brothers. Sam visits Gilly, who reminds him that her baby doesn't have much time — and she has none for him unless he can help her.
In the second segment, Mormont leads the watch in a funeral, and then back in Craster's hall, several of the men's discontent boils over into full on mutiny. One kills Craster, and Rast seizes the moment to stab Mormont. The guy is tough, but Valar Morghulis… In the chaos, Sam runs to Gilly and they do what he does best…
I'll have to assume that the episode title: And Now His Watch Is Ended speaks mostly for the passing of the old bear.
Bran – has a tiny segment, pretty much just a dream. It's creepy enough as he climbs a tree after the three-eyed crow and gets into a weird shouting match with the ghostly echo of his mother.
Theon – Theon rides with his rescuer to Deepwood Mott (we think?) and the stranger draws out of him a rather pathetic and deep reflection on his predicament, failings, and choices. In the end, it isn't his sister that waits, but another betrayal and a return to the cross of torture. This segment has me the most perplexed, particularly because it's so outside of the books. Who is that guy? Why do they have Theon? Why go to such elaborate means to torture him both physically and psychologically? Including killing a bunch of (his own?) men?
Tyrion – For the second week in a row, Tyrion doesn't have too much to do. He visits Varys, one of my favorite characters, trying to ferret out the truth of his betrayal during Blackwater. He seeks revenge. What he finds from the spider is a creepy little tale about the eunuch's final days as a man (boy). Varys councils patience, for revenge can be years in the making as he happily illustrates. The contents of the box seem a tad coincidental considering.
Cersei – Looks on nervously as Marg continues to handle Joff with a surprising deftness. She plays into his blood lust and insecurity with equal aplomb and Joff's taste for the macabre is reminiscent to that of my aged vampire hunter, Constantine in The Darkening Dream. In the foreground, the queen and Lady Olenna chat about life, politics, sons, and woman's role in medieval noble houses. Marg's grandmom is such fun to watch and the location chosen for the high Sept is pretty awesome looking too. When the shot pulls outside it looks much better than in season one. Either they're spending more money now or the cost has come down in just two years — regardless, it really adds to the epic feel.
Later, Cersei visits her father. Seems being Tywin's child wasn't easy for anyone. Cersei speaks boldly, perhaps drawing inspiration from Olenna. The relationships in this family are delightfully complex as no one can really please old Ty.
Nice attention to detail too. As a history buff, I happen to know that medieval ink (and the ink Shakespeare wrote in) was made from ox bile. It smelled foul and dried very slowly. People used various drying agents like the (probable) salt Tywin sprinkles on his letter before sealing it. I must admit I own my own custom made seal and a drawer full of sealing wax imported from Florence.
Varys – This is a great episode for the spider. Not only to we have his "origin story" but next he has a little chat with Ros. This is my favorite Ros scene yet, and she keeps her clothes on. In a nice bit of long term plotting outside the books, Littlefinger's coldness is coming back to haunt her, as she clearly took up Varys in his offer to spy. This discuss the odd fact that Pod was supernaturally good in bed, and then Littlefinger's plans to put his moves on Cat's sister and the Vale. And this seems to include bringing Sansa with him. Things are ordered and arranged differently here than in the books. Spiritually similar, but not exactly the same. Ser Dontos, briefly introduced in the beginning of season 2, seems to have been whittled out of the Sansa plotline.
Grandmother Olenna sits in the garden and launches into a little tirade about her house sigil, the golden rose. This is as revealing about her character as it is the houses of Westeros. So when Varys approaches, and given my fondness for both characters, I was doubly pleased. They wander all around the lovely gardens near Trestino (a town just north of Dubrovnik) plotting the fate of Sansa. So delightful, I love plots and schemes. Or, as Tyrion once remarked, aren't those the same thing?
Sansa – And the result is another deft manipulation by Marg, who visits Sansa on a lovely cliff side. She even handles Sansa's Lannister guards expertly, then befriends the poor girl. Even as a viewer, it's hard not to see her as genuine. Sansa is, as by Tyrion and Olenna have suggested, a beautiful girl with a famous name. So Marg dangles her charming — albeit secretly very gay — brother out as bait.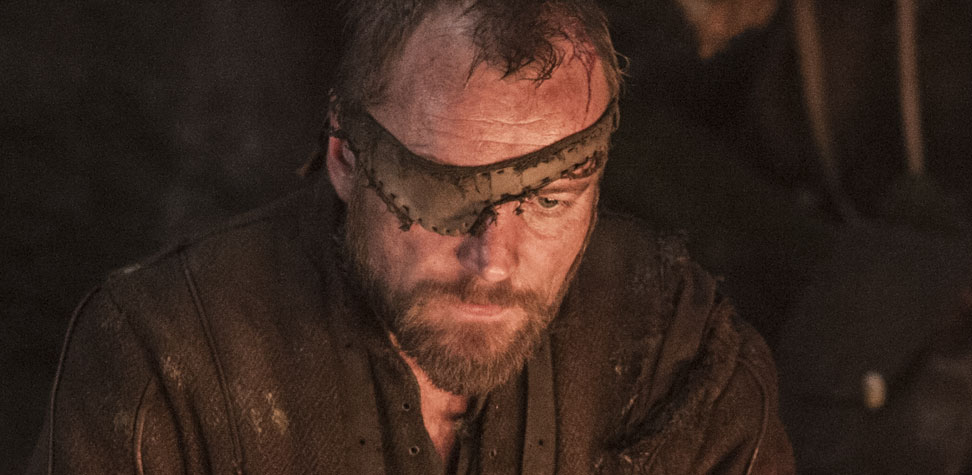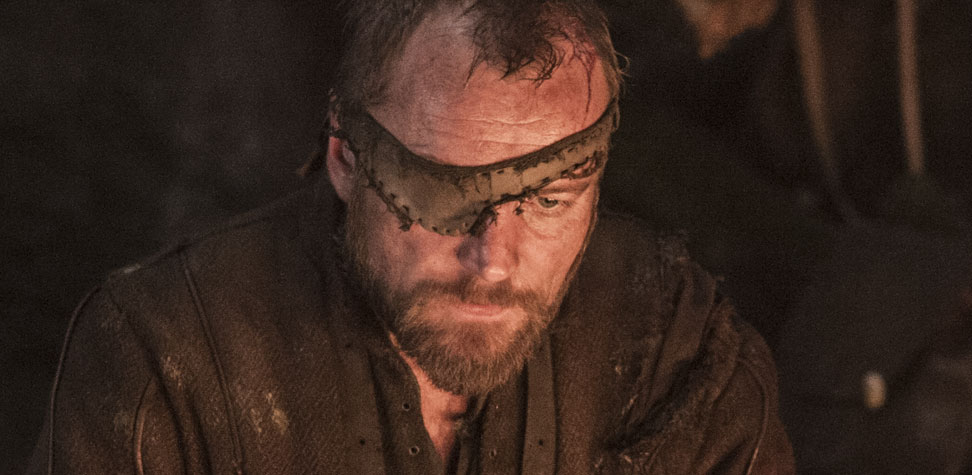 Arya – rides blindfolded behind Thyros to the cave that serves as home base for the Brotherhood without Banners. The Hound has been dragged along too and it is here that we remeet Beric Dondarian, who Ned Stark sent out to kill the mountain toward the end of season one. If this is the same actor, I couldn't tell, although he looks a little stockier. The guy is, however, convincingly confident as the leader of the gang and as a scion of the Lord of Light (same god that Stannis' red lady worships). In a nice Martin moment involving the two sides of things, Arya accuses him of the murder of Micah. You almost feel bad for the hound as in the context of things, he's actually been pretty decent. Next week he's in for some trial by combat. Good thing he's pretty good with a sword.
Dany – They do save the best for last, time and time again. The producers spent some bucks (or pounds) on this sequence, including several wide shots of Astapor. Like me, the set designers must have gotten a Babylonian vibe from Martin's descriptions of Astapoor, because they clearly based their imagined city on depictions of the ancient city (see right).
In any case, Dany, playing strong as ever, and the audience as well, trades Drogon (delightfully tethered on a leash) for her new slave army. But alas, for the slavers, Dragons choose their own masters. This sequence did literally bring tears to my eyes, and it was well done considering, with several wide angle shots of the army and city, a very commanding performance by Dany, and knowing and impressed looks between Barristan and Jorah — but alas the production cheated a little, for budgetary reasons. The actual slaughter of the slavers is a rather brief affair and doesn't do the sack of a city justice. We don't get to see the slave pits or anything. Sigh. They tried their best, but there are limits.
I must also note that the show's choice to leave foreign languages as foreign languages, like Dothraki and Valyrian, is superb. I felt this with LOTR, and it is equally true here. Dany giving orders in Valyrian was so much more effective subtitled.
We come finally to the last shot, as Dany and her army march from the city and we pull back to take it all in: Astapoor, the vast departing legions, and a trio of scouting Dragons. The new martial music really played into it too, taking my breath away. This is what we fantasy geeks live for!
All in all a fantastic episode, full of great scenes and big movements in the plot. Absent this week were Robb, Cat, Stannis, and Jon.
Another interesting review of this episode.
If you liked this post, follow me at:

My novels: The Darkening Dream and Untimed

or all my Game of Thrones posts or episode reviews:

Season 1: [1, 2, 3, 4, 5, 6, 7, 8, 9, 10]

Season 2: [11, 12, 13, 14, 15, 16, 17, 18, 19, 20]

Season 3: [21, 22, 23, 24, 25, 26, 27, 28, 29, 30]

Season 4: [31, 32, 33, 34, 35, 36, 37, 38, 39, 40]

Season 5: [41, 42, 43, 44, 45, 46, 47, 48, 49, 50]
sharethis_button(); ?>