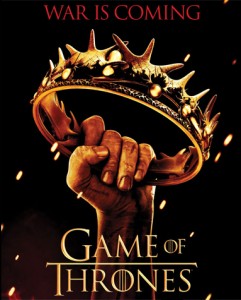 Title: Game of Thrones
Genre: Historical Fantasy
Watched: Episode 18 – May 27, 2012
Title: Blackwater
Summary: Tight and intense
With Episode 19, Blackwater, the normally highly fractured narrative of the show lasers in and focuses on a single place and night: The attack on King's Landing by Stannis and its defense. Hallelujah, they finally show us a real battle! And not just a little one, but a multi-staged "Helm's Deep" style battle. Sure, it's not like Helm's deep level visuals, but it's pretty damn great.
This is certainly the most climatic scene from A Clash of Kings, although with so many threads it is but one of many. By choosing to focus, we are allowed to see the play out of emotions in King's Landing with considerable more depth than the usual 2-3 scenes per thread allows.
We open at sea with Davos and his navy. I like the puke barrel the soldiers heave into. Then we cut to Tyrion in bed with Shae in a nice intimate pre-battle moment of intimacy. Cersei, in contrast, receives cold comfort in the form of poison from her silly and ancient Maester. Bronn parties with his men and a bevy of the usual whores (we keep seeing the same ones). The Hound enters and the two killers lock antlers only to be interrupted by the bells signaling the invasion.
Varys and Ty banter as usual, much to our pleasure. The master of spiders passes crucial information to Ty, and in a subtle nod to later, Ty admits that he trusts his squire Pod. In the books Pod is an actual character, here in the show, he's just a role. Still, at least he has one.
The bells on the wall are met by drums from the ships. Ty and Bronn find Joff and the Hound in the throne room. Joff continues his obnoxious streak in saying goodbye to Sansa, and she cleverly appeals to his ego to try and egg him into the most dangerous part of the battle.
Everyone sallies forth to watch from the walls. In a very effective sequence we cut from the battlements to the ships and show the sailor's surprise at finding only one Lannister ship, unmanned and leaking green fluid at that. Bronn sets the whole thing alight with a single flaming arrow and Stannis' fleet is obliterated in a cloud of green fire. I do have to say, the green fire looked badass (for TV).
But undaunted, Stannis leads his surviving men aboard his medieval PT boats and rows for shore.
Meanwhile, we have been cutting back to inside the keep where Cersei has sequestered herself with all her ladies. This is all the more painful for Sansa when the queen singles her out for more attention. The queen's dress is very interesting: Mostly medieval ladies gown, it does have a bit of Amazonian breast plate action going.
When Stannis mounts his landing Ty sends the Hound to command a defensive party outside the walls. Men storm toward the walls under fire and do their best with ladders. Lancel takes a flesh wound and heads inside where Cersei orders him to drag the king to safety. Cersei continues to talk Sansa and takes notice of Shae, something doesn't add up for her.
The Hound goes to town butchering the invaders until the fire grows too close and he starts to freak out. This is certainly understandable considering his fiery encounters with his older brother. Stannis is a leader of the old school, and you can't say he's a coward because he storms the walls himself and lays waste to the King's men.
When the hold returns inside getting too close to the heat he is ordered back out again. He swears off the King entirely and leaves. The invaders batter at the games with a huge battering ram. Joff runs off with his cousin and Ty finds the courage to lead the men in a rousing speech and drag them out himself.
Lancel returns to Cersei again empty handed, and she runs off. Sansa finds her own strength to rally the women and Shae urges Sansa back to her rooms. But guess who's there? The Hound, fed up with fighting for Joff the Toff and ready to take her back to Winterfell. But Sansa has been conditioned and she is too nervous to jump ship.
Ty leads men through the sewers (setup with Varys and the map), comes out behind the invaders, and lays waste to them. He goes to town with his axe. This time around, the producers don't shy from battle. Finally. Ty is fighting away only to be betrayed and attacked by one of the King's Guard. He falls badly injured, although not seemingly as badly injured as in the book. More  troops invade and just as soon as all looks lost, a Lannister army arrives to save the day.
Cersei sits with her younger son Tommen on the throne and is about to take poison but Tywin rides in to save the day. So this is where he rode off too last episode!
Overall, this episode burned a lot of money. While it still feels like TV, it's epic TV and the mix of wide shots and extra pounding action served well to convey the sense of a fairly large battle. I like the scope and intensity allowed by ignoring all the other threads, but I suspect that the final episode will be one rapid-fire whiplash!
See my review of A Dance With Dragons.
If you liked this post, follow me at:

My novels: The Darkening Dream and Untimed

or all my Game of Thrones posts or episode reviews:

Season 1: [1, 2, 3, 4, 5, 6, 7, 8, 9, 10]

Season 2: [11, 12, 13, 14, 15, 16, 17, 18, 19, 20]

Season 3: [21, 22, 23, 24, 25, 26, 27, 28, 29, 30]

Season 4: [31, 32, 33, 34, 35, 36, 37, 38, 39, 40]

Season 5: [41, 42, 43, 44, 45, 46, 47, 48, 49, 50]
sharethis_button(); ?>