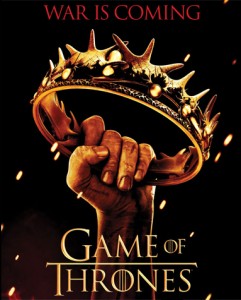 Title: Game of Thrones
Genre: Historical Fantasy
Watched: Episode 15 – April 29, 2012
Title: The Ghost of Harrenhal
Summary: A very even and great episode
If last week's theme was torture, this week's is revenge.
We open with the deadly mystic consequence of last week's final scene. A revenge of sorts? Perhaps, but it certainly begets thoughts of same. Brienne swears vengence and flees with Cat, then Loras and Margarey  Tyrell swear as well. Marg hints at her ambition. But it's also worth noting here that the production spent on some scope they didn't necessarily do last season. For example, a CGI shot of Stannis' ships. It wasn't totally necessary, but helps give things a bigger look. There is still room to go, but it's a step in the right direction.
Tyrion and Cersei talk, which is always amusing. My favorite is Ty's line: "Schemes and plots are the same thing." News sure travels fast in Westeros, in the books there is a little more sense of the passing of time. Then Ty extracts Joff and Cersei's secret from Lancell. Is it me, or is his litter dwarf sized?
Davos and Stannis talk about Renly's death and the future. And while I do think Davos in particular is well played, I just can't get too excited about their scenes.
Back in King's Landing, they're eating eels, which any reader will know, is a homage to the lamprey pies of the books. Ty and Bronn walk and talk through the city giving us some local color. This is more of that spend as that was certainly an expensive way to do the exposition. Camera work is still a little close, but good try, and the costumes are great. Ty offhandedly mentions the poor prostitute he sent to a terrible fate at his nephew's hands, and all we get is "the king is a lost cause."
The Theon scenes feel slightly awkward, and this one sure starts off that way. It's almost Three's Company embarrassing to watch him with the crew and his gloating sister. Then his mate triggers his ideas. Uh oh. That's a nice moment. Theon cuts a fine, if slightly awkward figure. His casting reeks of tough choices to come.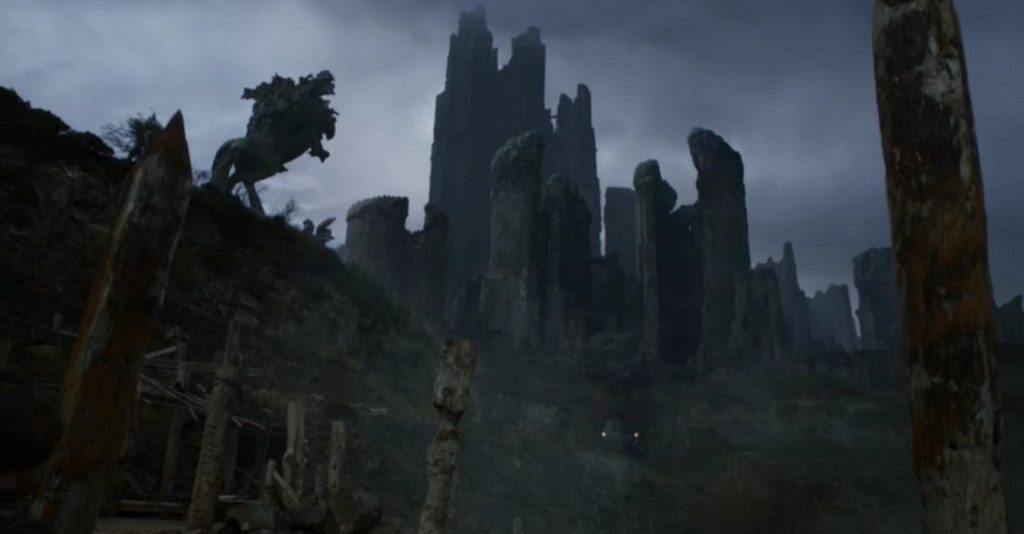 Arya is serving the evil Lord Tywin in Harrenhal. But mean as he is, he's pretty rational. This serves to give us the Lannister perspective and Arya does her usual great job when quizzed. Then what I've been waiting for — and the revenge theme — when she has a little conversation with Jaqen H'ghar, the mysterious man in the cage. His way of speaking and his manner is great. Although I'm not sure that TV only viewers will have any sense of his mystical side. I wished they showed him changing faces, and hopefully they will yet, so it's a little mysterious how he ended up in the Lannister guard. By the way, what happened to the Mountain? Maybe he was sent off to make some more mischief. In any case, I loved the talk of the debt owed the death god. I love creepy divine obligations. But what does Jaqen H'ghar call it the red god? I always viewed this as the same deity as Arya's "dancing master." And did he mention being a were? Are the writers trying to merge some of the mystical elements?
John, Morment, and the crow crew are trekking through Iceland… achem, far north of the wall. It looks great. Very frozen and barren. They mention the Halfhand, subtly introing him. "There's only one Halfhand." Then when they set up at the Fist of the First Men we see Ghost just loitering about. Nice. As I noted his gratuitous absence last season was annoying. They listened.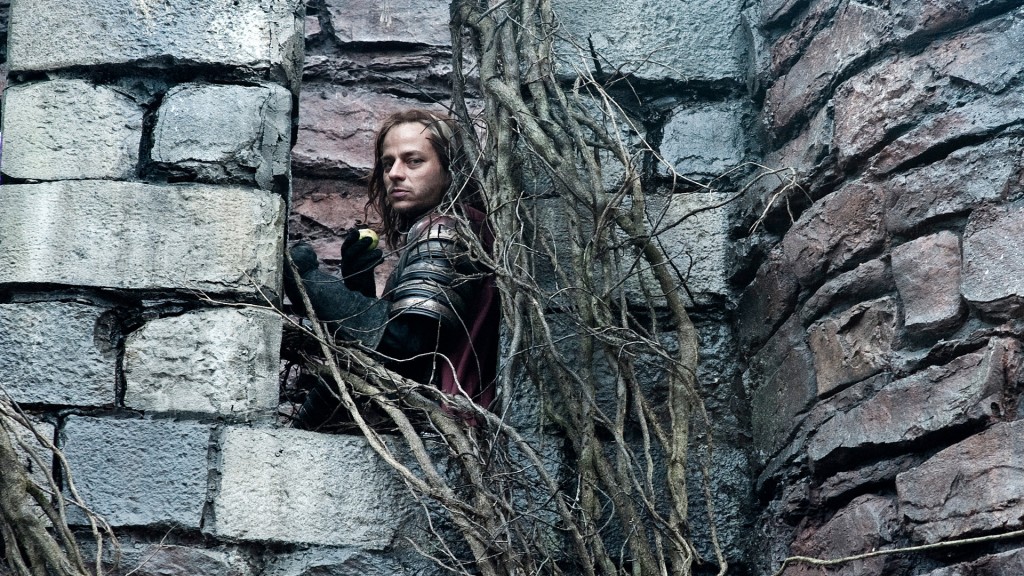 Ty is in good form when he visits the Pyromancers. The writer's do capture a little bit of their creepy nature calling it "the substance" even if the scenes are quick. The cool locked door to the storage room is a nice touch and I like having Bronn around as Ty's foil. In fact I'm very much liking Bronn as a character.
And finally, to Dany in Qarth. We get our first taste of actual dragon since the season opener. They look good, but the budget is stingy with them. In the same vein, a little CGI would have been nice as Xaro Xhoan Daxos' house, while pretty, felt cramped and I missed that gorgeous vista we saw last week. The introduction to the Warlocks was cool though. The guy certainly looks creepy and the whole doppelgänger bit interesting. At least they aren't totally avoiding the magic — although, again I would have liked to have seen the Jaqen switch his face.
Brienne and Cat have a nice moment in the wood, which looks suspiciously like the same woods as behind Winterfell. Their oaths are heartfelt. I've always liked oaths, what fantasy guy doesn't? Certainly the revenge bit enters again here.
Speaking of Winterfell, we finally return to Bran. We even see Rickon for 30 seconds, which given his behavior, is about all we need. Shouldn't have sent those 200 men away is all I can say. I like the 3-eyed raven bit, and Osha is evasive. Why exactly she doesn't tell him, I don't know, but revenge is hovering. I'm pretty much certain now that she's going to triple duty for the fey twins from the Moat. The producers need cast reduction.
Back in the frozen north with John and we meet the Halfhand for real. He isn't introduced, so I wonder what new viewers will make of him, but I like the casting. John is finally about to get his adventure. Maybe it will knock a bit of that petulance out of him.
And back to Qarth for some discussion of what everyone wants, which is pretty pointed. Xaro makes Dany an unromantic proposal, but it's nicely done and he mixes it up with a good dose of truth. This has her looking at Jorah in a new light. Here, also, we have some realistic delay of news. She finds out only now that Robert is dead, nearly a whole season late. But that's actually very reasonable given her location and the fact that she's been hanging out in the red waste. Internet service there is terrible.
Finally, back to Arya, the titular Harrenhal, and revenge. We get a quick glimpse of Gendry and his rat free abs. Their lives sure have improved since last episode. I think a little too much. In the books you still felt this looming sense of dread for her. But the death of the Tickler and her realization of her newfound power is well done.
Overall, this is a very solid episode that really moves everything along. In fact, we have most of the threads present, even if only briefly. The only major players left out are Robb and Jaime. Poor Jaime, he really doesn't get much to do in the first half of A Clash of Kings. And with the credit roll we are halfway through the whole season. I can't believe it, and I can't imagine how they are going to cram it all in. Really, we needed at least twelve episodes!
P.S. In what is perhaps a GOT first, there is no sexposition at all.
See my review of A Dance With Dragons.
If you liked this post, follow me at:

My novels: The Darkening Dream and Untimed

or all my Game of Thrones posts or episode reviews:

Season 1: [1, 2, 3, 4, 5, 6, 7, 8, 9, 10]

Season 2: [11, 12, 13, 14, 15, 16, 17, 18, 19, 20]

Season 3: [21, 22, 23, 24, 25, 26, 27, 28, 29, 30]

Season 4: [31, 32, 33, 34, 35, 36, 37, 38, 39, 40]

Season 5: [41, 42, 43, 44, 45, 46, 47, 48, 49, 50]
sharethis_button(); ?>