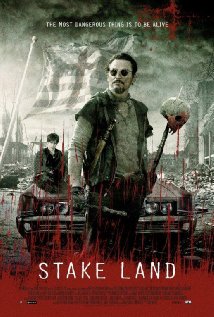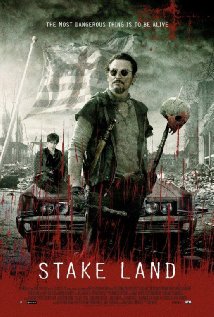 Title: Stake Land
Director/Stars: Connor Paolo (Actor), Nick Damici (Actor), Jim Mickle (Director)
Genre: Zombie Thriller
Watched:  February 22, 2012
Summary: Impressive addition to the genre
Steak Land is a very ambitious film. On a diminutive budget, it attempts to paint a fairly complete vision of a post-apocalyptic America — and is successful enough to be impressive. There is nothing original in the set up.  Some kind of virus has devastated the world turning much of the population into vampires/zombie hybrids. Those that didn't suffer this worse-than-death fate had their necks torn out or their brains eaten.  Our heroes are a teenage boy and a kick ass monster hunter known only as Mr. They travel across America seeking a monster free zone picking up various strays along the way.  Meanwhile, the zombie-like "vamps" pop out of nowhere on a continuous basis. And even worse there are homicidal religious maniacs deal with.
None of these themes are new. And the film feels a bit of the mashup of The Road, the Book of Eli, I am legend, Zombieland, and 28 days later. It's on the darker side, rarely comic, and closest to The Road. But without the completely unrelenting sense of dread and hopelessness of that film. Despite costing a fraction of the above, Steak Land manages to feel pretty authentic. And it's ultimately more successful and watchable than The Road or the Book of Eli.  the director spends time his characters, and in particular on post-apocalyptic America as well. By frequently lingering on the devastation, and on the multitude of corpses, he fairly effectively paints the bleak landscape. There some effort here to imagine different approaches to survival. Not only complete sense, but I give him an A for effort. The monsters a fairly interesting, combining the mindless qualities of zombies with some of the powers and weaknesses of vampires.
The same is true with the characterization. The writer-director  wants to make these fleshed out characters. And some extent he succeeds. There are occasionally cheesy moments, but they are certainly forgivable given the budget. His religious nut job villain is quite enjoyable — although when he inevitably vamps out a little gratuitous. And the concluding events felt a little rushed, robbing them of proper emotional depth. Still,  the film is a surprisingly impressive addition to the genre.
Interestingly, the film has many superficial similarities to Naughty Dog's upcoming game The Last of Us.