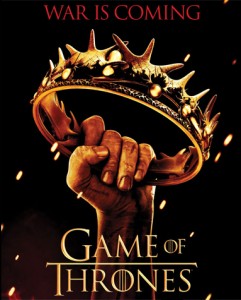 Title: Game of Thrones
Genre: Historical Fantasy
Watched: Episode 11 – April 1, 2012
Title: The North Remembers
Summary: Amazing!
It is with great relish and anticipation that I sat down to devour the first episode of Season 2 of Game of Thrones — and it didn't disappoint. Like many of the earlier episodes in season 1 this is an establishing episode where we rotate through the players and put into place who is where on the board. But it does suffer a bit from Martin's widely expanded scope in A Clash of Kings. There are so many characters in so many different places that we see each major thread exactly once, for what is usually two scenes. Arya we barely see at all, only for a tiny shot at the end, and Renly not even that. Only Cersei and Joffrey get multiple segments as they are at the center of things in King's landing. This left me licking my lips, like after two sips of wine. I can't help but feel the season would have been better served by twelve hours and a two hour premier.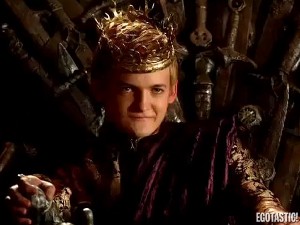 Still, I have no major complaints. Already I'm getting the feeling that the producers have taken steps to address a couple of my major problems with season 1 (and don't get me wrong, I adored it). The shots felt bigger. The new King's Landing feels a little different, and certainly larger, and it's vaguely obvious they moved from Malta to Dubrovnik. It looks more coastal now, with the sea close at hand. Malta is an Island, but it didn't feel that way in the show. There are also several notable dire wolf shots in the first episode. All CGI, but who cares, I'm just glad to see the wolves. Although where was Ghost?
Tyrion is awesome as always, I just wish we had more of him. Two young veterans from Skins are in evidence too (Gendry and Craster's daughter Gilly). Joffery is not only as unloveable as ever, but actually seems to be getting more nuance than in the books and hence Cersei also. I really like the way it's showing him getting away from her. With what he does to Dontos they take a page from Caligula (I can't remember if it went that way in the books). The new characters are fine. Stannis comes off as cold an ass as he should. Davos seems likable, although it's hard to tell in three minutes. The sad enter of his Maester though lacked any real punch as there was no time in the abbreviated version to actually build any sympathy for him or his position. I'm still cold on Melisandre. I'm no big fans of the whole Stannis sub-plot in the books. And one wonders why the hell we have Ros in here  at all, and how a provincial whore from the backwaters of Winterfell is suddenly the high and mighty mistress of a King's Landing brothel. And that scene starts off the most significant change from the books (SPOILER ALERT) an early purge of Robert's bastards. Perhaps it's just the producers trimming down the cast or perhaps it's just add even more drama and menace.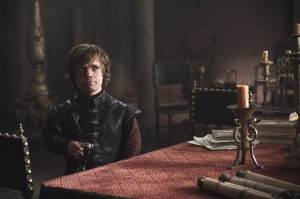 All in all, I just want to see more. But we have to wait a week, sigh.
Some clips from this episode can be found here
or See my review of A Dance With Dragons.
If you liked this post, follow me at:

My novels: The Darkening Dream and Untimed

or all my Game of Thrones posts or episode reviews:

Season 1: [1, 2, 3, 4, 5, 6, 7, 8, 9, 10]

Season 2: [11, 12, 13, 14, 15, 16, 17, 18, 19, 20]

Season 3: [21, 22, 23, 24, 25, 26, 27, 28, 29, 30]

Season 4: [31, 32, 33, 34, 35, 36, 37, 38, 39, 40]

Season 5: [41, 42, 43, 44, 45, 46, 47, 48, 49, 50]
sharethis_button(); ?>