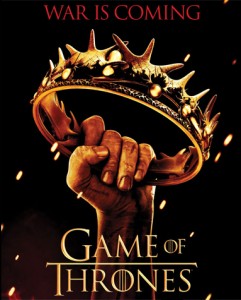 Title: Game of Thrones
Genre: Historical Fantasy
Watched: Episode 12 – April 8, 2012
Title: The Night Lands
Summary: The wait from week to week is tough
After suffering through the week, Sunday night, Game of Thrones, night arrives. After last week's tease, we open with Arya (finally). I liked Jaqen H'ghar (the civil man in the cage) but I have to wonder why they didn't make one of the others noseless. I always liked that nasty detail. Loren is fun with the knife though. Then it's on to everyone's favorite, Tyrion, and in combo with Varys, even better. The fishpie jokes are classic. "I don't think he likes fishpie." Classic.
Then the small council gets Robb's terms. Then back to Crastor's keep with some more fun between the crows. Sam and the whole woman angle is amusing. Then Gilly temps him, and we see Jon taking last week's lesson from the commander seriously. Dany receives an unpleasant gift in the waste. Her whole part in A Clash of Kings isn't huge, so I suspect we will only see her briefly in most episodes.
Essentially all of the above scenes are finishers from the previous episode. Last week we only set up the positions of the pieces on the board, and it needed at least an hour and a half to even do that. We still havn't even seen Renly (and we won't this episode)!
But with Theon approaching his homeland (Pyke) the plot begins to move a bit. And so does the sexposition. As usual he's laying into some poor girl. I like that she isn't even that attractive. The view of Pyke is awesome though, with the castle split into four or five parts. The shores of the Iron Islands (achem, Northern Ireland) look good. Then talking about sexposition, we cut to a mysterious sex on sex bit in one of Littlefinger's brothels. The momment with the wiping of the mouth and the kiss is perfect though. So gratuitous, but awesome. Then we have Littlefinger venting his frustration with Cersei on Ros. I hate Ros, but they are giving a little more nuance than the books to the personalities of some of the King's Landing players.
After Jonas Slynt perpetrated his baby stabbing last week, we can't help but cheer to see Tyrion set him up. The scene gives a nod to his lame squire Podryck, but I doubt new viewers will notice. Bronn gets a big promotion here he didn't in the books, cutting the lackluster character of Jacelyn Bywater. Arya (along with Tyrion) is one of my favorite characters and I'm glad to see more or her, but we still only get the one first scene and a second here with some nice development between her and Gendry. One does wonder how he is the only one who thinks she is a girl.
Then the delicious irony of Theon's return home. He shamelessly (SPOILER) fails to recognize his own sister and then feels her up. The whole Greyjoy look of the castle (although they skipped the windy, scary bridges) is great. And even better is Theon's shock at the culture contrast. I love how he's become a man of gold instead of iron and his father knows it. They changed his sister's name for some reason but I like that she's young.
After this, we return to Davos bringing pirate Salador on at Dragonstone. Salador is funny, and Davos is fine, but I still find this thread a bit dull — just as I did in the books. Not so with Tyrion and Cersei tearing into it. The writers have continued to develop the angle where Cersei has lost control of Joff (he ordered the slaying of the bastards). This isn't fully stated in the books but adds some complexity to her choices.
And they continue new things when we return to Stannis and Melisandre. Maybe this was implied in the books. Maybe not, but it sure is explicit here. I just have to say that map table sex has to be a literal pain in the ass. And a final bit of extrapolation has Jon Snow follow Craster out into the woods to witness him offer a baby to the white walkers. This act was implied in the books, but I don't remember any actual trip into the woods, and certainly not the little cliffhanger that ends the episode.
But I'm not a purist. I think most of these changes are for the better, emphasizing and clarifying things that Martin leaves half said. Some of the character count reductions are a loss, but I understand why they need to do it. If they don't slice fairly harshly by season four we won't see some threads but once every three weeks. As the show faded to black all I could think was "damn, I have to wait another week!"
or See my review of A Dance With Dragons.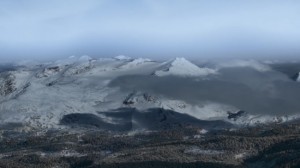 If you liked this post, follow me at:

My novels: The Darkening Dream and Untimed

or all my Game of Thrones posts or episode reviews:

Season 1: [1, 2, 3, 4, 5, 6, 7, 8, 9, 10]

Season 2: [11, 12, 13, 14, 15, 16, 17, 18, 19, 20]

Season 3: [21, 22, 23, 24, 25, 26, 27, 28, 29, 30]

Season 4: [31, 32, 33, 34, 35, 36, 37, 38, 39, 40]

Season 5: [41, 42, 43, 44, 45, 46, 47, 48, 49, 50]
sharethis_button(); ?>