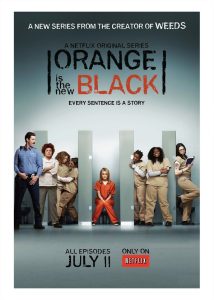 Title: Orange is the New Black
Genre: Prison Drama
Watched: July, 2013
Summary: first rate characterization
Netflix has been very aggressive this year creating new content and I've taken the time to watch House of Cards, Hemlock Grove, and now Orange. The first was good. The second interesting (if flawed). And the third just plain excellent.
Orange is the New Black is the brainchild of Jenji Kohan, creator of the awesome (for 3-4 seasons at least) Weeds. While it retains the older show's blended drama/comedy quality, Orange forsakes Weed's satirical surrealism and shifts far closer to realist drama while maintaining a light touch.
[youtube https://www.youtube.com/watch?v=nryWkAaWjKg]
Like much good modern long form television, Orange rejects the need to pigeonhole each episode into a classic dramatic arc. What it does is simple in concept, but hard in practice: build solid characters and put them through the ringer. The excellent mostly female cast is highly varied, and we, like Piper herself find them fairly opaque on first meet. The show deftly borrows the "Lost technique" to flesh out the personalities. Each episode (more or less) flashes back to reveal the character of an individual woman, showing who they are and how they got here. Structurally, this serves to take agents whose present time actions may be less than endearing, and build audience sympathy for them.
This is a powerful combination. Each backstory is vaguely tragic. Unfortunate circumstances and poor (if understandable) choices lead each character to their present miserable states. Nothing builds likeability like a checkered past. This depth of caring elevates the present-time drama above the norm. And it's pretty good to start with. With the exception of the last two episodes, the twisting and turning is moderate, dramatic, and flowing from character. Orange mostly avoids the heavy-handed whiplash of  over-plotted dramas (Vampire Diaries, Gossip Girl, and the like).
Fundamentally, good story telling is about giving characters you care for difficult emotional choices — and Orange delivers on that front.
Plus, a woman's prison is an inherently titillating setting (couldn't resist). The writers use a light touch here while deftly exploring the ins and out of this weird world. This is a minimum security prison and things are unpleasant, but not overly so — and sometimes surprisingly casual and informal. The women themselves are a weird mix and it all serves to be quite interesting. And for the most part, they're also all pretty good people. Realistic? I have no idea, but fun to watch.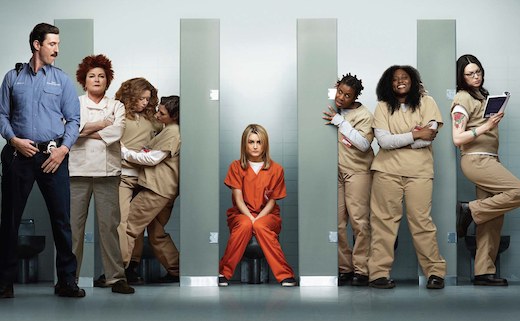 sharethis_button(); ?>