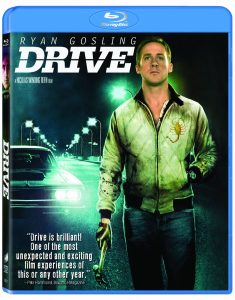 Title: Drive
Director/Stars: Ryan Gosling (Actor), Bryan Cranston (Actor), Nicolas Winding Refn (Director)
Genre: Crime Thriller
Watched:  February 20, 2012
Summary: Very stylish, character in driven, crime thriller
I have been waiting for Drive since I missed in the theaters. Everyone said it was fantastic, and they were right. This is an old-school crime thriller in the vein of The Grifters.  One of those movies about the underworld where the cast is small but the characters quirky and memorable. There are none of those boring blockbuster style heavies right out of comic books – the villains are more Pulp Fiction style, each with their own distinctive larger-than-life personalities.
Gosling plays a man of few words – and I mean few words.  He's a loner with skills: namely driving skills, and a kind of tough guy, with an under pressure calm that is really good in a fight. The brilliant opening scene introduces his particular code of operation – and said skills. It's slick without being over-the-top, infused with instant tension.
And that's one of the things that really makes this film work. The director's a master of tension. Sure I was lying in bed with a broken arm and on narcotics but my heart was pounding nearly from start to finish. The over-the-top qualities are reserved not for the action but instead for the characters – where they should be. Both heavies, played on type by Ron Perlman and against type by Albert Brooks, were glorious fun to watch. All the  acting in this film stands out. Breaking Bad's Bryan Cranston is great too.
This one of these movies where everything goes a really wrong – for everyone – except the audience.