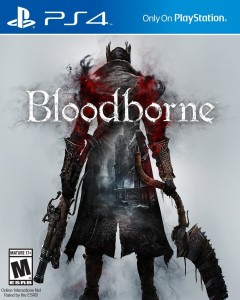 Title: Bloodborne
System: PS4
Genre: ARPG
Developer: FromSoftware
Publisher: Sony Computer Entertainment
Date Played: January/February 2016
Rating: A Masterpiece
I few weeks ago I wrote a short article on my initial impressions of Bloodborne, and I'd like to come back to it now that I've defeated the game. Every boss. Every area. The whole DLC. All the side quests I could manage. The secret special double probation third ending. Now that's on the "first play-through" (known as NG), I'm only a third through NG+ (a second harder go at it). But still, I think I know the game pretty well.
Let me put it out there, Bloodborne is the best console game I've played since The Last of Us, one of the best console games I've played in a long time, and one of the best games I've played since Diablo 3. It's a masterpiece.
Perhaps my favorite thing about this game — and there a lot to love — is the setting, mythos, and lore. If you can handle it, this video gives a bit of a taste (SPOILERS ABOUND):
Besides being a great game, Bloodborne is a masterpiece of Lovecraftian horror. Many of you have probably never heard of H.P. Lovecraft, but along with Edgar Allan Poe, he is surely the most influential writer in the entire genre of horror. Enthroned in the genre not unlike J.R. Tolkien is for fantasy. Stephen King, no slouch himself, cites Lovecraft as his own greatest influence.
Bloodborne is like a love-letter to Lovecraft, reveling in a blend of "classic" (vaguely 19th and very early 20th century) influences, including in no small part Bram Stoker's Dracula and the like. Every element of the game backs up this stylistic choice: The superb art design of world and characters both. The esoteric, cryptic, and complex mythology. The themes of forbidden knowledge explored and perverted. The creepy gorgeous music and terrifying sound effects. The influence of horrific powers from above/below/beyond. The moral ambiguity. Insanity. Dreams. Transformation and metamorphosis.
This is a dark dark game.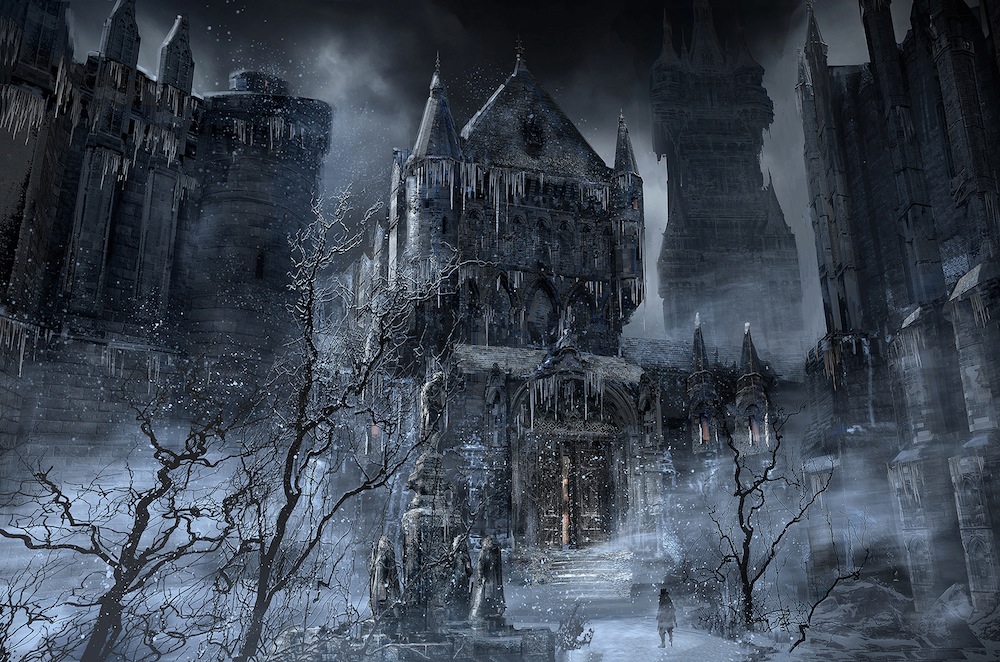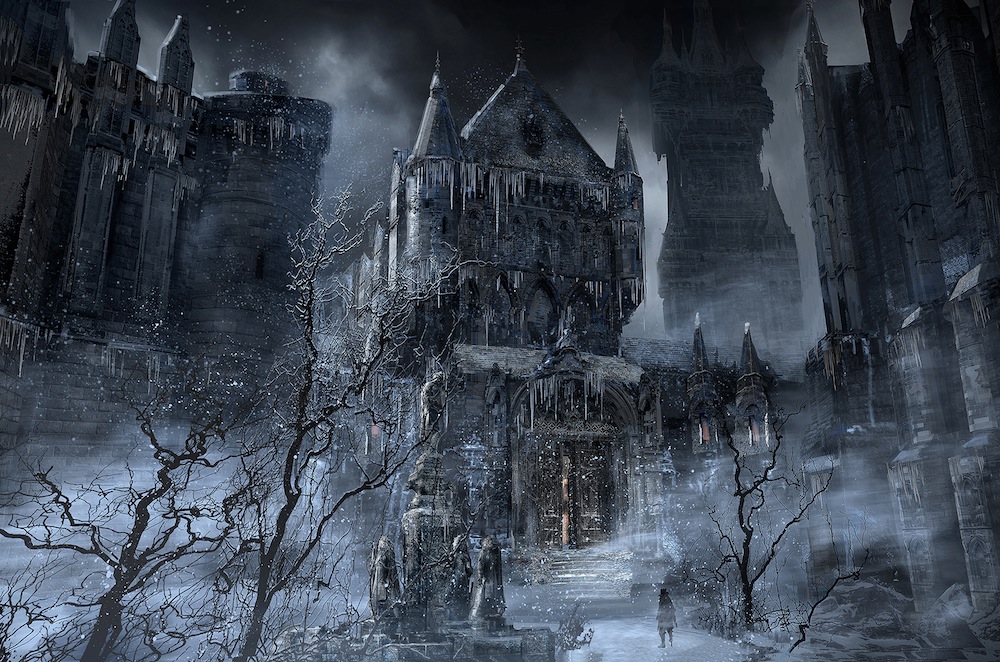 It's just so deliciously creepy and mythological. Really. Dark Souls has a cool world feel and mythology, and there is significant overlap, but Bloodborne really takes it all to the next level, elevating itself above mere video game (and it rocks in that department) to become a genuine work of art. Surely no chipper happy landscape painting, but a dark broody bloody 1911 horror novel of a game.
It's quite twisted and disturbing too, in a very gothic fantastic way. There are a lot of awful reoccurring themes: nightmare worlds, bad births, transformations into beast-hood, sadness, tragedy. It's often slightly Japanese in flavor, which blending with Lovecraft's very Western horror lends it even more of a sentimental exotic twist.
The above video is a good example. The "Orphan of Kos" is a horrifically difficult boss born from the corpse of its parent — a great one, one of the Cthulhu-inspired demon-gods. It fights you with its placenta as a weapon. Yuck! This fight was so hard too. It took me probably 12 hours to master.
Bloodborne is a very boss centric game. There are a lot of them, 18 in the normal game, 5 in the DLC, and at least 15 in the Chalice dungeons. They are all hard. All different.
Nothing about this game is very obvious. There is little hand holding and there are countless secret and optional areas, bosses, weapons, etc. However, taking the time to explore them is both satisfying and makes it easier — as you'll need their powerups. Coming late to it, the DLC served as an extra optional area to mix in with the main game. It's extremely well done, and perhaps even harder than the primary plot. It fits in seamlessly from a style point of view.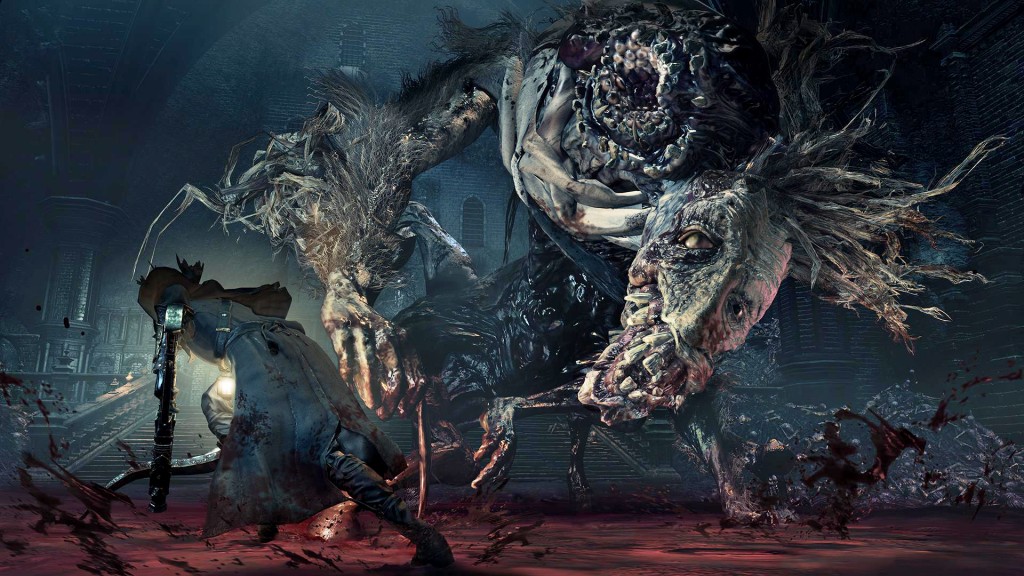 Which brings us to more fantastic points about Bloodborne, the gameplay. The sneaking around and the combat is really quite excellent. It's extremely difficult, and very skill oriented, particularly the many many varied bosses. But the mechanics are intensely visceral and satisfying. The combinations of feel, exceptional animation, physics/collision driven hand to hand, and amazing art and sound design all serve to enhance the effect. Every strike is satisfying.
The controls are very deep and nuanced, with a ton of variety in weapons. As a control programmer I can really appreciate the effect and tuning that went into them. At times the game appears to read your mind, allowing you to combine combos and hit multiple opponents in the same strike — but really it reads subtle indications from your joystick movements during the long attacks to guide and influence the results.
It's difficult, and I'm not that great at the highly precise art of parrying with the guns — catching the enemy at exactly the right moment as to stun them — but subtle mechanic changes have made the combat "easier" or at least less frustrating than that in the Souls games. Probably nothing as much as the "regain system" in which you can recover lost hit points by rapid retaliation.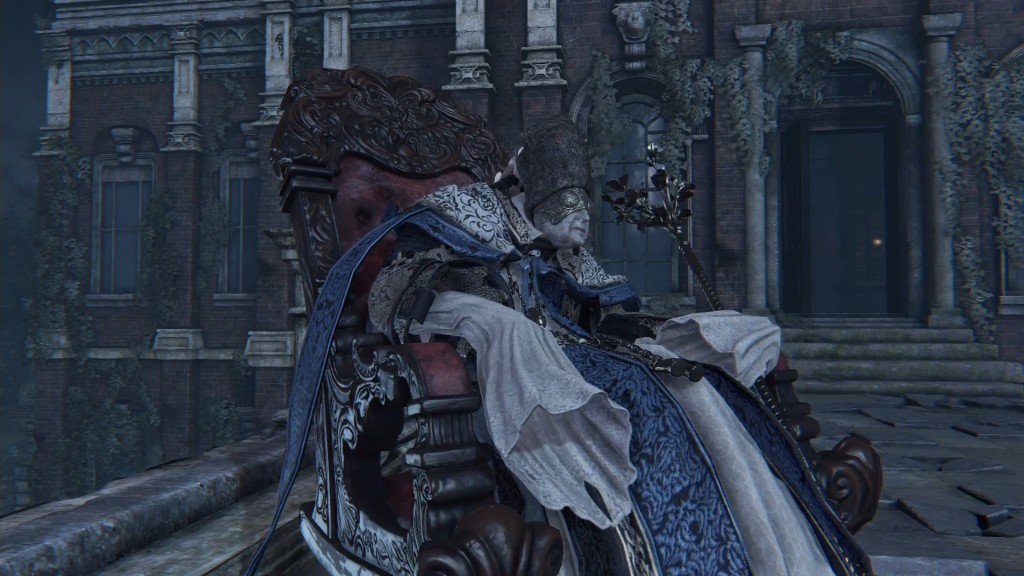 The meta game is excellent too. At first I though it cryptic and the investments of blood echoes into levels of little apparent goal. However, I found that Bloodborne is actually a satisfyingly easy game to grind. Having trouble with a boss? Well, there are two options: read up on strategy and practice, or level up and practice — actually, you pretty much have to do both. The game doesn't discourage a bit of grinding, and rarely makes it take that long. Plus the combat is so satisfying that even killing a room full of monsters over and over again is fun. 15 minutes of grinding will often earn you a level or two. Grinding up weapon upgrade "stones" and gems works pretty well too.
You have to choose how to invest in this game. There are only enough materials to upgrade a few weapons, so you need to choose which to use and spend both on them and on the appropriate character stats wisely.
There are always a lot of options to help you get past difficult spots. The first up being to watch some strategy videos, next are to tune your "runes", weapons, outfit, and consumables for the fight. There is a lot of variety here. With weird powerups to exploit some vulnerability in most bosses. All challenging to learn and use. The "armor" is interesting. They aren't radically different in power, and you can often wear what looks cool (and they do look cool — and different). For particular bosses and areas you can cobble together a set as best needed, for poison resistance, or fire, or frenzy.
I also love the way the world is so dense, but all twisted about on itself. Nearly every level has a door, gate, elevator, or ladder that cuts from the beginning to the end — after you sneak around and open it. It comes to feel progressively more accessible as you open up various connections. You learn it REALLY well too, because most areas require so many careful traversals in order to master. This is a game about learning the exact way to get through difficult challenges. It's about mastery and careful progression.
A deliberate experience to be savored.
For more video game posts, click here.
sharethis_button(); ?>