Restaurant: Hot Pot Hot Pot
Location: 120 S Atlantic Blvd, Monterey Park, CA 91754. (626) 282-1089
Date: June 20, 2015
Cuisine: Mongolian Hot Pot
Rating: Shabu Shabu's evil good cousin!
Hot Pot is one of those Chinese comfort foods that American's usually know nothing about.

These places are mobbed, and there are a lot of them. Basically, it's throw lots of things in a pot of boiling broth and cook it table side. Similar to Shabu Shabu — and this is hardly a surprise as the Japanese got the idea from the Chinese during WWII (when they occupied big chunks of China).

The menu is enormous and full of pictures.

Each table has a hot pot burner.

Our half and half with house original broth and house spicy broth. All sorts of stuff is floating and in the broth, but everyone decided they liked the spicy a lot better.
While we wait for this to heat, we sample a few appetizers.

Scallion Crispy Pancake. Good stuff.

Lamb dumplings. Awesome, if a touch mushy and very (temperature) hot.

Lamb fried rice. We loved this enough to order 3-4 orders.

The hot pot ingredients come on these cute little trays. This is about half of what we ordered! As you can see from the menu there are a lot of choices. All of these items are eaten by cooking them to the desired amount in the boiling broth of your choice.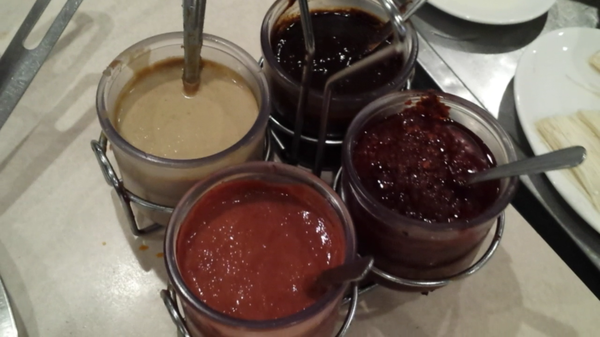 They have four sauces you can combine to make up your sauce. A sesame one, a darker more punchy one, a hot one, and a tangy plum type one. No one in our group was a skilled sauce maker, which is a kind of black art.

First up are the meats.
Pork belly. Pretty much bacon. You start with the meats to fatten up the broth.

USDA Prime Angus beef. A ricer cut.

Sliced lamb. The Mongolian classic.

Pork skin. Really sucked up the juices, but an odd texture.

Beef meatball. Great. The other table also had the lamb meatball which was even better.

Spam. Yeah, sounds kinda crazy but it was awesome.

Shrimp. Sort of a waste all boiled up.

Squid. A giant cuttlefish or squid.

Jumbo Scallop. These were good.

Fish dumpling. Good but a bit fishy.

Soft tofu. I love this stuff. Hard to get out of the pot though.

Fried tofu and a glimpse of the lamb meatball.

The pot in full action. Bear in mind that 8 or so people are sharing this — quite the chaotic endeavor.

Chicken fried noodle. In case the rice wasn't enough carbs.

The aftermath.
The wine situation was so fluid that I made no attempt to pair it with anything in this report. It's all just listed here.

2001 Château Monbousquet Blanc. VM 90. Aromas of grapefruit and spicy, vanillin oak. Chewy and bright, with peach, grapefruit, mint and floral flavors enlivened by fresh acidity. Finishes lively and long, with subtle notes of lime and honeysuckle and a tactile, saline quality. Shows no sign of the 13.7% alcohol. Much higher in acidity than the 2000 version, a year when acid levels were compromised by rain two days prior to the harvest. This was bottled in January of this year, eight months later than previous vintages owing to the stronger structure of the wine.

2006 Chateau St. Jean Chardonnay Sonoma County. 86 points. I get bananas and tropical fruit on the nose. Maybe pineapple. A bit of pear on the palate.

2011 Bedrock Wine Co. Chardonnay.

From my cellar: 1994 Ulrich Langguth Piesporter Goldtröpfchen Riesling Auslese. 85 points. This bottle was very bretty and not the best I've opened.

2011 Sea Smoke Pinot Noir Southing. 91 points. Nose is all candied red fruit. Ripe cherries and a little bit of cola, with zippy acidity and a bit of new oak across the finish. Good concentration, so will go strong for a while. I expect that this will be doing just fine in 5-6 years, but it's a fantastic bottle worth drinking right now.

2009 Domaine Denis Mortet Gevrey-Chambertin. BH 89-90. An earthy and very ripe nose of extract of black berry fruit aromas merges into very suave, rich and opulently textured medium-bodied flavors that brim with dry extract that easily buffers the relatively fine tannins, indeed this is much finer than most Gevrey villages wines.

2011 Sine Qua Non Syrah Dark Blossom. VM 96. The 2011 Syrah Dark Blossom is dark, mysterious and wonderfully inviting. Black fruit, savory herbs, leather and spice meld together in a deep, dense wine that is constantly changing in the glass. Savory overtones add intrigue. The firm, muscular 2011 tannins are going to need time to soften. Readers lucky enough to find the 2011 can look forward to years of thrilling drinking.

2002 Bond Matriarch. VM 92. Good full medium ruby. Dark plum, truffle and buttery oak on the nose. Suave and fine-grained, with enticing flavors of plum and black raspberry. A plump, sexy wine with a long, slow-building finish featuring very fine tannins. This shows a firmer structure than the very good 2001. In fact, this seems more refined, as well as more of a real wine rather than simply a blend made up of declassified fruit, than previous vintages of The Matriarch.

2010 Les Vins de Vienne (Cuilleron Gaillard Villard) Cornas Les Barcillants. VM 90. Inky ruby. Sexy aromas of dark fruit compote and vanilla, with complicating notes of smoked meat, olive and floral oil. Creamy, palate-staining black and blue fruit flavors show very good depth and pick up spiciness with air. Dusty tannins come on late and give grip to a spicy, focused finish that repeats the smoky note.

2012 Bedrock Wine Co. Zinfandel Old Vine. VM 90. Vivid ruby. Pungent, high-pitched aromas of cherry skin, raspberry, licorice and lavender, with a bright mineral topnote. Juicy and incisive, with sappy dark berry and bitter cherry flavors. Supple tannins add grip to the spicy, floral finish.

2012 Bodegas Los Toneles Cabernet Sauvignon Export Selection La Pradera.

2010 Tenuta Valdipiatta Vino Nobile di Montepulciano.

2008 Sine Qua Non Roussanne Jinete Bajo Vin de Paille. VM 95. Deep gold. A highly aromatic, pungent bouquet of orange marmalade, apricot nectar and yellow plum, with exotic honey and spice notes. Lush and creamy in texture, with deeply concentrated, sweet pit and tropical fruit flavors and a strong note of candied citrus. There's surprising energy and lift to the finish, which leaves juicy peach and orange notes behind. I'd serve this as a dessert, by itself. This clocks in at 11.8% alcohol, with 240 g/l of residual sugar.

From my cellar: 1989 Chateau Gilette Creme de Tete. Parker 93+. I actually prefer the aromas of the 1989 Chateau Gilette Creme de Tete to those of the 1990. The nose is initially taciturn but then it unfurls with engaging scents of aniseed, beeswax, smoke and lychee. The palate has a spicy entry, almost Alsace-like in style, with light honeyed notes, curry powder and cumin. The finish feels dry, although in fact there would be around 110 grams per liter of sugar. This has great potential, although personally I would suggest it needs at least another 5 to 6 years in bottle.

2012 Inniskillin Vidal Icewine Niagara Peninsula VQA. 92 points.
Overall, this was cheap, yummy, and fun eats. Like a more flavorful giant group shabu shabu with lots and lots of options. Totally Chinese!
For more LA Chinese dining reviews click here.
or more crazy Hedonist dinners here!
sharethis_button(); ?>