Restaurant: Tsujita LA

Location: 2057 Sawtelle Blvd, Los Angeles, CA 90025. Tel. 310-231-7373 Fax. 310-231-7375
Date: September 5, 2013 (original) and August 8, 2014 (annex)
Cuisine: Japanese Ramen
Rating: Really, really tasty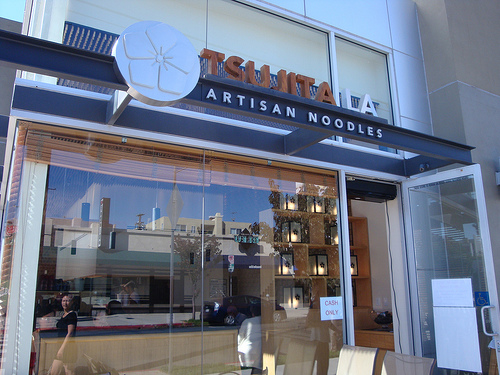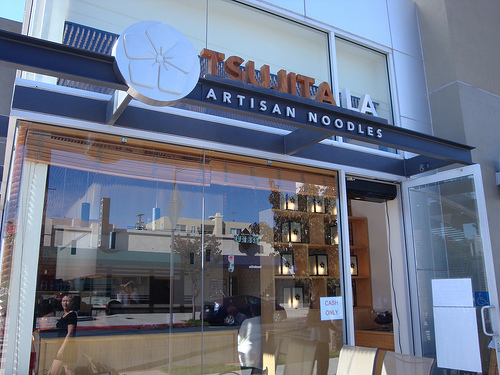 For a year I've been noticing this "artisan noodle" join on Sawtelle with the huge line, so I figured I needed to try it.

At lunch they have a simple menu with basically two dishes (both will be pictured below).

On the table are the condiments. Various pickled ginger and the like.

Char Sui Tsukemen. This is a version of Tsukemen, which is basically noodles with a dipping sauce/soup (below). The noodles above are served along with super fatty (but super tasty) sliced BBQ pork.

Here is the "soup." It's a flavorful, almost curry-like pork broth. There is a pickled egg in there too (ajitama). You take the noodles above and dip them in the soup then eat. It coats them thickly. Delicious. You can dip the pork too.
The Tsukemen was a new thing for me, and I have to say I love it. I wrote this 10 days after trying it and I crave it so much I've returned at least once a month for over a year!

Or add condiments if you like. Seaweed on the right. Green onion on top. Bamboo shoots and wood ear mushroom on the right.

Spicy tuna don. A bowl of rice with said tuna.

This is Hakata Nagahama Tonkotsu Ramen, the other dish (you can order variants). It's a rice pork broth slowly simmered for 60 hours. Thin ramen, boiled egg, and various condiments go in. I used to get this stuff at 2am in Fukuoka with my former boss. Yum! One of the best ramen types. I like to jazz it up with the red pickled ginger. It's excellent on a cold day.

Tsujita is so popular they opened another location right across the street, called the "Annex." This, somewhat mysteriously, offers a slightly different take on porky ramen.

Two versions of it here. With char sui pork, egg, sprouts, and onions.

And with peppers. This is a good ramen, but it just doesn't have that incredible luscious porkiness of the dipping noodles (Tsukemen) at the original.
Tsujita really is all about the Tsukemen dipping noodles. This just isn't quite like regular ramen and has an intense pork quality that is really mind bogglingly good. No wonder there are huge lines! They need to change up the single song they play (loudly) though. It was great the first 3 times, but the 30th?