Restaurant: 71Above [1, 2, 3, 4]
Location: 633 W 5th St., Los Angeles, CA 90071
Date: December 3, 2016
Cuisine: New American
Rating: Awesome in all ways
This is my fourth visit to one of LA's latest and hottest event restaurants, 71Above. The first can be found here.

Besides being located on the 71st floor (950 feet up!) of the US Bank building, being the highest restaurant west of the Mississippi, and showcasing the food of Chef Vartan Abgaryan, it's owned and operated by my friend Emil Eyvazoff!
This is no casual opening, but a massive (and gorgeous) multipart buildout that encompasses the entire floor. Above is part of the lounge/bar.

And behind that is the stunning dining room with its computer controlled auto tinting windows. Beyond that the view continues all the way around with the chef's table and several more intimate private dining areas.
The view alone is worth the price of admission, and offers varied sights depending on your 360 degree angle. Notice how even the second tallest building downtown (seen under construction here) is below eye level! On a clear day you can easily see the vast sweep of the Pacific and several mountain ranges.

This time we sat at the chef's table right by the kitchen.

gougères. French cheese puffs.

Because you can never go wrong with Krug: NV Krug Champagne Brut Rosé. BH 94. Medium rosé hue. A cool, restrained and highly complex nose that is not especially fruity displays a moderate yeast character along with slightly exotic aromas of mandarin orange and Asian tea, all wrapped in an enveloping array of beguiling rose petal scents. There is very good richness with a relatively firm supporting mousse that adds to the impression of richness to the superbly complex and highly textured flavors, indeed one could aptly describe this as more wine that Champagne. As such this is indeed a sumptuous Krug rosé that is difficult to resist already though it should reward extended keeping if desired. As I noted in the original 750 ml review, that while I am not always wowed by the Krug Rosé, this latest incarnation in magnum is strikingly good.

Sunchoke soup, Crème Fraîche, Sweet Garlic, Smoked Trout Roe, Dill.

The soup is added table-side. The dish is one of those velvety dairy based vegetable soups I love so much, knocked up even further by the creme.

Shrimp. Mango, Avocado, Fresno Chile, Sorrel, Chicharrón. Also extremely bright. A little heat, and very tangy. Loved this slightly Vietnamese-inspired sauce.

Squash. Whipped Panna Cotta, Pomegranate, Pumpkin Seed & Sage Shichimi. Another very fall flavored dish.


Parsnip. Duck Fat, Dates, Pistachio, Rosemary, Strained Yogurt.

Fig. Purslane, Red Onion, Goat Feta, Honey Vinegar, Lemon, Sumac Crisp.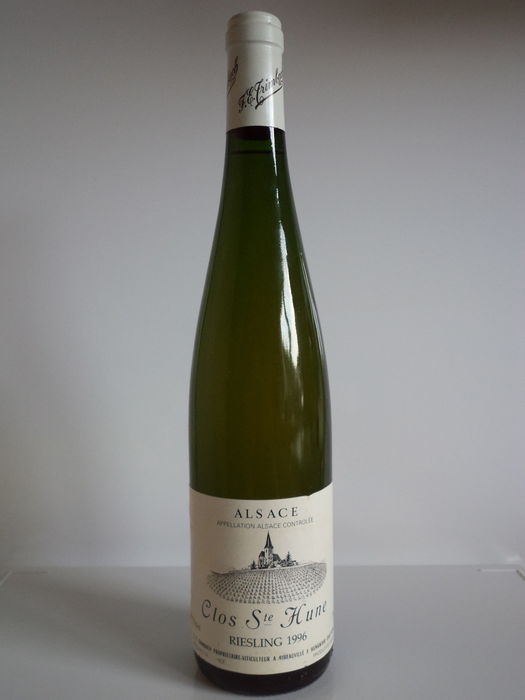 From my cellar: 1996 Trimbach Riesling Clos Ste. Hune. JG 98+. At age ten the '96 Clos Ste. Hune is just beginning to emerge from hibernation and is beginning to really show just how profound it will ultimately prove to be. The bouquet is deep and magical (and initially quite open, though a bit of the exuberance gets reigned in with extended aeration), soaring from the glass in an exotic mélange of black currant, sweet grapefruit, lime zest, loads of pulverized limestone, candied iris, incipient notes of polenta, a bit of fresh nutmeg and a topnote of currant leaf. On the palate the wine is full-bodied, surprisingly open on the attack, deep and laser-like, with a rock solid core of fruit, and great zip and rapier-like grip on the endless backend. The '96 is just a monumental vintage of Clos Ste. Hune, that looks to be a bit more tightly-knit and elegant than the great 1990, while at the same time being equally powerful and profound.

Wild striped bass. Cauliflower, Harissa, Raisins, Pine Nuts, Preserved Lemon.

Prime Ribeye. Sweet Potato, Pepper Crust, Bone Marrow, Cipollini Onion, Smoked Soy Jus.

Artichoke. Fennel, Bellwether Farms Gnudi, Grapes, Castelvetrano Olives.

Intermezzo of orange granite and sorbet.

Chocolate and marshmallow with sorbet.

Heading down!
Overall, 71Above is just a seriously well conceived and executed one-of-a-kind restaurant. Really, it's more like a NY, Singapore, or Tokyo kind of concept. First of all, the view is just awesome. I can't wait to come back on a really clear day. Particularly once they begin brunch service, a nice winter day will offer an observation deck like panorama.
But then Emil and crew built out such a lovely space to capture the drama. It's modern, but welcoming. Not too loud, you can here the conversation and the music both. And from when you enter off the double elevator ascent it folds from one experience to another: lounge, dining room, more intimate corridors, chef table, quiet and romantic view areas in the back, and a series of two adjustable private dining rooms. The attention to architectural detail is amazing.
Then the menu has a creative format with a fixed price (currently $70) and three savory courses. You can pick from six options per category. If you are a glutton like me, you can add extra courses – and of course dessert. At the chef's table one gets a 6 course (+ a few bonuses) for a very reasonable (considering what you get) $110 a person!
It should also be noted that an interesting menu wouldn't be anything without great execution. As you can see in this post, the plating is modern but approachable and highly attractive. But the flavor on the dishes is paramount, and really quite excellent, particularly considering their complexity and textural variation. There is a balanced quality between opposite forces in Chef Abgaryan's cooking that pulls from Chinese culinary theory, while that specific flavors and combinations are largely American/European. It's both approachable and sophisticated. Bravo!
For more LA dining reviews click here.
sharethis_button(); ?>