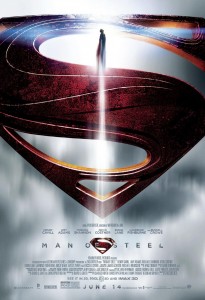 Title: Man of Steel

Cast: Henry Cavill (Actor), Amy Adams (Actor), Zack Snyder (Director)
Genre: Science Fiction / Comic Book
Watched:  June 17, 2013
Summary: Takes itself VERY seriously
It was with mixed feeling that I went off to Man of Steel. The trailer actually looked pretty cool, but this is a Zach Snyder film and I loathed 300 (way, way too poor a representation of that most awesome of historical battles), found Watchmen overblown, and was just plain blown by by Sucker Punch. Actually Sucker Punch fascinated me. It was both so bad and so intriguing at the same time — plus the soundtrack rocks. The film just failed as a film.
In any case, the Superman reboot. Some things I liked:
The visuals and art direction. Boy does a lot of stuff explode.
The soundtrack. Sounds like Batman (not surprising, Hans Zimmer returns).
Henry Cavill is just about right as both Clark and Superman.
Amy Adams is cute as Lois.
Krypton and the Kryptonian technology. It looked cool. Somethings were silly – but it looked cool.
The impressive sense of power given to Superman and his opponents.
Some strong visual references to Superman II.
Russel crow leading Lois through the spaceship.
The fact that both dads were Robin Hood.
Some things that sucked:
Too many explosions. Not enough character development.
Superman's cheesy Kryptonian mom and even cheesier birth sequence.
A lot of the plot feels rushed and barely makes sense.
Everyone seemed very calm and well informed (they needed to be to make the plot work).
The extras (like the Daily Planet staff) = cheesy!
The whole tornado sequence. Fromage!
A lack of any dual identity antics.
The forced "Clarks gets a job" sequence at the end.
Michael Shannon as Zod. Lame. Lame. Lame.
Plot holes. Lots of plot holes.
Fundamentally, Man of Steel tries too hard and takes itself too seriously. There is almost no sense of humor. It focuses on plot and background at the expense of character. What arc it attempts, Superman's deliberate act of choice of humanity over his (not highly appealing) Kryptonian comrades is hardly in doubt — and forced at best. We are treated to numerous statements on the part of both fathers as to Clark becoming the "kind of man he should be." Heavy handed to be sure. But still, they kinda, sorta, maybe worked, mostly I think because of the equally heavy handed but effective sound track and slow Synder-esque directorial style.
I really did basically dig the whole Krypton thing and particularly the visuals of the home-world and tech. All that gray particle stuff I interpreted as nano-tech, but who knows what they had in mind. And what the hell with the dragon-fly dragons?
Given that Superman is nigh on indestructible, the insane building smashing during the fights was kind of cool — until the hundredth building. I mean they really punched through shit. Lots of CGI in this film, most shots. The battle between Superman and Zod was decent, although one does have to wonder given all this invincibility why and how one of them actually can be killed. It didn't make a lot of sense.
There is no subtly to this film. The character driven mechanics of the 1978 Superman and sequel are missing entirely. Lois meets Superman as Superman, there is no Clark Kent reporter or secret identity, and hence one of the amusing/enjoyable things in secret identity superhero stories. This human drama has no room in this film of epic space battles and guys getting slapped through buildings. I can't understate this — Kryptonians are punched through large solid structures at least 200 times in this film.
Some questions:
How do the new Kryptonians "powerup" so fast?
If Superman's dad was so worried about Zod choosing the bloodlines, how come he got to choose them himself?
Why is there only one copy of the codex? And while we are at it, why does it look like a plastic skull?
And #1: if you planet is dying, why do you "save" all the villains by tucking them away in a black hole?
Why do the masks/helmets of the bad guys keep fading in and out except to show who they are?
How can the energy drive of the 2 part teraforming machines link up? Some cross planet induction?
Why does Lois get to go on a military bombing mission?
How come everyone in Metropolis hangs out for so long when the killer alien squid of doom shows up?
I can understand how Superman really gets around, but it seems like Lois and the military dudes can teleport.
Why does even young kent have a magnetic attraction to disasters? (tornados, falling buses, exploding oil rigs)
Why doesn't Zod kidnap Superman's mom and use her as leverage?
Why does he explain all his plans? Wait — he's a comic book villain.
Regardless, it's a watchable film, and certainly Snyder's best yet. It's just not a great film by any means, being about 95% style over substance. Isn't it obvious to these studio types that movies are really all about character? I guess not.
And most amusingly, Man of Steel and The Last of Us (the latest Naughty Dog game) both came out on Friday. Apparently, LTOU grossed more!