In the process of developing the interior look of my book, The Darkening Dream, I wanted to create glyphs to represent each point of view character. In general, despite my big library of occult titles, I find a lot of references on the web (Google for the win!). Ultimately, I'm trying to produce original works, but reference art is very useful in communicating with your artists.
Let's start with one of the easiest: al-Nasir, my 900 year-old vampire villain.

In life, al-Nasir, was a Moorish warrior who ruled over the Caliphate of Cordoba. If this floats your boat, check out his detail page on the blog. He's a violent warrior, so a sword was a natural. The above weapon is a photograph of an actual Nasrid sword from the eleventh century. Contrary to popular imagination, Moorish swords were not curved, at least in this period.

As the style I'm going for is an illustrated, "old school engraving" style, I showed the artists this image, which is a similar kind of sword, but as an drawing was useful in demonstrating how to convert the photographic image into a more illustrated form.

But al-Nasir isn't just any old medieval Moor, no he's a vampire, and one who specializes in the flying bat form. So I found this odd sixteenth or seventeen century engraving. The bat wings are really cool and in just the kind of naive wood block style I'm going for.

I rotated the sword, then used Photoshop to snip out the bat wings and build a composite to show the artists exactly what I had in mind. I call this "ghetto art" and it might be ugly but it's invaluable in communicating visually. Below is the resulting final image, which they got pretty much dead on (haha) with the first try.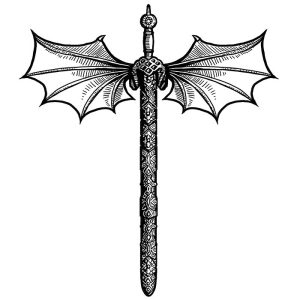 For more about my novel, The Darkening Dream.
To find out more about developing a style for the interior art, see here.
For more information on al-Nasir, the badass 900 year-old Moorish vampire.
sharethis_button(); ?>