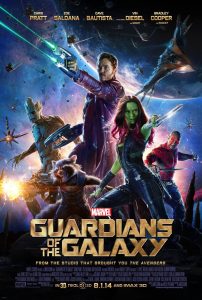 Title: Guardians of the Galaxy

Cast: Chris Pratt (Actor), Zoe Saldana (Actor), James Gunn (Director)
Genre: Science Fiction
Watched:  August 7, 2013
Summary: Basically good fun
Months ago, when I saw the trailer for this film, I said to myself, "that will either be really cool or totally suck." Fairly amazingly, it's basically the former. I'm not even exactly sure why this is a good film. It certainly isn't a great one. I mean by comic-book film standards, it's better than 95% and perhaps at about the same level as Hellboy (which was another surprise hit — and similarly from a comic I'd never heard of). Although the tone is absolutely nothing like Guillermo del Toro creepy "masterpiece."
Fundamentally, Guardians is like an amped up, light-hearted, post-modern version of a standalone Han Solo novel. This is a crazy elaborate galactic civilization that is well… completely and totally improbable. It makes Star Wars look realistic. But the tone is so whimsical that we know from the first instant (hell, from the poster), that Guardians doesn't take itself seriously. Woe if it did. This is a comic (and I mean both Marvel comic and funny comic) action film. But the characters are fun, the action intense, the world building lighthearted but detailed, and the whole romp pure escapism.
There is some attempt to give the main characters a bit of depth and a dash of pathos. For the most part, it works (at the level necessary).  Hell, even Groot has more depth than the likes of Thor. The villains are not as successful. I'm never a big fan of the whole multiple big boss villain scenario, but Marvel loves it (see Avengers). Thanos probably shouldn't exist and  Ronan is laughably… comic. He just stands around between whoop-ass. Who, or what is he? Why does he wear black glitter? And how the hell did he get any followers?
There is also a bizarre who's who of cameos or at least peculiar and for the most part comic casting: Benicio Del Toro's oddball "Collector"? John C Reilly as a space cop? When you see John C Reilly, it's hard to take anything too seriously.
But the dialog is snappy and fun, and the main actors pretty on point. Personally I liked the CGI guys best. Rocket (the Raccoon) is hilarious.
It's not even worth nitpicking all the little plot holes. And, yeah, all the main characters (good or bad) are a little too good at what they do and the bulk of people (like the Nova "Empire" kinda lame). But the film is just good popcorn munching fun. So if you like galactic romps, this sure beats watching a battered video of Ice Pirates at 4am.
For more Film reviews, click here.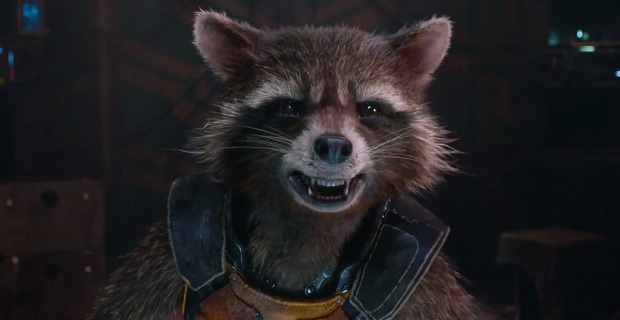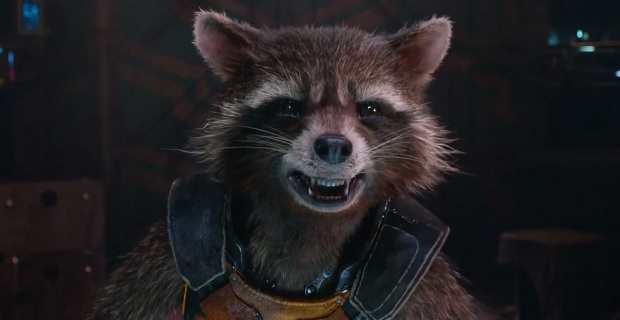 sharethis_button(); ?>