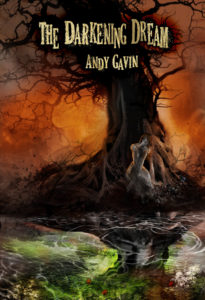 As I've discussed before, I commissioned a new cover a couple weeks ago for The Darkening Dream. Well I've got a concept sketch now (to the right, click it to embiggen). You can compare it to the old cover at the bottom of the post.
NOTE: This is still just a sketch, not the final new cover and the titles are quick hacks that I whipped onto the concept sketch. Still, I wanted to see what people think.
We shoot the model this weekend. Cliff Nielsen, the artist uses a composite style in which he blends photographic and hand drawn elements. The final result will even better and much much more detailed and specific. This sketch is to get a sense of layout, color, and positioning.
Overall I'm stoked.
The interior is also rocking along and I hope to have the E-Book on the "shelf" (i.e. Amazon etc) right around the New Year.
So write in the comments: What does this cover say to you, would you pick up the book and see what it's about? What do you think it's about?
For more info on the new cover, click here.
For more information on The Darkening Dream.
For more posts on writing, click here.
sharethis_button(); ?>