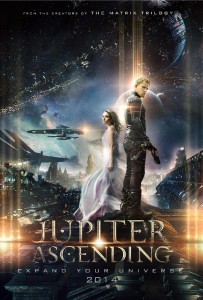 Title: Jupiter Ascending
Cast: Mila Kunis (Actor), Channing Tatum (Actor), Sean Bean (Actor) The Wachowskis (Writer/Directors)
Genre: Science Fiction / Space Opera
Watched: January 10, 2015
Summary: Awesome but flawed
While original film works of Science Fiction are not as rare as original High Fantasy, they are still rare indeed. So even after critics panned Jupiter Ascending, I saw it anyway. I'm glad I did, and so should you. First of all, you have to support any filmmaker or studio willing to talk bold risks on new IP. Unless you're looking forward to Transformers 19, the seventh Spiderman reboot, and Stratego: Aliens vs. Napoleon.
Let's first discuss the good things. Bear in mind that Jupiter is a SciFi fairytale. It's not "hard SciFi" at all, but more derived from a sort of amalgam of classic Space Opera, Star Wars, and geek chic. The same stew out of which Avatar and many big budget video games are born, it's no coincidence that it's the brainchild of the same creative team as the Matrix.
Jupiter is stunning to look at even by 2015 standards. The vistas are wide, the camera angles bold, the set, creature, ship, and costume design artful and detailed. The film takes good advantage of 3D and its soundscape. Michael Giacchino's sound track is fabulous. Space Opera classic really. The "feel" of the film, which includes the look, the sound, and the "mythology" is worth the price of admission alone to anyone serious about Speculative Fiction.
The acting is solid. Probably even good if you consider some of the writing problems. Kunis is excellent, even if her dialog is at times awful (and sometimes good). Tatum is fine but a little stiff. Sean Bean is… well Boromir and Ned Stark. Many of the side actors are very good. All three Abrasax siblings are excellent. Balem (Eddie Redmayne) borders on the comically melodramatic, but delivers quite a riveting performance (which might have been even better without the forte part of his whole piano/forte routine). Even his sycophant Chicanery Night (love those names) is fabulous.
The action sequences are extended and highly creative. Yeah, they're a little too long and like all big epics today, the film would have been better served spending more time on character — but the choreography is amazing. These are 3D to the max. I don't just mean the 3D glasses type of 3D but that the action takes place in three dimensional space in a highly innovative way.
I loved the mythology. This isn't hard SciFi, so it's not "plausible" in any way, shape, or form. We have FTL, warp gates, mass defying transformations, tractor beams, crazy mixtures of nanotech and steampunk. Still, it has a great feel. There is real scope here, a sense of the (space) operatic. The visuals support this with giant vistas of docking ships and planets overgrown with city and surrounded by artificial habitat rings. To the untutored kids those must just look cool. As a reader of decades of SciFi, it's homage to Asimov, Clarke and Niven. There is an overriding moral theme, not perfectly executed, but one that puts the human race in full jeopardy. Slightly evocative of the Matrix (go figure) this time humans are slated as commodities ground up for rejuv juice (and more) instead of turned into batteries. This version made more sense than in the Matrix. Ultimately the premise is a bit less "new" than the Matrix, more traditional Space Opera, but the sad thing is that despite the incredible number of loosely SciFi films out there, ones that rival the scope of good SciFi novels are exceedingly rare.
The tech wizardry built into the civilization is amazing too. The production team sure hasn't lost its knack for that. Things like the device that "phases out a circle of solid matter" (who knows what you call that?) or all the little artifacts, huds, and controls are awesome geek stuff.
Now on to the problems.
Mostly, it comes down to script flaws, and they aren't even in big concept, but in execution. First of all, we have a fish out of water female protagonist experiencing this bigger world. Great! But the script botches it in several ways. 1) We get reveals into the world behind the curtain (the magic world) before she does. Big no no. We should have seen it all from her eyes. 2) Her dialog is mediocre with a mix of great lines and stinkers. (3) While her basic character is good, her arc minimalist, and her decisions poor. She falls for Titus' BS? Almost falls for Balem's after that? Come on. She's also fairly passive / damsel in distress with Caine doing all the heavy lifting (literally and figuratively). He should have done that at the beginning, been her guide, but then she needed to come into her own. There isn't even a good touch of death or mentor figure (ala Morpheus). The first Matrix follows proper heroic arcing. Jupiter evokes classic style movie, it should have kept the protagonist's story spine closer to home. She is mostly buffeted by events, and only at the end makes a rather weak Act 2/3 transitional choice. The final ending choice is also lame. Returning to scrubbing toilets is failing to make a proper synthesis of the A and B stories (thesis and antithesis).
Caine too doesn't have enough character. He needed some kind of edge or complexity. Their romance is far too perfunctory. Sure, he's a hunk and rescues her. Sure she's a gorgeous Ukrainian princess. But they just fall for each other completely without much real interaction.
These are symptoms of the broader writing problem. There are so many elements jammed in here: complex world, action, romance, villains, more action, moral theme, a touch of humor, and even more action, that none of them get proper time for development. It's not even that long a film, around two hours, and it moves at a breakneck pace, packing in the scenes and settings. But there's too much action and far, far too little character development. Even cheeky Guardians of the Galaxy with its ridiculous wooden villain has more development — and certainly more chemistry going on between the team. I think it's a rare case where the film would have been better being longer. An extra 30-40 minutes all focused on character (and a lot of structural rewrites) would have gone a long way.
Sigh. I still really really enjoyed this film. More than Guardians actually. I loved the whole atmosphere. And I don't really understand why the critics maligned it so — or maybe they just don't understand the grand sense of wonder that is at the core of the genre. Clearly the Wachowskis do, so flaws and all I bless them for it. But as usual, it could have been so much more. Didn't some producer ask where the arc is?