Restaurant: Republique [1, 2, 3, 4, 5, 6, 7]

Location: 624 S La Brea Ave, Los Angeles, CA 90036. (310) 362-6115
Date: April 9, 2015
Cuisine: Modern Bistro French
Rating: Nice (loud) space, tasty hip food, great service
Back to Republique again? Well, it seems in 2014 half the serious wine events are here. Possibly it's because Sommelier Taylor Parsons is so good. In any case, tonight's special dinner is an exploration of my favorite wine sub region,Vosne-Romanée and Flagey-Echézeaux. This dinner was organized by Dan Perrelli of the Wine Hotel.

The building is an interesting fusion of pre-war factory…

The main interior is nearly church-like. It's been all opened up and looks great, but it's big, tall, and covered in hard surfaces. That means loud!
Tonight our dinner was in the private room upstairs, but our champagne and appetizers began on a little table in the upstairs hall.
Flight 0: Champagne

1996 Alfred Gratien Champagne Brut Millésimé. AG 94. The 1996 Brut Millesime shows why this vintage is so highly regarded. Everything is in the right place. Rich, voluptuous, yet also structured, the 1996 impresses for its superb overall balance. There is lovely complexity in the glass, but none of the aggression found in some wines. A soft, gracious finish laced with a totally refined mousse rounds things out in style. The 1996 is 65% Chardonnay, 18% Pinot Noir and 17% Pinot Meunier.
agavin: nice oxidized notes.

NV Doyard Champagne Cuvée Vendémiaire Brut.

Here is our host Dan, who combines an eerie resemblance to George R. R. Martin with a deep voice and an equally deep wine knowledge.

Tonight's menu.
Flight 1: Replacing Expectations with Experience

2012 Forey Père et Fils Vosne-Romanée. Burghound 89. A very spicy nose is comprised of mostly black pinot fruit that is also cut with plenty of earth, plum and floral notes. Once again there is a completely different texture to the velvety, pure and relatively refined medium weight flavors that possess good mid-palate concentration, all wrapped in a slightly austere and beautifully persistent finish. This is also recommended as it's a fine Vosne villages that should repay 7 to 9 years of cellar time.
agavin: very young, almost with a bit of cherry lifesaver

2011 Jérôme Chezeaux Vosne-Romanée. AG 87. The 2011 Vosne-Romanée comes across as a bit wild and rough around the edges, with less density and fruit than is typically the case. Today, the 2011 is dark and brooding. Hints of smoke, earthiness and tobacco add nuance to the dark fruit, while firm tannins support the finish.
agavin: had a vegetal green character that I really didn't like. I even thought it might be corked.

2010 Cecile Tremblay Vosne-Romanée Vieilles Vignes. Burghound 91. An exuberantly spicy nose of both red and black cherry liqueur aromas leads to suave and silky medium-bodied flavors that are blessed with plenty of sappy dry extract that coats the mouth. Once again there is a lovely mouth feel due to the extremely fine-grained tannins and while this is not the most complex of these villages level wines, the sense of harmony and outstanding length make up for it. This is also worth looking at carefully.
agavin: Fabulous. Tasted like a nice 1re cru. Very vosne.

Turbot with chanterelle mushrooms. Supposedly line caught in the English channel. A very lovely bone in fish.
Flight 2: Vintage Characteristics and Terroir

2010 J. Confuron-Cotetidot Vosne-Romanée 1er Cru Les Suchots. Burghound 91-4. Again, reduction is present but not enough to totally diminish the appeal of the spice notes that continue onto the rich, intense and remarkably vibrant flavors that also possess excellent volume along with an abundance of dry extract that confers a velvety texture to the linear and austere finish. It is a very good thing that there is so much sap because this is especially firmly structured and will need every bit of 15 years or so to fully resolved the underlying tannins.

2009 J. Confuron-Cotetidot Vosne-Romanée 1er Cru Les Suchots. Burghound 91-3. A highly spiced and very Vosne nose offers up cassis and black raspberry aromas that precede the very seductive, concentrated and mouth coating flavors that are suave, indeed even silky yet culminate in a firm, powerful and balanced finish.

2008 J. Confuron-Cotetidot Vosne-Romanée 1er Cru Les Suchots. Burghound 92. A notably ripe and ultra fresh nose of spiced black cherry and cocoa powder nuances combine with more typical hints of soy and anise that also are reflected by the rich, full-bodied and relatively supple flavors that are blessed by concentrated mid-palate but the long, palate staining and youthfully austere finish tightens up immediately to become very firm. Patience will be required.

Pig's Head, frisee, lardons, duck egg, and lentils. A sort of breakfast-style dish, and rich rich all around. The pork (wherever it came from on the animal) was rich and delicious. Particularly smothered in egg yolk and laced with lardons.

Fresh baked bread and normandy butter. I had to skip, passover and all.
Flight 3: Style in Middle Age

2000 Domaine Jean Grivot Echezeaux (from magnum). Burghound 92. Ripe, rich and spicy with crushed black fruit flavors that display good power, impressive length and simply outstanding precision and focus. This has an element of the floral quality of the Beaux Monts but there purity of expression here is stunning and this displays wonderful density for the vintage. Complex, subtle and very classy.
agavin: great for about 20 minutes, really great, then started to close down a bit.

1998 Domaine Robert Arnoux / Arnoux-Lachaux Echezeaux. Burghound 89. A mildly toasty note detracts slightly from the otherwise expressive, fresh and mature nose of spice and some secondary fruit aromas. There is good verve and detail to the middle weight flavors that offer reasonably good depth and length on the ever-so-slightly astringent finish. I would advise drinking this over the next 5 to 10 years as it risks drying out if cellared too long. Tasted only once recently.

1998 Forey Père et Fils Echezeaux. AG 89+. Medium-deep red. Expressive aromas of plum, cherry, coffee, spices and mint. Supple and sweet but firmly built; already displays enticing inner-mouth aromas. Less forbidding and more elegantly styled than most of these '98s but still rather unforthcoming and tannic on the end. Is it long enough for outstanding?

Cavatelli, four story hill farm avian poularde. The chicken here is some kind of special milk fed chicken. Awesome dish.
Flight 4: Cru Classification & Vintage are no Guarantee of Longevity and Age is no Guarantee of Enjoyment

2007 Domaine Jean Grivot Vosne-Romanée 1er Cru Les Suchots. AG 92. Captivating, fruit-driven aromas of cherry, raspberry, minerals and cocoa powder lifted by rose petal. At once sweet, pure and penetrating, with excellent vinosity and energy. Quite refined and suave on the back end, where the late-arriving tannins give the sappy fruit a chance to expand and linger. As sexy as this is now, I'd give it three or four years in the cellar as it's still a bit hardened by CO2.
agavin: young but good.

1996 Domaine Robert Arnoux / Arnoux-Lachaux Vosne-Romanée. Burghound 88. Bright and spicy, somewhat earthy fruit aromas introduce racy and moderately structured flavors that have enough richness and sweetness to buffer the tannins. With food, this is easily approachable today but it will continue to positively evolve for another 3 to perhaps 5 years. A lovely effort at this level. Consistent notes.
agavin: good, but the 96 Suchots was better

1996 Domaine Robert Arnoux / Arnoux-Lachaux Vosne-Romanée 1er Cru Les Suchots. AG 92+. Fresh, deep red-ruby color. Sappy, higher-pitched, very complex aromas of cassis, raspberry, minerals and game. Terrific concentration and freshness, but slow to open in the glass. Thick but lively; a floral note contributes to the wine's impression of brightness. Finishes very long and subtle, with a burst of dark berries. Premier cru with the palate presence and nobility of a grand cru.

1973 Joseph Drouhin Vosne-Romanée 1er Cru Les Beaux Monts. agavin 92. Popped and poured. Surprisingly fresh and delicious, although certainly an old Burg.

Risotto, Oregon morel mushrooms. A classic rich and buttery risotto and a fabulous pairing.
Flight 5: Five Decades of Similar Geology, Three Classifications

2012 Domaine Bruno Clavelier Vosne-Romanée 1er Cru Aux Brulees Vieilles Vignes. Burghound 91-3. A strikingly complex nose features notes of Vosne spice, black cherry, plum and sandalwood. There is first-rate intensity and verve to the beautifully well-detailed medium weight flavors that display plenty of minerality and dry extract on the firm and austere finish that delivers marvelous length. This is also an exercise in harmony allied with finesse.

1991 Domaine Bruno Clavelier Vosne-Romanée 1er Cru Aux Brulees Vieilles Vignes. Much more mature.

1964 Charles Noellat Romanée St. Vivant. Burghound 91. Heavy bricking to the core. Upper register aromas of ripe secondary aromas cut with really lovely oriental spice nuances and hints of sous bois, earth, leather and truffle that introduce fully mature, velvety and utterly delicious older burg flavors and a finish of sneaky persistence. As pretty as this is, there is real grace and style underneath the spice veneer and while it must be noted that the flavors are now in gentle decline, I very much like the overall package. That said, it's time to drink up. Another recent bottle with ullage of ~ 5 cm was almost as good but was exhibiting a somewhat curious nose of celery and peat-infused aromas. Otherwise, the flavors were consistent with the first bottle.
agavin: our bottle was sadly pretty gone, very brown, like tea. Not much fruit.

Beef, sauce bercy. The sauce is made from bone marrow, and there were little bits of bone marrow on top. This was a super rich, soft, beefy slab.
Flight 6: Another Geology, Another Wine Entirely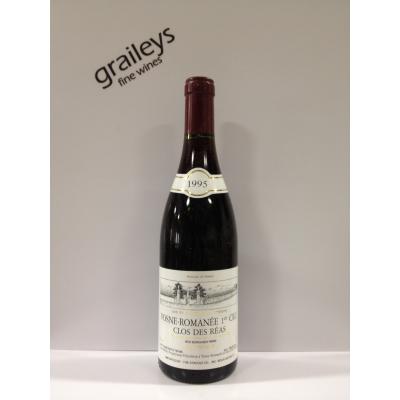 1995 Domaine Jean Gros Vosne-Romanée 1er Cru Clos des Réas. Burghound 88. Tasted blind and immediately identified as a lower level Vosne 1er because the nose is wonderfully spicy and if not particularly elegant, then certainly expressive and pretty. The flavors are nicely complex and offer good authority and a certain beguiling velvety texture, which helps to smooth out the otherwise rough tannins. This could be drunk now or held for a few more years.

1971 Domaine de la Romanée-Conti La Tâche. Burghound 95. Classic and very ripe mature burg fruit intermingles with a wonderful array of spices, especially anise and soy all of which are framed by a touch of caramel. The flavors are extremely rich, sweet and wonderfully concentrated with a deep, very sweet essence of pinot finish that still retains glimpses of its former power. The tannins are fully resolved and the finish is nothing but pure silk and velvet. Tasted many times and while there is some bottle variation, well-stored bottles are consistently marvelous.
agavin: long long finish and a lot of fruit (considering the 44 years!)

Consomme, four story hill farm avian poularde, foie gras.

With the actual soup added. Delicious stuff. Moist and tender meat, and the fat from the warm foie distributed into the broth in an amazing fashion.
Flight 7: Bonus

1961 Palmer. Parker 99. The 1961 Palmer has long been considered to be a legend from this vintage, and its reputation is well-deserved. The wine is at its apogee, with an extraordinary, sweet, complex nose with aromas of flowers, cassis, toast, and minerals. It is intensely concentrated, offering a cascade of lavishly ripe, full-bodied, opulent fruit, soft tannins, and a voluptuous finish. This is a decadent Palmer, unparalleled since in quality with the exception of 1983 and 1989.
agavin: great stuff, even if I had the sediment at the end of the bottle.

Chef Walter Manzke pays us a visit.

Wine director / Somm Taylor Parsons handled this event himself and did a superlative job.
I've now been to Republique 7-8 times and the restaurant is at its best in the private room with a special tasting dinner. Walter really cooked his butt off for this one, carefully pairing each course to the wines. Downstairs, the room is very loud and there are some timing and pacing problems. We had none of these. Each course was brought by an army of 6-7 waiters and dropped elegantly in front of us. All the wine glasses had individual labels for each wine, etc.
I was extremely impressed with Dan's dinner series (this was my first). Like Liz at Sage Society he got the very best out of Walter's already great cooking, and he brought an interesting and intellectual set of Vosne's. Very interesting flights, and he was quite knowledgable. We had 5 straight hours of wine discussion too! Very nice people as well. An overall great evening.
For more LA dining reviews click here.
sharethis_button(); ?>