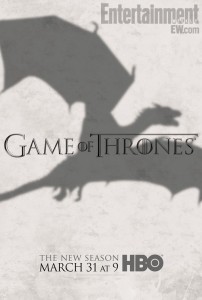 Title: Game of Thrones
Genre: Historical Fantasy
Watched: Episode 26 – May 5, 2013
Title: The Climb
Summary: More transitional, but tense
There is perhaps less action this week, but plenty of thumb screws being turned (haha). The show writers take the opportunity to mine the novel for thematic refrains within an episode in a way that probably isn't deliberately reflected in the source text. This week we have several, notably: couples, marriage, and duality.
Sam – We open with Sam sharing a fire with Gilly. He pulls out his obsidian dagger, which even if I didn't know, is TV code for "this will be relevant soon". This first couple enjoys a pleasant and hesitant chemistry. Awkward, but in a warm way.
Bran – Bran's two female protectors, Meera and Osha, squabble and fight. And I must say, the rabbit bit reminded me of that scene from Roger and Me. This is mostly a throwaway scene, designed to remind us that Bran's still on his way. But it fits into the whole couples/duality thing in that Meera and Osha are birds of a feather. Anyway, Jojen dreams of…
Jon – Since this episode is titled The Climb, a rather big slice (in several parts). At the base of the wall, continuing the couple theme, he and Ygritte have a  moment. The way she sees right through him is telling and I love the "the two of them against the world" angle that she works. It's quite touching actually, even if it doesn't get as much screen time as it should — they having had only their token night together. Still I liked it, even if Kitt isn't as sensitive an actor as the part requires. Tormund is funny too with his "if you fall, don't scream. You wouldn't want that to be the last thing she remembers."
The climb looks tough. I certainly couldn't do it. Hell, I can hardly climb the rubber rock wall. Jon's at the butt end of things and collects some spare snowballs. Ygritte watches closely. And so do we because it looks GOOD (even if a bit CGI). Then in the next segment, things go bad on the wall and everyone but Tormund, Orel, Jon and Ygritte, with the latter too dangling from their ropes. The cracks and avalanche looks great. The layout of loyalties that was (fairly obviously) in previous episodes is made crystal clear. Tormund does his best for all, and Orel cuts Jon and Ygritte loose. Fortunately Jon's a stud, even if he doesn't act it.
The episode ends with this thread and the four of them atop the wall. And with some more seriously nice CGI views of both sides of the massive and chilly structure.
Arya – Things begin light enough with the spunkiest Stark. Echoing the first episode, she's practicing her archery. In the background Thryos is drinking. She notices riders approaching and it's Melisandre the red lady. This is a total deviation rom the books and a move to keep Mel in play, but it works. She recognizes the Lord of Light's handiwork in Dondarian and this draws out a rather interesting exchange with Thryos which I totally enjoyed, faith and it's relationship to magic being close to my heart (see my novel The Darkening Dream). I love how Thyros is the skeptic priest late come to his faith. This two breeds of priest, Mel and Thyros, clearly fit in the duality theme this week.
Scene two is a study in reversals. Gendry is helping the archer guy, but then at Mel's orders he's bundled off into her care for (presumably) nefarious purposes. Us readers have a clue as to what these might be even if this is a departure — given that he stays with the brotherhood and later runs into Brienne in the books. But the notable part is the continued stripping of Arya's connections to other other people. Gendry and what roots she's putting down with the brotherhood are both torn up. Mel, fey as ever, senses this "darkness" and makes some cryptic comments about pairs of eyes. Does she mean the direwolves? Or the faces of the faceless god?
Theon – And speaking of departures from the book, Theon is still suffering from his mysterious assailant (probably the Bastard of Bolton) in his mysterious location (probably the Dreadfort). This continuing new material is, I have to assume, stretching out his transformation into Reek. And it looks pretty painful, for both us and him. The bastard, though, does a pretty damn good job of playing a dude with his screws loose. He keeps us guessing for a while, but I suspect his final statements echo of truth. Also, flaying, ick! Maybe they threw the rabbits in earlier so we'd know what was going on!
Robb – has one scene this week, but it's a good one. The row of Tully's (plus Robb, who is of Tully blood) face off across the table from a Frey embassy. The truth is that the terms of this new alliance are pretty easy (too easy?): an apology, Harenhall (which is the Spinal Tap drummer of Westeros castles) and Edmure marrying a Frey. The custom/law that marriage may not be coerced enters the picture. How this exactly jives with Tywin and last week is left to the audience to consider. The way in which Edmund resists, and is then brought around by Robb is very well handled. I particularly liked Robb's open acknowledgment of the debt this puts him in.
Jaime – As funny as the Kingslayer continues to be, Brienne in a dress is even funnier. Another couple of sorts, it's kind of touching (and certainly amusing) how she helps him with his meat. Bolton is a cold one and boy is he leaving Jaime with a moral quandary. Will we finally see what kind of man he is? Or has become? The fact that Jaime offers to seal Bolton's offer with a drink and the Flayed Lord refuses should be noted, if for symmetry with the next scene alone.
Tywin and Oleana – lay into each other back in Kings Landing. Now this is a couple we'd pay money to see, and they're discussing marriage, just not theirs. This harken's back to the theme of marriage and its supposed lack of coercion. Olena's a piece of work and hilarious to boot, with several great comments, including my personal favorite: "sword swallower." It should also be noted that he's pounding back the wine (wonder where Tyrion gets it?) and she refuses, which certain echoes the Bolton bit. It's quite a fun duel of words.
Sansa and Tyrion – chats with Loras in the garden and it's certainly clear this is the most unnatural of all the couples. Can you say awkward? Loras' attempts to act interested are hilarious too. Poor Sansa and…
Tyrion, who isn't happy about the state of things. He and Cersei come here to share a sort of shared misery as only a couple of Tywin's children could. This is more personal and clear than in the books. Ty confronts his evil sister once and for all as to her possible plot to kill him and the blame falls to Joff. This also is a clarity not present in the source material and sets us up for later this episode. I also love Ty's "Loras might come down with a sudden case of sword through bowels" which I think was in the book too.
Next scene, as Shae and  Sansa talk about her supposed wedding to the "sword swallower", is both funny and touching. Tyrion enters and tries to get Shae to leave, but realizes he's going to have to tell both his reluctant bride to be and his lover about the situation at the same time. Interestingly, and perhaps effectively, it's left off screen.
The pair of women retire to the balcony to deal with it in their own ways: Sansa crying and Shae stonefaced. I'd have perhaps set the thing up to surprise Sansa with the event itself (which I think happened in the book). It probably would have been more of a metaphorical rape. Although I do think this action, given what is to come for Shae, continues the work of further thickening her character versus the book and setting up her arc.
Varys and Littlefinger – Just as we saw both kinds of priests in Mel and Thyros, the two plotters in Kings Landing have come to represent two sides of the same coin. The show is arguably less effective than the books with the POV characters, notably Jon and Cat, and strips some of the minor characters to the bone (like the Mountain). However, it consistently elevates the middling and borderline POV characters like Cersei, Varys, Littlefinger, Shae, Theon, Marg, and Renly, who are given considerable more depth.
Set as usual in the throne room, this scene is classic Varys vs. Littlefinger, but never before have their motives and methods been so exposed. Just as Ygritte argues to Jon that they should put couple before country, Varys speaks for realm first. And, well, everyone knows that Littlefinger is his own greatest love. They've really emphasized his villainy in the second and third seasons. He never seemed this clearly evil in the books.
Joff – Finally, as further proof that the secondary characters are better in the show, Joff is just far, far more repulsive. Here he reaches a level I never thought his cowardly nature would allow. Poor Ros. She wasn't my favorite character, but she deserved better than this.
All in all a tremendous episode. There is less action than in either of the previous two, but we have character aplenty and some really fine thematic work, which resonates nicely.
Absent this week were Stannis, Davos, Dany, and Marg.
Another great analysis of this episode.
If you liked this post, follow me at:

My novels: The Darkening Dream and Untimed

or all my Game of Thrones posts or episode reviews:

Season 1: [1, 2, 3, 4, 5, 6, 7, 8, 9, 10]

Season 2: [11, 12, 13, 14, 15, 16, 17, 18, 19, 20]

Season 3: [21, 22, 23, 24, 25, 26, 27, 28, 29, 30]

Season 4: [31, 32, 33, 34, 35, 36, 37, 38, 39, 40]

Season 5: [41, 42, 43, 44, 45, 46, 47, 48, 49, 50]
sharethis_button(); ?>