The new cover for The Darkening Dream is almost done! To the left is the current mockup (click the double spread below if you want to see a large version). It still needs a few tweaks and real titles (those are NOT final titles), but it's real close.
As I've discussed before, I commissioned a new cover a couple weeks ago from artist Cliff Nielsen, worked through a whole batch of ideas and sketches, shot the model in the studio, and voila!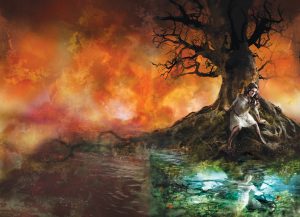 I've basically got the E-Book interiors done too, having learned over the last two days how to generate MOBI and EPUB files from my base HTML. I even caught and reproed a bug in Calibre which a super responsive programmer fixed in an hour. These files took a lot of work but they look really awesome with all the little interior illustrations and very nice, clean, formatting.
My last thing is to get real titles done and then I'm ready to go with the E-Book version by around the New Year! Although, titles and Amazon approval might drag that out by a couple days.
Please write in the comments what you think of the cover.
To see photos from the cover shoot, click here.
For more info on the new cover artist, click here.
For more information on The Darkening Dream.
For more posts on writing, click here.
sharethis_button(); ?>