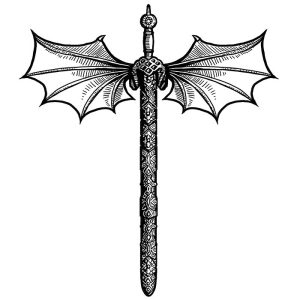 I knew from conception that The Darkening Dream needed a badass boss vampire. Al-Nasir, as I affectionately like to think of him, is mid-upper management, like an undead Executive Vice President of Acquisitions. I wanted a personage of exceptional age, power, and menace, yet also no CEO or CTO level player — even if he has aspirations. That higher level of villain — like the Emperor in the original Star Wars — is not appropriate to bring on stage too soon.
That meant that my badass vampire had to be from the Dark or Middle Ages. A force to reckon with, but not too old. To be properly menacing, old vampires must be rare. Perhaps, no more than two or three vampires have survived from antiquity. And we dare not utter their names.
I also wanted my villain to be exotic, so I he's from Al-Andalus, Moorish medieval Iberia (Spain). In life he was the sixth Nasrid Caliph of Cordoba: Ali ibn Hammud al-Nasir.
Young al-Nasir was a fierce Berber gazi (holy warrior) who died in 1018. This was a man who saw things in stark black and white. Faithful and Infidel. Friend and Foe. He was convinced of his role as sacred bringer of Allah's light to the world.
But what becomes of a man after long centuries of feeding in the dark?
In death, al-Nasir is a different beast indeed. Spawn of one who can not be named, the song of the ancient blood gods sings loudly in his withered veins. Like his flesh, his faith has putrefied, becoming a seething pit of fury and hate.
I imagine that vampires, like mortals, fix their sense of self and the world in youth. Al-Nasir is a medieval man, even if he walks the nighttime streets of the 20th century. Brilliant, yet not intellectual, he has a natural cleverness and charisma, and above all else a keen nose for survival. But as powerful as he is, surviving through the long years is not so easy. The vampire must avoid the sun at all costs, even a glimmer can be deadly. So he must slumber by day, nestled in the dirt of his grave. And he must feed. Daytime help is a necessity so al-Nasir invests heavily in loyal familiars. In 1913, when the book is set, he has five: Fouad, Nabil, Tarik, Tahar, and Ahmed. Nasir prefers physical strength and loyalty. He chooses fellow North Africans of enormous girth and he binds them in more ways than one.
As a first line of attack, al-Nasir will act through these intermediaries, guarding himself from the world. Should that fail, he will next employ his charm and glamour. As a man twisted honor and great pride, this usually serves him well. But when the need is enough, there's nothing he considers more persuasive than the awesome power of personal violence.
Al-Nasir is a collector by nature. He collects things: being partial to gold and gems, particularly those owned by kings. And he collects powers. Having spent the centuries mastering not only the glamour, but the cloak of shadows, the fast-step, and his personal favorite: the much coveted and rarely achieved ariel bat form.
His sigil (at the top) is the winged sword: A pair of bat wings sprouting from a Nasrid blade.
But back to the story. Al-Nasir has been sent west from Europe to Salem Massachusetts. This is no small thing for a vampire, particularly in 1913. A steamship is a dangerous place for the daylight challenged — especially if they have a habit of snacking on the crew. But come he does, under mysterious orders from the loose cabal of occult baddies with whom he works. Al-Nasir finds things. And with the patience and tenacity only the dead can muster.
But what is he looking for?
More about The Darkening Dream or Buy it Now!
Find out about developing al-Nasir's sigil here.
<– Back to the character page